Providers of innovative body comfort solutions, UCOBO™, announces the launch of LoBAK™, back support designed to make any chair comfortable
UCOBO™ is committed to delivering the best possible comfort solutions to their customers with the introduction of LoBAK™. Described as "the world's first portable, customizable back support." The product is designed to support users in finding their perfect comfort, with features that stand out from competitors.
"At UCOBO, we understand that there has been a permanent shift in our ability to choose where we work and play," said David Smith founder of UCOBO. "We're excited to offer a great option to help people who are on the go, stay connected, focus on what they are doing while keeping an eye on their health. They can experience it all without back pain."
Back pain remains a common source of discomfort and is experienced by millions of people across the globe. Over the years, several solutions have emerged to help people suffering from this condition as well as products to reduce the risk of back pain. Unfortunately, many of these solutions ignore today's reality that many users no longer primarily work in an office. However, the team at UCOBO™ have changed this narrative with the introduction of the smart and attractive LoBAK™. The offering meets the needs of the modern user by incorporating easy portability and customization in a single package.
LoBAK™ is making history as customers can take personalization to the next level with a minimum of 9 comfort combinations. LoBAK™ is the first-of-its-kind, allowing users to adjust the size and firmness. It promotes discovery and change, adapting to users and their specific environment. The LoBAK™ is the ultimate lumbar support, back pillow, or back cushion.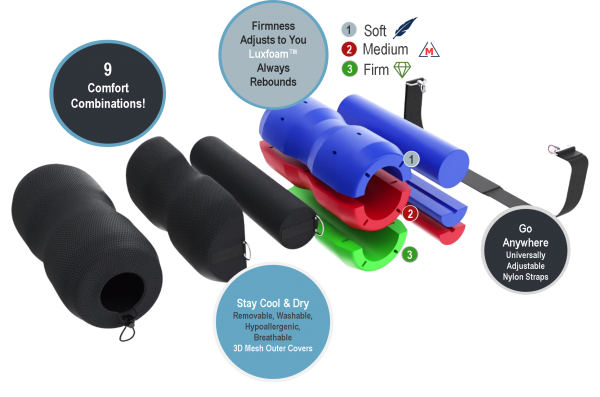 Convertible to three sizes – Small, ½ Moon and Full, LoBAK™ features removable, washable, hypoallergenic, breathable mesh covers for easy maintenance. It is cost-effective with its swappable parts ensuring that users do not have to replace the entire support. It functions as many supports in one. The LoBAK™ is patent pending.
LoBAK™ pre-orders are available immediately at UCOBO.COM.
LoBAK™ will be officially available on October 12, 2021, on Kickstarter.
About UCOBO
UCOBO™ was founded by David Smith to serve the modern mobile person by providing customizable body comfort solutions at a price that prioritizes function and beauty. The goal of the company is to help people be in harmony with their body and inspire them to become exceptional in the art of living.
Media Contact
Company Name: UCOBO
Contact Person: David Smith
Email: Send Email
Phone: 954 704 6010
Address:50 Carroll St
City: Toronto
State: Ontario M4M 3G3
Country: Canada
Website: https://ucobo.com