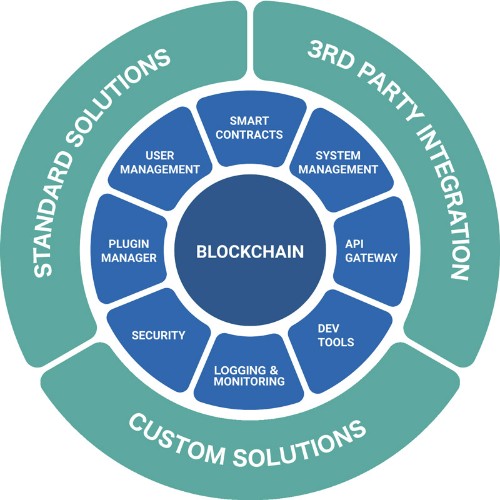 TYMLEZ specifically focuses on creating the tools that help businesses to develop blockchain-based tools that are designed to support their digital business strategies. This makes it easier for businesses to leverage the benefits that blockchain technology has to offer while at the same time, making it significantly more affordable than having to build their solutions from the ground up.
Blockchain technology is believed to be the next revolutionary technology that has the potential to bring about significant improvement or efficiencies to how businesses and industries operate. Many companies have already adopted blockchain technology, and some companies, such as TYMLEZ, focus on making it easier for other businesses to benefit from what blockchain has to offer.
What sets TYMLEZ apart from other companies that are also doing the same is its accelerator program, which features specialized accelerator segments for different purposes. These include Accelerator Secure Documents, Accelerator HR/ onboarding/ KYC/ GDPR, Accelerator Tracking, and Tracking Digital Assets, and Accelerator Rewards & Loyalty. Here are some of the key aspects of each accelerator segment.
Accelerator Secure Documents
This segment is focused on the digital shift, which aims to make sure that services are digitized and that companies evolve to a paperless way of running things. It targets various business areas, including financial, legal, compliance, human resource, and audit departments. It also aims to improve operations in various industries, including manufacturing, insurance, services, logistics, transport, and supply.
Some of the benefits of blockchain technology will offer to these segments include encrypted access to documents, immutable audit tracking, higher levels of transparency, and trust. They will also offer immutable compliance records, as well as proof of signature and review.
Accelerator Onboarding/HR/GDPR/KYC
It aims to grant businesses the capacity to keep up with the current trends and approaches to digital identities and onboarding. Some of the target business areas include credentials checking, onboarding of supplier partners, handling volunteers, and memberships. It also aims to facilitate better HR operations, including contracting and recruitment.
Blockchain benefits that the above areas will enjoy include Digital ID and GDPR, Encrypted Personal Data Held, digital passports, immutable compliance and records, and also encrypted permission-based access.
Accelerator racking & Tracing Digital Assets
This segment is aimed at helping businesses to achieve more efficiency in their supply chain. Its focus areas include asset and license management, proof of ownership, supply chain asset tracking and Equipment Service Management, Legal.
Some of the benefits that this segment will enjoy courtesy of blockchain include more trust in data collection, immutable record compliance, and smart contract automation. It also aims to provide highly secure APIs for IoT systems and also to provide higher levels of trust and transparency within the segment.
Accelerator Rewards & Loyalty
Blockchain technology also promises to drastically improve loyalty and rewards programs that are usually offered by companies for their employees and also their customers. The decentralized ledger technology can boost loyalty engagement, therefore contributing significant gains to businesses. Some of the areas that will benefit from this include finance, corporate loyalty programs, social platforms, services that offer memberships, and digital marketplaces.
Some of the benefits that these segments will enjoy courtesy of blockchain technology include immutable compliance records, digital currency exchange, and digital revenue streams. The benefits also extend to highly secure peer-to-peer transactions, as well as secure, trusted digital exchange.
TYMLEZ offers pre-configured processes and reusable components in its smart contract offerings. It also makes sure that its accelerators target industry-specific processes. This allows businesses to use those accelerators to develop their own projects, therefore saving a lot of resources that would have otherwise been spent in design, development, and implementation.
TYMLEZ put a lot of thought into its solutions, especially as far as integration is concerned, and there is a good reason for that. Usually, the dawn of a new anchor technology brings about disruption. An anchor technology is a major technology on which many businesses are based. Good examples of anchor technologies include electricity and the internet. Blockchain technology is now shaping up to be a potential anchor technology that shapes how businesses operate or on which businesses are based.
Whether or not blockchain will become an anchor technology is currently a toss-up, but it is clear that the technology offers significantly higher levels of efficiency compared to legacy business models. Blockchain is therefore disruptive and any technology that is disruptive usually forces companies to adapt quickly or risk going obsolete. The problem is usually the high cost of adopting new technology. TYMLEZ thought of this and decided to make sure that the process through which businesses incorporate blockchain into their operations will be smooth and inexpensive.
The TYMLEZ Blockchain Solution Platform (TBSP) accelerator aims to overcome some of the challenges of switching over to the blockchain-based system. Some of the ways it achieves include;
Offering programming interfaces that integrate SAP, as well as other legacy applications.
Providing plug-ins that are designed to support the features and capabilities of custom projects and custom processes. For example, it has solutions for the next generation of run-time, through which developers can include extensions as part of the build process. This ensures that almost every aspect of the run-time processing can be modified or adjusted.
It also offers a drag & drop features that allow individual smart contracts to be modified such that they function well with client business applications.
Some of the key components offered by TBSP include backup and recovery, security, logging and monitoring, and user management.
It also works towards creation of an environment that facilitates development of blockchain-based apps without the need for a lot of knowledge on blockchain development.
TBSP also supports the development of smart contracts that support automation.

TYMLEZ aims to make sure that blockchain is at the center of development of business solutions that include standard solutions, custom solutions, and third-party integration. This means that blockchain will become part of supporting features for the above three dockets. The supporting features include API gateway, development tools, logging and monitoring, security, plugin manager, user management, smart contracts, and systems management.
Register for our complimentary Blockchain Report to be released next week
Standard solutions are usually enterprise solutions that crated using numerous programming languages and models. The execution of those enterprise solutions is done through a set of corresponding run-times or corresponding containers that are constantly changing during their lifetime.
Custom solutions are all about providing special features for specific processes or projects. The next run-time generation allows developers to include extensions in the build process. Each of the added extensions provides the flexibility of adjusting almost all of the aspects within the runtime processing.
Third-party components also play an important role in TYMLEZ'S success in business because they create links to legacy systems in their current architecture.
TYMLEZ itself acts as a link that provides solutions that will bridge the gap between legacy solutions and blockchain-based solutions. The goal is to provide critical services that will help more businesses to leverage blockchain technology smoothly. The company believes that it is important to keep spinning the wheel of digital transformation so that it can support the important processing that helps fulfill the evolving business goals of its customers. It is also keen on making sure that the developments keep up with the rapid changes in society while at the same time navigating the waves of technological change.
TYMLEZ, therefore, strives to provide timeless software by designing its platform in a manner that ensures continuous development and transformation. The firm is aware that stagnation or failure to develop and evolve is a huge risk to any business. It is thus determined to invest in facilitating continuous growth, a necessary move, especially in today's fast-tracked and constantly changing markets.
This awareness of the need to pursue better solutions through constant development activities is why TYMLEZ is the ideal partner for any business that wants to take advantage of all that blockchain technology has to offer. Additionally, TYMLEZ's elaborate accelerator program is quite appealing to any business that wants to jump on the blockchain fast lane.
TYMLEZ is focused on compliance and big on smart contracts
As noted earlier, TYMLEZ also acknowledges the importance of smart contracts in the Bitcoin landscape, and that is why it has developed TBSP with optimization for applications that are based on smart contracts. Blockchain experts believe that smart contracts pave the way for one of the major ways of utilizing the power of blockchain and potentially even changing major industries. For instance, smart contracts could be used to automate the process of buying vehicles because immutability and trust are built into the system. This means that it becomes not only easier to handle such processes, but it will also make it faster, therefore achieving more efficiency.
Smart contracts are also ideal for rolling out more efficient IoT solutions. One of the biggest concerns about IoT solutions is that they are susceptible to risks such as being hacked. However, blockchain-based IoT solutions leverage the unhackable properties of the blockchain.
Compliance is a critical part of TYMLEZ's operations, especially when dealing with private blockchain scenarios for organizations and enterprises where strict compliance requirements are involved. TBSP is available as on-premise or PaaS.
Register for our complimentary Blockchain Report to be released next week
Why TYMLEZ is the ideal business partner for blockchain-related pursuits
The fundamental goal of every business is to provide a product or a service and make money off those activities. Well, at least that is what the front-end looks like, but a lot usually happens under the surface, especially in the modern-day business landscape. Businesses are constantly trying out new strategies so that they can beat the competition or increase their profit margins.
The adoption of new technologies usually plays a role in giving businesses an edge over their rivals or allowing businesses to remain profitable even in tough times. TYMLEZ's accelerator offerings provide the ideal tools that businesses can use to develop applications designed to support new business models even in prevailing IT conditions. These tools are important because they strengthen the preparedness of business to challenges that come along the way.
One way to look at it is that TYMLEZ provides businesses with more flexibility to handle different market conditions through the application of blockchain-based tools. The tools help businesses to improve their productivity, achieve more efficiency in their operations, boost security, and even enhance scalability. These are critical factors to the success of any business, and the fact that TYMLEZ ticks all those boxes with its blockchain-based solutions make it the best partner for businesses that want to leverage blockchain. In short, TYMLEZ allows businesses to be better prepared, thus helping them to navigate the markets with more ease.
Why blockchain accelerator programs are important for businesses
Any type of business starts as a seed that has to be planted and then watered regularly to increase its chances of maturing into a fully grown tree. There is a stage of growth where the young seedling has to be carefully taken care of due to its vulnerabilities. Similarly, every business starts life relatively small, and then the business owners patiently develop it until it reaches a strong level that is only limited by how far the business owners are willing to go.
Sometimes there exist accelerators that provide the funding necessary to kick start the business or to help it reach various growth objectives. Sometimes accelerators might help the business to achieve success. In TYMLEZ's case, its accelerator programs provide the cushioning that businesses may require when switching to blockchain-based solutions.
The accelerators are not just supposed to provide ready solutions for switching to blockchain-based operations. They are also designed to support the shift by making sure that the transition is successful. There is a definite risk involved in switching from one technology to another in business. Even a small mishap in a critical area of the business may bring the entire business to a grinding halt or even threaten its future. This is why the accelerator programs that TYLMEZ offers are designed with careful attention to detail.
For example, the accelerators target are designed for different segments that contribute to the normal running of a business. The goal is to make sure that they target all segments or at least the segments that the business owner feels should benefit from blockchain technology. Technically, a company can roll out the solutions on all segments, or they could make the shift to the decentralized technology one segment at a time. The latter leans more along the side of caution, but the tools obviously have to be tested in the development phase to make sure that they provide the desired outcome.
TYMLEZ has expressed its commitment to create and provide a software platform that allows its customers to develop test and roll out new applications within the scope of their operations. This ability to test-run the developed apps is vital to determining whether the developed app is fit to be launched.
Does TYMLEZ support tokenization?
TYMLEZ has covered all bases with regards to blockchain technology, including tokenization. The latter has lately been a heated topic, and it also represents one of the most common trends in the blockchain industry. It is a trend that has seen major companies such as Facebook coming up with its own digital token known as Libra, which has also been the subject of controversy.
Tokenization is basically the processes through which a business or company adopts its own blockchain-based digital token. There a few companies in the market that provide tokenization solutions, including TYMLEZ . This is great because right now, tokenization is really taking off and for a good reason. Most of the companies that are adopting this trend are doing so for two main reasons. The first is so that they can have their own in-house currency, and this is ideal for e-commerce companies. It helps to cut transaction costs and banking costs, among others, therefore helping the companies to save millions.
In the first approach, customers purchase digital tokens, and then they use those digital tokens to pay for their purchases. This also plays a huge role in eliminating other issues such as lengthy card checkouts and card fraud. The second approach involves the use of digital tokens to incentivize operations. A company may decide to launch a digital token so that it can improve its reward system. For example, employees may be rewarded with tokens for their achievements.
Tokenization is thus one of the solutions that TYMLEZ offers, and this means that it can offer its services to any company looking to have its own token. The all-roundedness of TYMLEZ's offerings, including the accelerator programs, makes it quite a unique company, and it also sets it apart from other firms that offer similar services. Its comprehensive offerings provide a strong selling point for firms or businesses that are eying blockchain technology and its advantages.
Register for our complimentary Blockchain Report to be released next week
Media Contact
Company Name: Profectus Solutions Py Ltd
Contact Person: Rick
Email: Send Email
Phone: +61385184106
Country: Australia
Website: www.tymlez.com