Makers of innovative consumer electronics, Twystr Technologies Inc., announces the launch of a fundraising campaign for their tornado diffuser
Founded by Dennis Lee and John Lee, Twystr Technologies Inc. is looking to strengthen their position in the consumer electronics market with the launch of TWYSTR. The tornado diffuser as it is called is the first of its kind in the industry, designed to enhance every moment, keep the surrounding fresh, and engage the senses of occupants. The product is currently available on Kickstarter, with an exclusive offer for the first 100 early bird backers.
The use of essential oils and aromatherapy solutions has become increasingly popular in recent times, with more people realizing the benefits of the products. Unfortunately, users of essential oils and diffusers have not been able to satisfy their urge, particularly as many of the products do not meet their needs in terms of functionality and style. This is where Dennis Lee and his team at Twystr Technologies Inc. are looking to make a difference with the launch of the Twystr diffuser and other state-of-the-art consumer electronics.
The product perfectly combines style and functionality like never before, offering consumers an item that does not only spruce up their interior space but also helps to keep the air fresh and healthy. The unique swirling action of the amazing blend of art and engineering creates a dynamic art piece and stunning visuals that will impress anyone.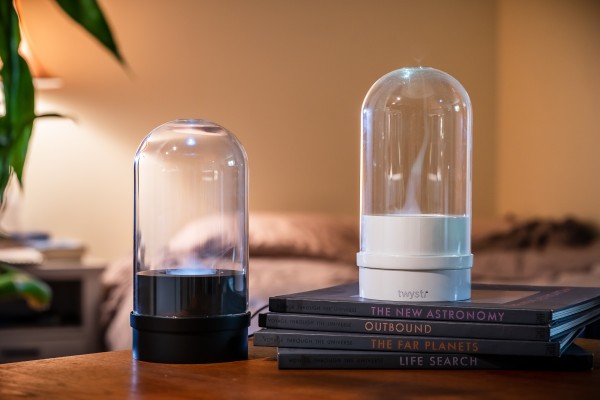 Some of the fantastic features of the water and oil diffuser include USB powered, long duration of diffusion, whisper quietness, and easy water and essential oil refill, ensuring more time enjoying and less time fumbling.
The one of a kind diffuser is available in two colors – black and white, ensuring that the preference of every user is satisfied.
The user-friendliness, versatility, functionality, and uniqueness of Twystr have helped to increase its popularity even on Kickstarter, garnering support from backers across the globe.
Twystr is scheduled to be ready for shipment between August and September, with buyers predicted to receive their products between October and November 2020.
For more information about the tornado diffuser and other products from Twystr Technologies Inc., please visit – https://twystr.com/.
About Twystr Technologies Inc.
Twystr Technologies Inc. is a manufacturer of innovative consumer electronics that provides engaging experiences with interior design. The company was founded by Dennis Lee and John Lee, engineers and entrepreneurs, and with support from his amazing team which also includes Heinzen Lo.
Media Contact
Company Name: Twystr Technologies Inc
Contact Person: Dennis Lee
Email: Send Email
Country: Canada
Website: https://twystr.com/