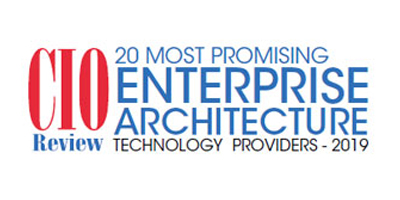 Trisotech recognized as a leading provider of customer-centric enterprise architecture solutions
Montreal, Canada – July 18th, 2019 – Trisotech (http://www.trisotech.com) today announced that it was listed as "One of The 20 Most Promising Enterprise Architecture Providers – 2019" by CIOReview magazine. CIOReview magazine is a leading technology platform that provides industry knowledge and valuable insights into the latest technology trends in enterprise solutions for the world of business.
In an article, CIOReview described Trisotech as a cloud-based technology provider that enables non-technical business people, architects, and analysts to collaboratively participate in enterprise/business architecture discovery as well as modeling and process improvement.
The article states that digital technologies are greatly impacting the way organizations operate in today's competitive global economy, and also driving fundamental changes in enterprise architecture (EA) activities. EA is believed to create value in organizations by improving operational efficiency through IT infrastructures, conceptualization, and structured enterprise activities. CIOReview posits that "Business Architecture and DevOps are bypassing EA in slow-to-adapt organizations."
In an interview with CIOReview, Denis Gagné, CEO and CTO at Trisotech expounded on some of the innovative solutions his company currently provides to drive enterprise digital transformation. "Trisotech's Digital Enterprise Suite helps Enterprise Architects focus more on business outcomes," the magazine reports. According to Gagné, the suite comprises five primary web-based collaborative components that allow for collaborative participation between non-technical business people, architects, and analysts.
The CTO also spoke on the company's Digital Enterprise Graph – an intelligent solution which unifies all five components of the Digital Enterprise Suite to provide business insights. Trisotech's Digital Enterprise Graph collects and organizes relevant business data and presents the information in a simplified graphical format allowing for easy decision making from a "global unified business context."
The magazine quotes Gagné as saying: "Trisotech's key differentiator is in its ability to simplify complex solutions which not only helps IT organizations, but also the people who execute business activities."
Media Contact
Company Name: Trisotech
Contact Person: Jonathan Lecuyer
Email: Send Email
Phone: 15149906639 x501
Address:3100 Boulevard de la Cote-Vertu, Suite 420
City: Montreal
State: QC
Country: Canada
Website: Trisotech.com