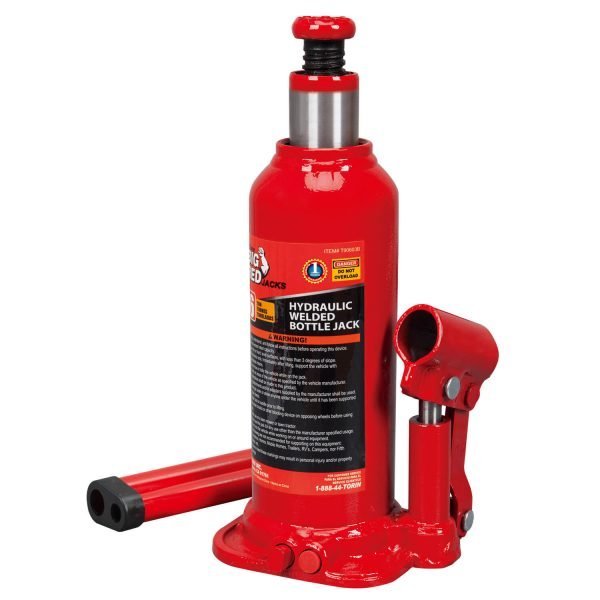 Torin Big Red Jacks makes heavy lifting a breeze with their solid, heavy-duty hydraulic jacks. Established in 1954, this auto tools and equipment company has been manufacturing and selling jacks for over four decades. With an annual production of 142 million jacks, it has become one of the largest manufacturers of car jacks and stands in the world. The company boasts of a large clientele spread across 140 different countries and regions.
Torin Big Red Jacks' lineup includes an extensive range of floor and bottle jacks, jack stands and transmission jacks. In addition to their car lifting equipment, one can also find professional-grade maintenance tools on their shelves. The merchandise is showcased in a 4-part series for the sake of convenience namely commercial jacks and car lifting tools, professional car maintenance equipment, car lifting equipment and original equipment manufacturer (OEM) jacks.
The attention-to-detail on all manufactured products is the USP at Torin Big Red Jacks.
An exceptional build quality ensures the highest level of safety. One can comfortably elevate and work under the vehicle without the fear of it coming crashing down. Adding to the structural integrity are its components crafted to meet aircraft standards.
Torin Big Red's hydraulic jacks feature wide base plates, longer runways and thick columns. The secure grip of the raised platform keeps the vehicle stable when elevated. The axles, sheaves and wire ropes can support loads beyond their rated weight capacity. The units also come fitted with an overload system that prevents operation if the vehicle exceeds its load capacity. This is a feature not included on other competing brands. Their solid aluminium and steel frames are extremely lightweight. The materials are resistant to corrosion and hence offer better durability. Long frames, foot pedals, swivel casters enable smooth maneuverability. One can take advantage of their low maintenance too.
There are models that can be used to hoist vehicles with a low clearance to those that support heavier vehicles such as trucks and construction and agricultural equipment. One can also choose between pin through and ratcheting models available at Torin Big Red Jacks. Both lock securely in place after being adjusted to the desired height. The jack stands are designed as a complementary mechanical lift to be used along with a lifting jack. The pyramid base design distributes weight evenly protecting the vehicle and its owners when at work. The powder-coated finishes further add stability.
The price of a Torin Big Red Jack stand gives it an edge over its competitors. They offer great value, high-level performance at competitive prices. Their units are designed for home garages as well as commercial applications.
Torin Big Red Jacks back their products with a limited one year warranty. A good number of certifications are further proof of the safety and reliability of the brand. The company is ISO certified. Besides the products meet several international standards chief among them being American ASME, British BS, German DIN, Australian AS, and Japanese JIT.
For more details on Torin Big Red Jacks product lineup, visit https://torin-jack.com/
Media Contact
Company Name: Torin Inc.
Contact Person: Media Relations
Email: Send Email
Phone: 1-909-390-8588
Address:4355 E. Brickell Street
City: Ontario
State: California
Country: United States
Website: https://torin-jack.com