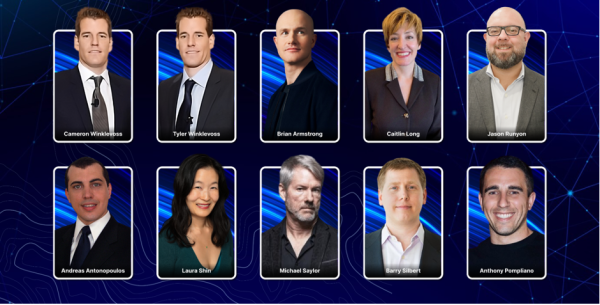 North America has become a hub for digital currency innovation and adoption, with a vibrant ecosystem of entrepreneurs, investors, and thought leaders shaping the industry's future. In this article, some of the most significantly influential figures in North America's digital currency space will be spotlighted. These individuals have made substantial contributions to the industry and continue to drive its growth and development.
● Cameron and Tyler Winklevoss
Cameron and Tyler Winklevoss are no strangers to the world of digital currency. They gained prominence for their legal battles with Facebook's Mark Zuckerberg but have since become famous investors and entrepreneurs in the digital currency space. In 2014, they founded Gemini, a digital currency exchange that has grown to be one of the most trusted and regulated platforms in the industry. The Winklevoss twins have not only invested heavily in decentralized money but have also been vocal advocates for sensible digital currency regulations, making them influential figures in North America's digital currency landscape.
● Brian Armstrong
Brian Armstrong, the CEO of the largest digital currency exchange platform in the USA, has played a pivotal role in bringing digital currency into the mainstream. Under his leadership, the platform has become one of the largest and most user-friendly digital currency exchanges in the world. Armstrong's vision is to create an open financial system for the world, and the user-friendly interface of this platform has helped millions of people enter the digital currency space. His leadership and commitment to regulatory compliance have made him a significant influencer in the industry.
● Caitlin Long
Caitlin Long is a seasoned investor and the founder of Avanti Financial Group. She is a prominent advocate for a peer-to-peer network technology of computers that is used to manage digital currency and its adoption, particularly in the traditional financial sector. Long's work focuses on creating a bridge between traditional banking and digital currency-based finance, and her efforts have led to groundbreaking initiatives in Wyoming to establish a digital currency-friendly regulatory environment. Her influence extends beyond North America, making her a global figure in the digital currency industry.
● Andreas Antonopoulos
Andreas Antonopoulos is a renowned speaker and writer who specializes in digital currency and digital currency exchanging platform-related issues. His ability to explain complex concepts in a relatable manner has made him a valuable resource for both newcomers and seasoned digital currency enthusiasts. Antonopoulos's books, lectures, and interviews have educated countless individuals about the transformative potential of digital currencies. His advocacy for decentralization and financial empowerment has earned him a well-deserved place among North America's digital currency influencers.
● Laura Shin
Laura Shin is a journalist, author, and the host of the podcast 'Unchained.' Her in-depth research and interviews with top figures in the digital currency industry provide valuable insights into the rapidly evolving space. Shin's reporting has helped demystify digital currencies for a broader audience and has contributed to a more informed and educated digital currency community in North America. Her dedication to journalistic integrity and accuracy makes her a trusted source in the industry.
● Michael Saylor
Michael Saylor, the CEO of MicroStrategy, has made headlines for his company's significant digital currency investments. Under his leadership, MicroStrategy has become one of the first publicly traded companies to add digital currency to its balance sheet as a treasury reserve asset. Saylor's bold move has inspired other institutions to consider digital currency as a store of value, demonstrating the growing institutional interest in digital currencies.
● Barry Hilbert
Barry Hilbert is the founder and investor of the Digital Currency Group (DCG). DCG is a venture capital firm that has invested in numerous digital currency-related companies, including exchanges, digital currency exchange platform startups, and digital currency service providers. Hilbert's strategic investments have played a crucial role in fostering innovation and development within the digital currency industry, making him a driving force behind its growth in North America.
● Jason Runyon
Jason Runyon is recognized as one of the "financial wolves" in the North American digital currency market. Precise vision and perseverance helped Jason win two big tries based on the luck of his money with Ether – The first was when Ether raised $18 million to begin building the platform, and the second was when the price of ETH dropped to $80 with only a few days left in December 2018. Jason is not only an experienced investor but also a project developer who believes that Community is the most important factor in the success of the digital currency market. He has publicly or covertly contributed to the development of numerous large digital currency communities around the globe. Numerous key members of the North American digital currency market recognize and venerate Jason's contribution in silence.
● Anthony Pompliano
Anthony Pompliano, often referred to as "Pomp," is a prominent figure in the digital currency investment space. He co-founded Morgan River Digital, a digital asset management firm, and has become a vocal advocate for digital currency as a barrier against traditional financial systems. Pompliano's insights on digital currency investments and his media presence have made him a recognizable and influential voice in North America's digital currency ecosystem.
Media Contact
Company Name: Individual
Contact Person: Ben
Email: Send Email
Country: Singapore
Website: https://www.evercore.com/bios/saul-d-goodman/