Today, a resounding chorus of unwavering determination echoes across the expanse of North America as 100 cities in the United States and Canada unite to celebrate Never Give Up Day. This extraordinary day serves as a testament to the power of perseverance and the collective spirit that knows no bounds.
Never Give Up Day on this day serves as a beacon of hope, illuminating the path forward and inspiring individuals in 100 cities to stand tall in the face of challenges. It's a powerful reminder that no matter where we are, our commitment to resilience remains unshakable.
From the bustling streets of metropolises to the charming corners of smaller communities, the celebration of Never Give Up Day is a symphony of voices united in purpose. It is a day of reflection, of honoring triumphs over adversity, and of reaffirming our shared dedication to overcoming obstacles with unwavering resolve.
As these 100 cities come together, the celebration of Never Give Up Day transcends geographic boundaries, cultures, and languages. It underscores the universality of the human spirit and the indomitable will that propels us forward, even in the face of the most daunting challenges.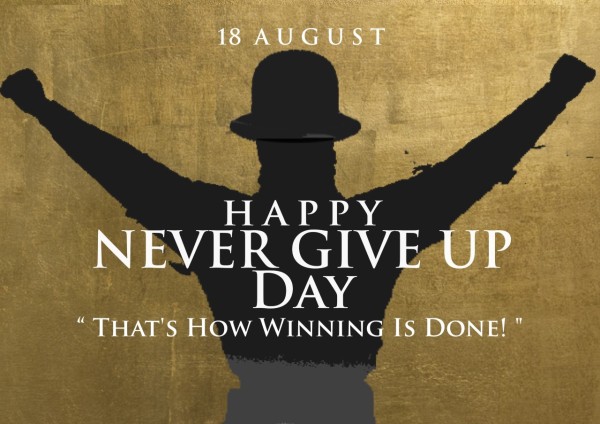 Today, let us stand alongside all these cities cities across the US and Canada in celebrating Never Give Up Day. Let us draw inspiration from one another's stories of perseverance, and let our collective commitment serve as a testament that, united in purpose, we can overcome anything that stands in our way.
Join the movement and be a part of the nationwide celebration of Never Give Up Day on August 18. Share your stories of triumph, hope, and determination using #NeverGiveUpDay, and together, let us inspire a nation that stands strong, united in the face of life's trials. Visit http://www.nevergiveupdayshop.com to access your free Never Give Up Day ribbon image.
100 Cities proclaimed August 18th as Never Give Up Day
USA: Sunnyvale (CA), Wenatchee (WA), Bossier City (LA), Lakeland (FL), Thornton (CO), Cibolo (TX), Deland (FL), Greenville (NC), Milwaukee (WI), Linden (NJ), Fate (TX), Tempe (AZ), Springfield (OR), San Marcos (TX), Brownsville (TX), Loveland (CO), Oakley (CA), Boulder (CO), Rocklin (CA), Kauai (HI), Wichita Falls (TX), Grand Rapids (MI), Vancouver (WA), Friendswood (TX), Surprise (AZ), Niagara Falls (NY), Perris (CA), Fayetteville (AR), Irving (TX), Warren (MI), Sugar Land (TX), Corpus Christi (TX), Baltimore (MD), Memphis (TN), Las Cruces (NM), Berkeley Township (NJ), Kinston (NC), North Miami (FL), Toledo (OH), Manteca (CA), Hutto (TX), Glendora (CA), Laramie (WY), Austin (TX), Killeen (TX), Independence (MO), Montgomery (AL), Attleboro (MA), Mission Viejo (CA), Shawnee (KS), Milpitas (CA), Waco (TX), Sachse (TX), Shawnee (OK), Reno (NV), Dayton (OH), Naugatuck (CT), Lancaster (TX), Florissant (MO), North Las Vegas (NV), Daytona Beach (FL), Edinburg (TX), Titusville (FL), Kansas City (MO), Louisville (KY), Durham (NC), Port St. Lucie (FL), San Jose (CA), North Port (FL), Manassas (VA), Union City (NJ), Attleboro (MA), Murrieta (CA), Deltona (FL), Riverside (CA), Westminster (CA), San Bernardino (CA), Santa Fe (NM), Waxahachie (TX), Summerville (SC), Altoona (PA), Columbia (SC), Corona, (CA), Rialto (CA), Columbus (GA), Asheville (NC), Gainesville (FL), Houston (TX), Bridgeport (CT), Greensboro (NC), Palm Bay (FL), Hofmann Estates (IL), Virginia Beach (VA), East Hartford (CT), DeSoto (TX), Pittsburgh (PA), St. Petersburg (FL)
Canada: Halifax (NS), Victoria (BC), Burlington (ON), Brampton (ON), Regina (SK), Niagara Falls (ON), Red Deer (AB), Saanich (BC), Newmarket (ON), Surrey (BC)

Video Link: https://www.youtube.com/embed/iql7cJPJorw
Media Contact
Company Name: Never Give up day
Contact Person: Alain Horowitz – Global director
Email: Send Email
Phone: (929)388 2146
City: New York
Country: United States
Website: www.nevergiveupday.com