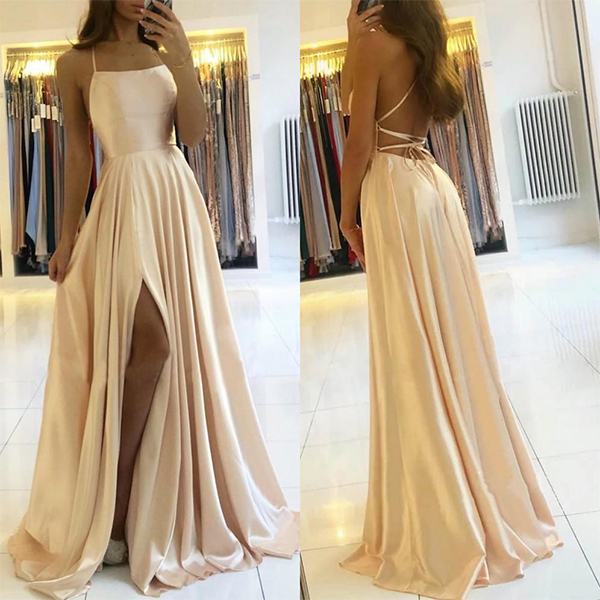 Choosing a prom dress can be a daunting experience and it's important to find one that will make you feel comfortable, confident, and beautiful. Every body type is unique, so it's important to find a dress that will flatter your shape and silhouette. In this blog post, we will provide helpful tips on how to dress for your body type and help you find the perfect prom dress to suit you.
We'll discuss different styles of dresses, what fabrics work best, and tips on accessorizing. We will also provide advice on how to pick a dress that complements your body type, so you can feel confident and look your best on your special night. Whether you're petite or plus-sized, tall or short, we can help you find the right dress for your body type. With the right dress, you will be ready to make an entrance and have a memorable night.
What Is Body Type
Body type is an important factor to consider when shopping for prom dresses. It's essential to understand which silhouettes and designs will flatter your figure best, so you can look and feel great on the big night. Knowing your body type can also help you choose the right accessories that balance out your proportions and enhance the overall look of the ensemble.
For example, women who are curvy should opt for a dress that cinches at the waist or has an empire silhouette. For petite figures, short hemlines are always flattering as they create an elongated shape. On the other hand, tall girls have more options available – from long gowns with flowing skirts to shorter designs with intricate detailing or bold patterns. Accessories such as statement jewelry or sashes can further emphasize any body type on prom night!
Apple Shape: Accentuate Waist
When dressing for your body type, it is important to know which pieces are best suited to accentuate your natural figure. Women with an apple shape have a full bust, round midsection, and narrower hips. Knowing how to dress for this shape will help you find the most flattering pieces that draw attention away from the midsection and emphasize waist definition.
When picking out clothing, look for A-line skirts or dresses that cinch at the waist and flare at the bottom. This classic cut emphasizes the curves of your lower half while minimizing any bulging around the stomach area. Additionally, try ruching along tops or wrap-style shirts to create more definition at the waist and add volume elsewhere like in your chest area or towards your lower half with pleats or frills on skirts.
Pear Shape: Balance Top & Bottom
Pear shape body types, characterized by narrow shoulders and wider hips, can be a challenge to dress. It is essential to create the illusion of balance between your top and bottom while dressing for a pear shape body type. To do this it is important to focus on emphasizing the upper half of your body while minimizing the lower half with strategic clothing choices.
The key items for dressing a pear shape are tops with details such as ruffles or embellishments that draw attention up toward the shoulder area. For bottoms, choose darker colors and silhouettes that create straight lines from hip to hems such as tailored trousers or long skirts. Try pairing these pieces together for an hourglass silhouette – fitted at the waist with roomier fabric around the hips and thighs – which will help balance out your proportions and show off your curves in all of the right places!
Rectangle Shape: Create Curves
If you've ever looked in the mirror and felt like your body shape is too boxy, it's time to learn how to create curves with your clothing. The rectangle body type typically lacks curves, making it difficult to find flattering silhouettes. But with the right tips and tricks, you can accentuate the features of your figure and look stylish at any event.
When dressing for a rectangle shape, start by focusing on fitted clothes that curve around the waist. Try adding texture or detailing in this area to draw attention away from any wider shoulders or hips that may be present. A well-fitted blazer is an excellent choice as it will create structure while also emphasizing the defined lines of your frame. Additionally, pairing skirts or dresses with a cinched belt will help define the waistline further creating an illusion of more curves.
Hourglass Shape: Show off the Waist
Having an hourglass shape is one of the most desirable body shapes. With a proportionate upper and lower figure, accentuating your waist can help you create the perfect look. Knowing how to dress for your body type is key to highlighting all of your best features.
For those with an hourglass figure, it's important to wear clothing that will show off your curves while keeping them balanced. Fitted garments are ideal for showcasing a small waistline. High-waisted jeans and skirts or wrap dresses can be great items to add to any wardrobe. Belts are also a great accessory when wearing dresses or tops that flow away from the waistline in order to draw attention back up top. Tops with ruching or gathering at the sides will define that area even more!
Inverted Triangle: Balance Outlines
Inverted Triangle: Balance Outlines is an article that will help you dress for your body type. Women who have a natural inverted triangle shape should consider the balance of shapes and lengths when dressing. By understanding how to use outlines and silhouettes to create balance, they can gain greater confidence in their appearance. The inverse triangle body type usually consists of broad shoulders, narrow hips, and a small waistline – achieving an overall balanced silhouette requires clothing that emphasizes the curves on the lower half and softens the outline on top.
It's important to remember that one of the most effective ways to slim down this body type is with clever layering. Longer jackets or blazers can be used over shift dresses or skirts to keep the focus off of broad shoulders while still giving definition at the waist by cinching it in with a belt or tucking in a shirt.
Athletic/Muscular Body Type: Highlight Assets
Athletic and muscular body types come with their own unique set of assets. With the right styling techniques, you can show off your hard-earned muscles in the most flattering way possible. Knowing how to dress for your athletic body type will help you look and feel confident when out and about.
This article outlines what clothes work best for an athletic physique so you can maximize your style potential. From highlighting broad shoulders to choosing fabrics that show off your defined muscles, there are plenty of tricks to make the most of those sculpted curves. We'll also discuss ways to create a balanced silhouette while finding pieces that fit comfortably without being too tight or too loose. Once you know how to shop for it, dressing an athletic, muscular body type is easy!
What fabrics work best
Prom is a night for memories and to look your best. With all the different body types out there, it can be hard to find the right dress. However, with the right fabric, you can make sure your prom dress fits your body type perfectly.
There are certain materials that work better on certain body types than others. For those who have a heavier frame, fabrics like chiffon or satin will help flatter their figure by adding extra curves and gracefully draping over any problem areas they may have on their body. On the other hand, if someone has a thinner frame, then fabrics such as lace or velvet will provide them with more structure and shape while still maintaining comfort throughout the night.
Conclusion: Find Your Style
The most important part of feeling confident in your prom dress is to find a style that reflects who you are as an individual and highlights the best features of your body type. No matter what shape or size you are, there is a dress out there for everyone. As long as you stick to colors and silhouettes that flatter your figure, you can look stylish and beautiful on your special night.
When shopping for the perfect prom dress, take some time to consider what styles will work with your body type before making any purchases. It's also helpful to try on different dresses first if possible; this way, you can see how different styles will look on you before committing to one. Lastly, don't forget accessories!
Media Contact
Company Name: Biztunnel
Contact Person: Media Relations
Email: Send Email
Phone: 8613814814319
Address:Rm.1501 Grand Millennium Plaza (Lower Block), 181 Queen's Road Central
City: HongKong
Country: HongKong
Website: http://www.biztunnel.com