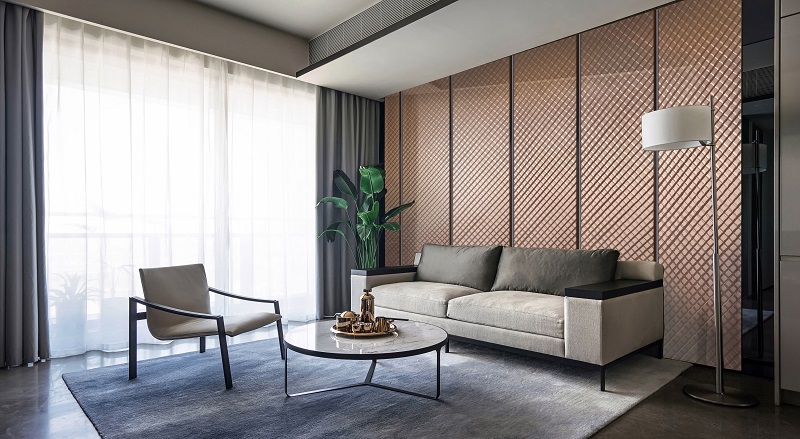 Here are introductions of Three-Dimensional Surfaces Metal Wall Panel Redefining Modern Interior Decor.
3D metal wall panels add a new element to the perception of the product value. The beauty and uniqueness of the design are not only visible, but people can feel it: it is an invitation to use people's tactile sense and to perceive with their hands the unrepeatability of the surface. 3d wall panels allow architects and designer to create spectacular wall claddings.
Handsome Home Decor would like to introduce you our this new design of wall panels, available for wall, ceiling, interior headboard and so on,super eye-catcher absolutely, braid the small panel together creatively and upgrade the interior atmosphere at once. With regular size 80*240cm, custom size also available based on the projects.
All our 3D wall panels focus on adding value to the surface in an effort to offer our client original products. At the same time, our wish to express creativity is never at the expenses of the quality of the materials, always carefully chosen.
Three-dimensional surfaces have a refined sculptural and decorative effect, that brings a new light on walls and make them a key element of the interiors.
Following are the advantages of Home Decor — 3d Metal Oil Painting.
1)Unique Handcrafted 3d Metal Oil Painting
The Size Of This Single Panel Metal Wall Art Is 20″X 20″. The Surface Of Painting Is Lasered Cut To Lay Back And Led Hidden Inside.Hand Paint On Brushed Aluminum Plate To Show Rich 3d Reflection Effect In Lights, Very Creative Combination Of Traditional And Modern Artworks, Really Awesome For Interior Wall Decor.
2) Decor Options Are Endless
Living Room, Family Room, Bedroom, Dining Room, Office, Hotel And Even Ceilings, Door Of Anywhere You Can Imagine, It'S Perfect To Hang Indoor As Well As Outdoor (Direct Sunlight Expose Is Not Suggested). Now Just Start To Add This Special Metal Artwork To Enhance Your Home'S Ambiance And Impress Your Guests.
3) Easy To Hang
Different From Steel, Iron And Other Metals, Aluminum Is Lighter And Easier To Hang, Kindly Pls Visit Our Link In Youtube To Know More Of The Ways To Hang Set Paintings.
4) Lifetime Quality Warranty
Waterproof, Fireproof, Moistureproof And Never Fade, Handsome Home Decor Promise Lifetime Quality Warranty, This Incredible Metal Artwork Will Adorn the Walls For As Long As people Live There.
Media Contact
Company Name: PUTIAN CITY HANDSOME HOME DECOR CO., LTD
Email: Send Email
Phone: +86 18559690217
Address:Chigang Industrial Zone
City: Hanjiang
State: Putian
Country: China
Website: https://www.handsomearts.com/