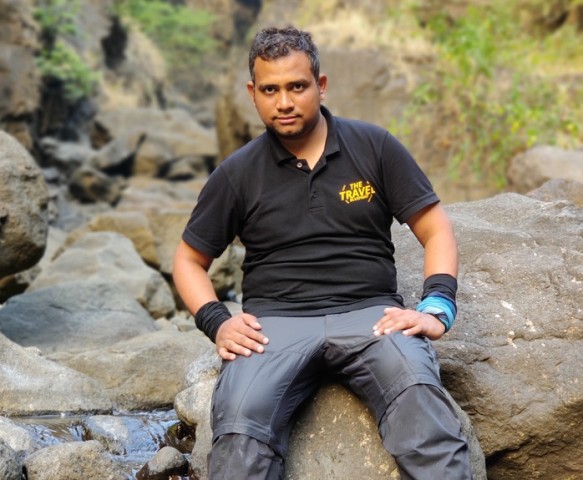 Ajaz Shaikh is a travel blogger. He is an avid traveler and not only shares some of the most exciting travel stories on his blog called "The Travel Blueprint" but also provides a detailed itinerary to reach the place and explore the most beautiful attractions. His blog features entertaining stories, helpful travel tips and amazing photography of the places he has explored as a solo traveler.
In this exclusive interview, Ajaz talks more about his blog and what inspired him to start it.
Interviewer: Give us a brief of your background.
Ajaz Shaikh: Being brought up in Mumbai, the financial capital of India like everyone one in the city I too wanted to be the part of the elite league to grab the best opportunity for excellent career. So, I was never a big traveller but was always excited to see places wherever my parents used to take me. When I started my job life, I was exceptionally committed towards my work. Months passed on working and working and all my social life was to a halt. As time passed on, frustration started building. Thoughts like what the hell I was doing with my life. What was the use of all the earnings, if I cannot use it for my mental satisfaction? Answer to this question lead me to travel offbeat location to move out of the race of earning money, just to build a terrace to sleep.
Interviewer: What inspired you to start your blog "The Travel Blueprint"?
Ajaz Shaikh: Traveling in meaning means relaxation, meditation, it allows one to have unforgettable experiences and I just love to share this unforgettable experience with people out there looking for a social and good break from busy work life but on a pocket-friendly budget. A dream to fill my life with adventure and unforgettable memories of this beautiful planet earth. All this factory-inspired me to start my travel blog – The Travel Blueprint.
Many people avoid travelling as they think it would be very expensive and just one or two trips can ruin all their savings. Also, if you check various packages provided by the travel agency, almost all are very expensive and not worthwhile at all. The main objective why I am writing all these blogs is to help people in finding out the budgeted way to manage their trips. Also, I assure you that you don't have to compromise with the scenic beauty you are about to experience with such budget trips.
Interviewer: Tell us a little bit about the best travel experiences you had so far?
Ajaz Shaikh: There are many best that every trip has offered me. Travelling across borders and exploring the unexplored places in the western ghats of Maharashtra to Aravalli's of Rajasthan to Kutch of Gujarat to down south covering Chennai, Pondicherry and the list is unending. Have learnt many things from every travel experience that I had. From better planning to better managing to better enjoying every trip, travel had made me one meticulous guy. It's very difficult to pin down one or two best experiences as I believe every trip that I planned and undertook was just amazing and definitely different from one another.
Interviewer: How do you manage your profession and traveling together?
Ajaz Shaikh: Currently, I am working in a media company as a full-time employee. So, the question is how do I manage both. It's all about priorities and aren't you lying yourself if you say that you don't get time to travel?
You must have heard about people quitting there to travel the world. However, in reality, that's not everybody can do it. It's not easy to quit the job and go travel, in the end, everyone wants stability and social security. It's hard to travel while working full time however, it is possible. I am known as a guy who is always on a holiday in my office, but that's not the reality. I am somehow managing both together.
Working full time does not mean you are working for 365 days. What if tell you, you have more than 1/3 of the total days as holiday. 52 Weekends – 104 days, National Holidays – 10 days and Earned leaves – 20 days all this adds up to 134 days and that's 1/3 of a year. So usually I travel on weekends to nearby place, leaving on Friday night and getting back to work on Monday morning. I usually do my long trip around long weekends like combine weekend with a public holiday on Friday or Monday to add an extra day combine it with earned leaves.
Interviewer: So where are you planning to go next?
Ajaz Shaikh: In 2020, I am planning to explore unexplored places in the states like Madhya Pradesh, Rajasthan, and Northern India.
More information on his blog, The Travel Blueprint.
Media Contact
Company Name: The Travel Blueprint
Contact Person: Ajaz Shaikh
Email: Send Email
Country: India
Website: www.thetravelblueprint.com