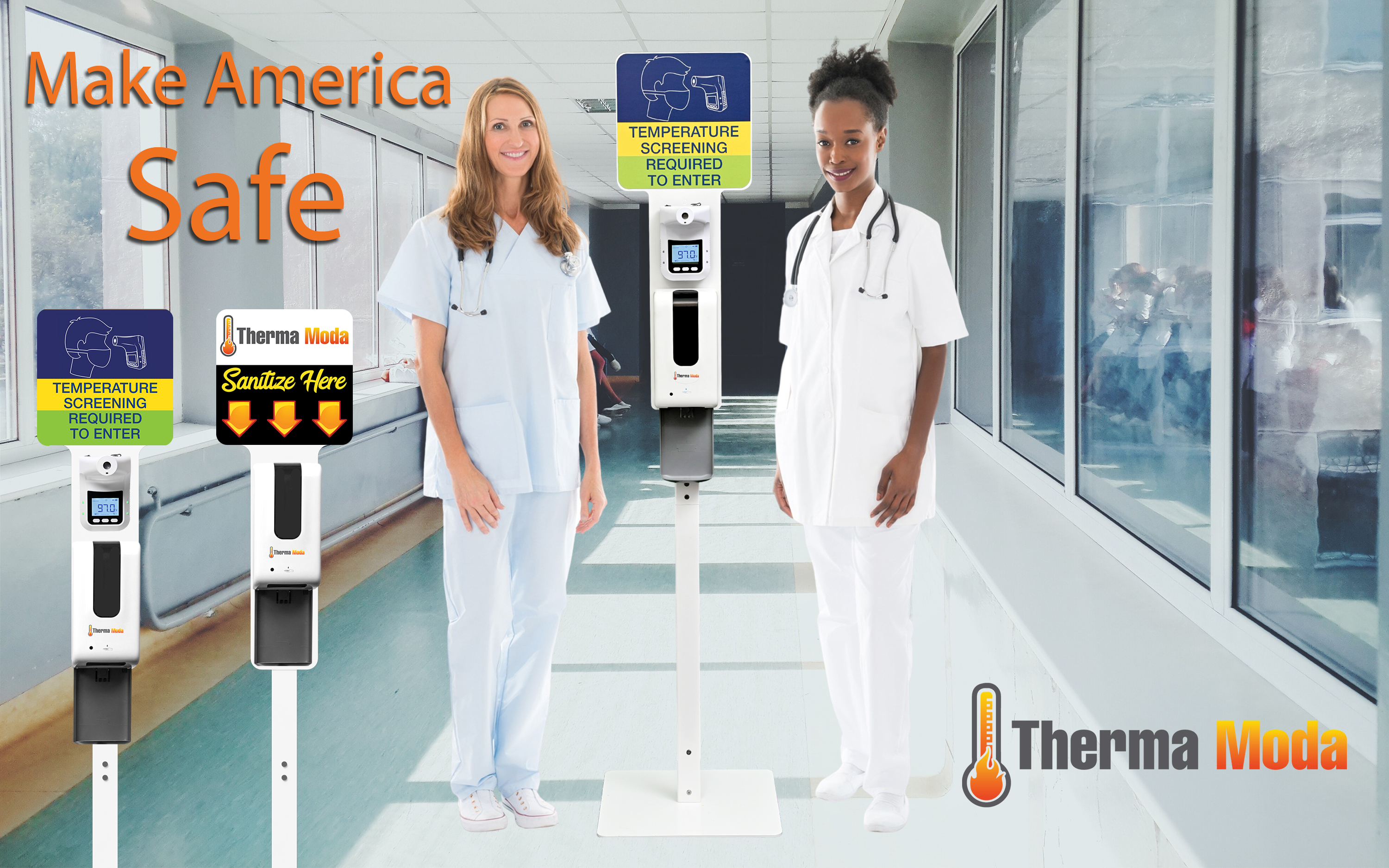 Products are available in different variations with customization for all types of buildings. They are strong, sturdy, highly efficient, and designed and manufactured in the USA
January 15, 2020 – The chances that America can open back its economy safely amid the covid-19 pandemic have increased sporadically with Therma Moda's range of innovative touchless temperature screening stands and hand sanitizing units.
With America rallying to stay alive economically, Therma Moda is out to contribute to the fight by ensuring that businesses can reopen and keep their customers safe from the COVID-19. The company's inventory will help businesses to carry out effective workplace entrance screening. Therma Moda's thermometers allow for automated temperature screening, effectively eliminating the need for operators who have previously risked their health on the job.
All Therma Moda stands are designed and manufactured in the USA and built to last long using powder-coated steel. Therma Moda stands are recommended for use in office buildings, schools, shops, restaurants, grocery stores, municipalities and any building open to the public.
Standard hand-held thermometers do not allow for CDC recommended 6' spacing as standard arm length is approximately 3' of distance. The Therma Moda automated units can be placed at a safe distance while adhering to the CDC recommended social distancing standards.
It gets better. The stands are modular, operated by touchless technology, and feature a magnetic sign that can be customized. Therma Moda can be fitted with a hand sanitizing station, a thermometer, a dual thermometer, or both the hand sanitizer and thermometer.
Therma Moda is also fondly referred to as a temperature screening kiosk. It features a customizable sign atop where users may place instructions or brand information. With various designs in its inventory, Therma Moda builds touchless temperature screening and hand sanitizing configurations to fit all needs. The adjustable stand allows kids and adults to check their temperature from a distance of 2 – 4 inches before entering a building. There is also the deluxe sanitizing unit with an automatic dispenser, suitable for workplace entrance screening. Deluxe Stand Duo provides the ultimate solution for sanitization and temperature checking all in the same place. It's an excellent addition to any buildings, to ensure safety and hygiene for customers, students, and clients.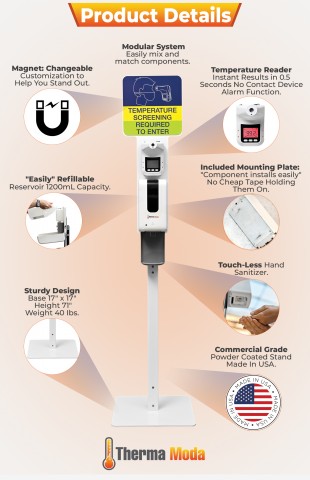 Like most successful brands, Therma Moda has a back story that showcases resilience and a sheer desire to succeed. The company was born from La Moda Photo Booths, a company that designs and manufactures photo booths in the USA. La Moda's successful streak was cruelly halted by COVID-19 regulations and then the business started to struggle. Thanks to its forward-thinking leaders, the business reinvented its services and products and has now become one of America's most reliable producers of automatic thermometer stands and hand sanitizing stations.
For more information, please visit www.thermamoda.com.
Media Contact
Company Name: Therma Moda
Contact Person: Joe Costa
Email: Send Email
Phone: 877-458-4676
Address:271 US Highway 46 D210
City: Fairfield
State: NJ 07004
Country: United States
Website: https://thermamoda.com/