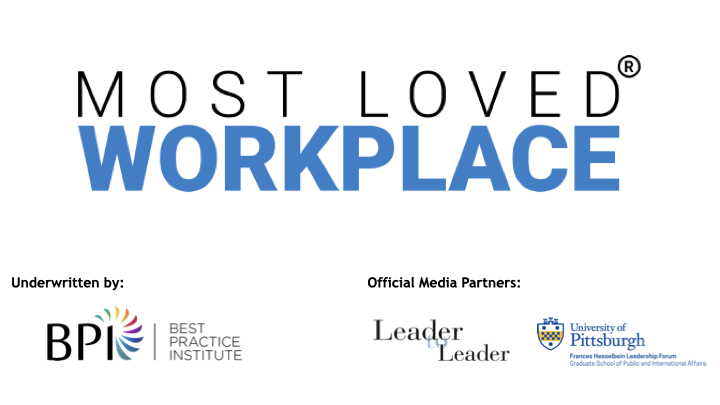 The University of Pittsburgh Frances Hesselbein Leadership Forum was founded in partnership with Presidential Medal of Freedom recipient Frances Hesselbein. As a world-renowned expert in leadership development, she has been recognized as a trusted voice in the development of ethical leadership principles. The Forum has selected Louis Carter's Best Practice Institute to facilitate the study. Louis Carter is known through his work as a bestselling author on leadership, service as a leading executive coach, and as an advisor to Fortune 500 companies, the Pentagon, and the United States Department of Justice.
The study seeks to help small and mid-sized businesses around the United States to understand and define where employees diverge between the most loved, neutral, and disliked workplaces. Businesses in the defined categories have been impacted especially hard by the 2020 pandemic. Navigating the new distributed and hybrid work environments have created unique challenges for leaders to better understand. This strategic partnership is focused on helping leaders to build a work culture that employees will love and that will empower companies to support the workforce of tomorrow. The initial year-long study will begin with companies participating in an employee survey that was designed through years of research.
Upon completion of the survey, the results will be made available to the participating companies. The study will provide leaders with areas of success and necessary areas of improvement to be considered a Most Loved Workplace. The survey will be readministered during the year to study the progress that companies make through recommended adjustments to leadership practices. All results will be confidential, but qualifying companies will be eligible to receive the Most Loved Workplace Certification upon successful completion of the study.
In addition to the certification, companies that successfully complete the study will be featured in the December 2021 issue of Leader To Leader, the official publication of the Frances Hesselbein Leadership Forum. The Louis Carter Best Practice Institute will also be publishing the aggregated results of the study to help leaders and researchers to gain insight around what really drives employees to truly love their workplace. The study is intended to continue on beyond 2021 with the goal of acquiring the survey results of more than 10 million employee participants within a 5-year period. When asked about the study Louis Carter had this to say:
"This partnership in many ways brings much of what I have built over the past 15 years with BPI full circle, by finally recognizing organizations that, as Frances always taught, focused on Values-Based Leadership," says Carter. "Her inspiration for creating the Most Loved Workplace program is immeasurable, and this partnership solidifies that for organizations who have built a culture based on respect and values."
Louis Carter, author, CEO, and founder of Best Practice Institute
Organizations looking to participate in this year-long study can apply at https://mostlovedworkplace.com/.
For more information or to schedule an interview with Louis Carter please contact David Green at 4078831502 or david.green@otterpr.com
Louis Carter's Best Practice Institute is an award-winning leadership development center, think tank, solutions provider, peer network, research institute, and online learning portal with more than 10,000 corporate and individual learning members around the world. Louis Carter is a best-selling author, executive coach, and strategic advisor to Fortune 500 organizations and the likes of the Pentagon and US Department of Justice: http://www.louiscarter.com
University of Pittsburgh's Frances Hesselbein Leadership Forum reflects the vision of a university-based center for teaching, applied research, and public service where leaders and aspiring leaders from around the world can gather to advance the art and science of leadership and put these principles to practice in public service.
Leader to Leader Journal is an award-winning quarterly publication focusing on management, leadership, and strategy sponsored by the Frances Hesselbein Leadership Forum at the University of Pittsburgh's Graduate School of Public and International Affairs, Johnson Institute for Responsible Leadership.
Media Contact
Company Name: Otter PR
Contact Person: David Green
Email: Send Email
Phone: 4078831502
Country: United States
Website: www.OtterPR.com