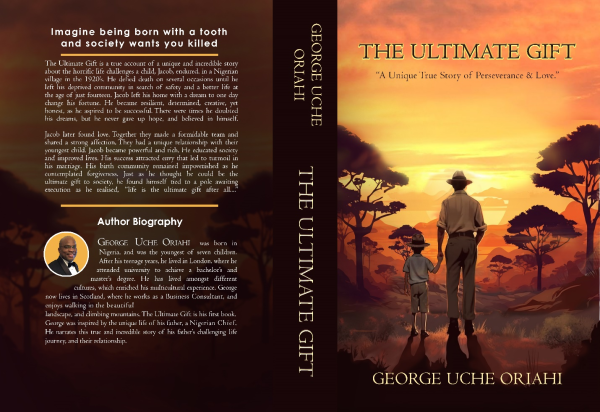 'The Ultimate Gift' by George Uche Oriahi is a captivating and extraordinary true story of Jacob, who defied all the odds and embarked on an incredible journey of self-discovery. This story, which is set in a Nigerian village in the 1920s will leave an ever-lasting impact on the reader. It will challenge your beliefs, and leave you questioning the true meaning of life.
The story revolves around Jacob, who faced unimaginable adversity from the moment he was born with a tooth. He was declared an abomination by his community but fortunately spared by the intervention of the King. Yet, the shadow of death continued to chase him as the villagers conspired to end his existence.
This book is a testament to the power of resilience, determination, and inspiration. Jacob, a fourteen-year-old determined to find an escape, left his impoverished village in search of safety and a better life. With a resilient and unwavering spirit, he embraced the power of dreams. Amidst his continuing struggles, he found love, and together they formed an incredible bond that fuelled their shared pursuit of a brighter future.
The story proceeds as Jacob's confidence grows, and so does his fortunes. He dedicated himself to transforming society and improving lives. However, envy and turmoil follow him and cast a dark shadow over his marriage and family. His birth community remained impoverished, leaving Jacob torn between forgiveness, reconciliation, and an elusive vision of a brighter future.
Just as he begins to realise he could be the ultimate gift to society, the story takes an unexpected turn. Bound to a pole, and awaiting execution, he realises that life itself is the ultimate gift – one that should never be taken for granted.
George Uche Oriahi has skilfully created a masterpiece that weaves together the elements of love, hardship, and perseverance. 'The Ultimate Gift' is based on the story of the author's father, a Nigerian Chief. George is honoured to share the story of his father's challenging life and their relationship, which will leave the reader inspired.
Are you ready to embark on an unforgettable journey of Jacob's life? 'The Ultimate Gift' by George Uche Oriahi is available on www.georgeoriahibook.com and Amazon.
Media Contact
Company Name: AMZ Marketing Hub'
Contact Person: George Oriahi
Email: Send Email
Country: United States
Website: www.georgeoriahibook.com