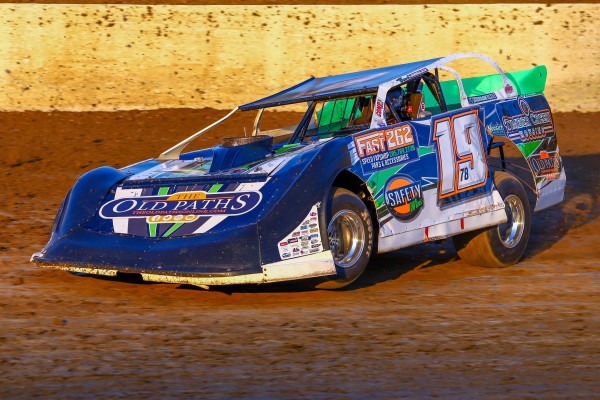 The Old Paths Quartet with The Old Paths Race Team kicked off the 2022 TOP Power Tour in Wheatland Missouri at Lucas Oil Speedway on Saturday night August 27th.
The Old Paths Power tour is a combination of concerts and races where the vocal band and the race team combine their efforts to entertain and share the gospel message of hope through their songs of faith.
Race Fans can identify with great music and great racing… The Old Paths want to bring both to dirt tracks through out America.
The Old Paths Racing Team enjoyed the highs and lows of racing this past Saturday night at Lucas Oil Speedway. The #19 dirt track late model piloted by Thomas Langley started on the second row in the fourth position for the Late Model heat race. On the first lap of the event Langley moved from fourth to second and chased the leader to the checkered flag.
As the #19 rolled through technical inspection, the car was found to have an issue with the MSD Ignition Box, a larger "chip" than permitted would nullify the second-place position and move Langley to starting last for the feature event.
Langley stated, "the chip was our fault totally, although it didn't make a difference in the speed of the car, it is the track rule, and a fellow racer told us about it, but we were busy with other changes to the car and just didn't change it out. I feel bad for our fans and The Old Paths Band because we had a great race, the car was fantastic, and the track surface was fast."
For the Rempher Memorial Season Championship Night, The Old Paths #19 race team started last in the Hermitage Lumber Late Model feature event but quickly moved from 18th to 13th in the first five laps, unfortunately on lap six Langley found himself in a spin and crash that ended the night early for the race team.
With a final comment on the night, Langley said "I want to thank Danny Lorton at Lucas Oil Speedway for a great night of racing. I wish we would have put on a better show for The Old Paths Band and fans, and the Lucas Oil Speedway fans….I just lost the back-end of the car in turn three on a slick spot and the car looped around. We will be back here, this is a phenomenal facility, the people are so nice…. this track is something that other tracks should model… even on a bad night of racing, it is a joy to be here." Langley also wanted to thank a few special people…. "I want to thank my cousin Zeke Langley for coming down and being my crew chief tonight, he did a great job reading the track and helping set up the car plus all of the work that goes into a night of racing, I also want to thank Zeke's family for coming down, they helped out in the pit area as well… it was great to be with family."
Langley wraps it up with these comments, "I would like to thank Timber Creek Housing and all their employees as well. They are working with us on a Safety Wins safety awareness campaign for their manufacturing operation. We want all their employees to go home each day without an injury. Having them be a part of this team is great, we want to do a good job for them each time we race."
To learn more about the TOP POWER TOUR visit: www.theoldpathsracingteam.com
Partners with the Race Team Include:
The Old Paths – www.theoldpathsonline.com
Timber Creek Housing – www.timbercreekhousing.com
Safety Wins, Inc. – www.safetywins.org
Hitman Suspensions – https://www.facebook.com/HitmanRacingSuspension/
JR & Sons Enterprises – https://www.facebook.com/MY3SONS98
Media Contact
Company Name: Safety Wins, Inc.
Contact Person: Ben Langley
Email: Send Email
Phone: 302-685-7020
Country: United States
Website: https://www.safetywins.org/