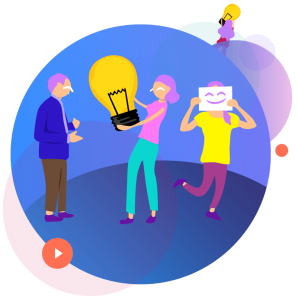 Social media marketing for your business can be challenging: it's time consuming, not to mention incredibly competitive. NAOSSOFT is here to make your life easier while making your brand stand out! Keep reading to discover the top types of social media content and how we deliver them to you.
Written blog posts, articles, and guides
Blog posts, articles, guides… whatever you want to call them, they're a great way to demonstrate your expertise to your audience. LinkedIn, Facebook, and Twitter are generally the best avenues for these posts. Generating ideas and explaining them in writing can take a long time, and if you're busy at work, you probably don't have that kind of time. Fortunately, NAOSSOFT can generate these posts for you, helping you build your credibility and reputation in your field as well as stand out from the competition.
Electronic Books (eBooks)
An eBook is usually longer than a blog post, giving you even higher potential to flaunt your business' expertise. You'll also run into less competition than with blog posts, as much fewer businesses write eBooks. LinkedIn is an ideal platform for eBook content. However, one of the reasons eBooks have fewer competitors is because they take much longer to create than blog posts, and as you know, time is money. NAOSSOFT can create a show stopping eBook that blows your readers (and competition) away.
Links to External Context
Links to external content are a useful tool, especially if, for whatever reason, a blog post doesn't work for your content. You'll want to take these links to Facebook or LinkedIn, or Twitter as a secondary option. With NAOSSOFT social media marketing, links to external content are always relevant and well-researched. We help links become an asset to you, rather than a hindrance. Our marketing gleans information from industry giants while keeping the focus on your brand.
Images and Videos
Visual content tends to be more digestible than written posts. When you post images and videos, they prevent viewers scrolling past your posts without a second thought. Images and videos not only endear potential clients to your brand, they increase engagement exponentially. Images and videos tell potential clients more about your business in less time. While there is a lot of competition for this type of post, NAOSSOFT uses stellar photos, art, and graphics for your social media platform so that you can stand out.
Infographics
Displaying explanations and statistics in a graphic format, infographics are perfect for sharing complex ideas. Facebook and LinkedIn are the best places for these, but Twitter is a useful avenue for them as well. Research and creativity (two of our most fundamental assets!) are needed to create effective infographics.
Testimonials and Reviews
Who do potential clients trust the most? Other clients, of course. Testimonials are extremely valuable because of the inherent honesty of the participants. We put in the work to make your glowing testimonials shine on any digital media, including Facebook, LinkedIn, or your website.
Announcements
Audiences love having the inside scoop on their favorite brands, so why not make it worth their while? Announcements build excitement around your brand. Letting people know about new products, livestreams, events and other happenings keeps viewers motivated and wanting to learn more about your business. We sent out attention-grabbing announcements so that we maintain the thrill of your brand on any and all applicable platforms!
Holidays
Holidays can be used to enhance brand name content in a plethora of ways. Your audience may have specific problems around this holiday, and you want to be the one to solve them! We post on any and all holidays to spread cheer and spread the word about your brand.
Contests
Bring real fun to your brand name with contests. People love to win; all you need to do is take advantage. The ideal prize will be related to your brand, but this is not mandatory. The best way to let the most people know about your contest is to get the word out on social media. The only thing you have to do is come up with a prize; leave the rest to NAOSSOFT!
About NAOSSOFT
At NAOSSOFT, we are dedicated to creating modern, streamlined, and intuitive websites for ambitious and passionate business owners around the globe. But why stop there? While other companies may make a website for a client and call it a day, we're in it for the long haul: NAOSSOFT is as committed to the client's success as we are our own. One of the many ways we seek to empower our clients is through our digital marketing and social media services.
We have a variety of digital marketing plans to suit the needs of your business. Whether you're starting from square one or need help growing your foundation, the marketing team at NAOSSOFT is here to help you thrive. We create ads that announce your brand to the world and drive your revenue. We use our knowledge of social media marketing and digital trends to determine the best course of action for your business. Whether through Google, Facebook, Twitter, Instagram, or a combination of platforms, your success is a reflection of our business, so we dedicate ourselves to that success!
Browse our digital marketing packages at https://naossoft.com/digital-marketing/ to get started.
Media Contact
Company Name: NAOSSOFT LLC
Contact Person: Phanel Petit
Email: Send Email
Phone: 813-563-2056
Address:66 West Flagler Street – Suite 900 #2959
City: Miami
State: Florida
Country: United States
Website: https://talent.naossoft.com