There are several activities involved in creating and managing a cosmetic line, including creating formulas, investigating the materials, and testing the final product. The key element in the process is selecting the packaging of the product. It's a procedure that needs to be handled with many things in mind. Product packaging encompasses the exterior design and the choice of material, graphics, colors, and font size. These minor details increase the worth of the actual product.
Packaging a product catches customers' eyes first and leaves a lasting impression.
The type of materials you use for your packaging is also pertinent. The attractiveness of the packaging is not the matter here, but the sensitivity of the material to the product should be kept in mind. For instance, the packaging material must not react with the products inside.
Analyzing the longevity or durability of the serums, and other beauty products is important.
Both main and secondary packaging is referred to as cosmetic packaging. The cosmetic component is kept in its primary packaging, commonly known as cosmetic containers. It would be close to the cosmetic item. The outside covering of a single or more cosmetic containers is known as secondary packaging. All information required to define the product's safety must be on the principal package that distinguishes primary packaging from secondary packaging. In the absence of it, most of the necessary information may be available mostly on the secondary packaging. The identity of the distributors, the contents, the limit of storage, the apparent content, the standard (such as the registration or batch numbers), the warnings, and the application instructions also must be displayed on the cosmetic container. The distributor's address and details on the cosmetic's mechanism of action must also be included on the secondary packaging. There is no requirement for a product identification note on the supplementary packaging. This receptacle should always include all information when a cosmetic item is only packaged in one container.
Importance of packaging in cosmetics
There are various reasons why cosmetic containers must be handled with care. They should preserve the goods and make retailers and consumers as comfortable as possible.
The primary function of a cosmetic package is to shield the product while it is being stored or shipped. Consequently, the container needs to be a well-considered arrangement that guards the product against degradation and helps to maintain its excellence. Secondly, the container must be professional to promote a makeup line product effectively.
Because of its use by people, it must endure even longer. The container's condition may also deteriorate over duration due to repeated opening and shutting. Ultimately, the substance must be sufficiently safe for human use for the container to be effective. The container should shield the product from pollution, debris, and pathogens. The container's condition may also deteriorate over duration due to repeated openings and shutting. Ultimately, the substance must be sufficiently safe for human use for the container to be effective. The container should shield the product from pollution, debris, and pathogens.
Since cosmetic products are primarily sold on the strength of their brand, the appearance of the container is thought to be of utmost importance. Cosmetics are not drugs; their marketing mainly relies on connecting corporate recognition to sentiments. Cosmetics are regularly renamed and relaunched as a consequence to acquire more exposure to the market.
Check cosmetic packaging manufacturers List.
Below are some materials that can be used for cosmetic packaging
Materials used in packaging
Metal
Metal cans are becoming increasingly popular in certain makeup and cosmetic industries for their goods, including exfoliants, liquid tints, eyebrows beauty products, and glosses. Your products seem lovely and vintage when made of metal. However, metal packaging must have a special coating to prevent rusting when used with items containing essential oils, so use caution. This also holds for metal lids. Most collapsible tubes are made of aluminum, but tin and lead also play important roles in cosmetic packaging.
Metals serve as unbreakable packaging for the best possible product protection. They can also protect products from moisture and high temperatures. In addition, metals are highly recyclable, which is advantageous for businesses seeking to project an environmentally friendly image.
Glass
Due to its biocompatibility and inertness, this substance is used in cosmetic products. Some reactive acids and essential oils should be packed in glass material. The glass's strong composition also protects it from corrosion, which is common in plastic packaging that reacts with the contents.
Using glass receptacles has the benefit of being beautiful. Glass packaging makes your product appear refined and upscale. Furthermore recyclable, they have a significantly smaller carbon imprint.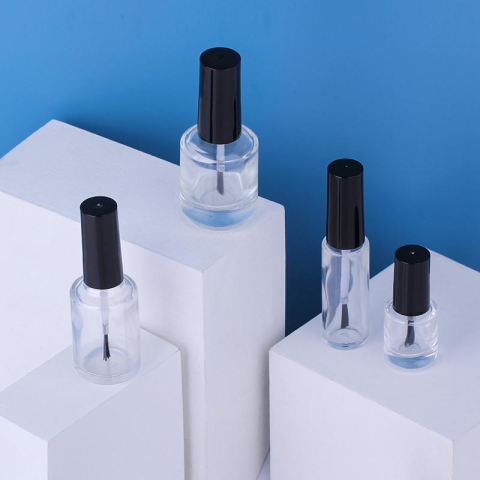 Jars, bottles, vials, or rollerball applicators based on your products can be selected for glass packaging. It can be clear, colored, or frosted. Labels on glass packaging can be a sticker on the exterior or printed right on it.
The production and shipping costs are the major drawbacks of using glass containers. Roetell.com delivers acknowledgment on the same.
PET or Polyethylene Terephthalate
Polyethylene Terephthalate containers are transparent plastic bottles primarily used for beverages and cosmetics because they copy the clear appearance of glass. Over the years, due to its lightweight, low cost, and shatter rigidity, it has become very well-liked. Due to its ability to act as a shield between plastic and cosmetics, PET creates a superior cosmetics holder. This stops the product's chemicals from oxidizing plastic due to their reaction to the polymer. PET might be a great fit for you if your product contains alcohol, oleoresins, and other solvents.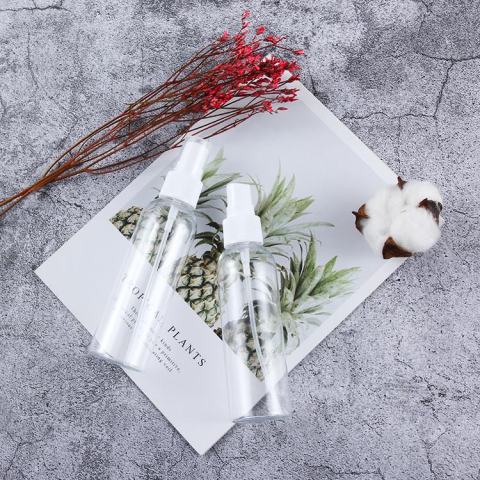 Polypropylene Plastic (PP)
Propylene plastic, also widely recognized as PP, is used for packaging in cosmetic line manufacturers. PP is opaque and sturdier than previously mentioned plastic. For example, polypropylene Plastic is used in tubes of lotions and perfume packaging.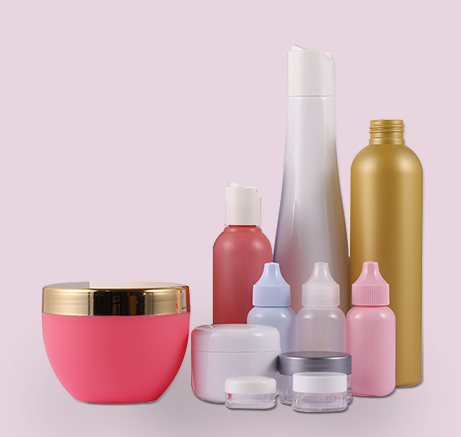 In addition to its flexibility and advantages for packing, polypropylene is waterproof and exceptionally resistant to moisture absorption. Due to its high flexural strength and semi-crystalline structure, it is also resistant to general wear and tear, making it perfect for products that must withstand greater amounts of physical stress. Additionally, it is resistant to germs, rot, and mildew.
Click here for 100ml pet bottle manufacturers list and 250ml pet bottle suppliers list.
HDPE or High-density Polyethylene
High-density Polyethylene is the most trusted packaging material used. It does have a rigid structure. It is Hypoallergenic, and is less inclined to leak contaminants into the ultimate article. Furthermore, it is highly biodegradable.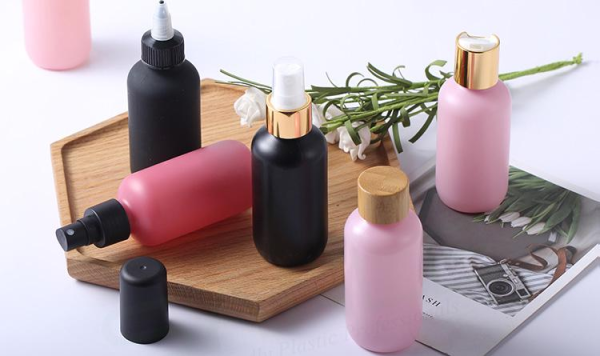 Packaging size
The market research also requires understanding how big your packages will indeed be. For example, lotions cannot be sold in large containers or barrels. Likewise, if you package your lips balms in incredibly compact containers, your clientele won't be thrilled.
The size of the packaging should always differ according to the product usage. Proper package sizing and proportion eliminates waste and extra material in manufacturing. Moreover, it decreases the quantity the shipment requires in transportation, minimizing the impact on the environment.
Check plastic sample bottles 250ml.
Labeling and packaging design
It all depends on how your product is packaged. There are numerous container styles and specifications for cosmetic products. Your packaging provider will thus propose a large range of alternatives. You can, nonetheless, have packing materials that are specifically constructed if your commodities are exceptional.
Labels inform consumers about the product, including how to use it and where it came from. The contact information of the entity responsible for putting the product on the market must be included on the label. The label must be easy to read, especially for customers viewing the product. Certain compositions, such as perfumes, can have multiple ingredients. The most critical information must be displayed on the primary and secondary packaging, especially if the product is prone to misuse.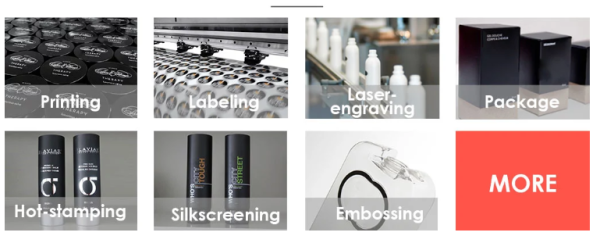 If you're looking for packaging design inspiration, there's no better place to look than at the latest cosmetics packaging trends. You can create packaging that caters to what's important to your customers and speaks to them correctly once you know what's currently trending.
Pre-made packing lacks the soul of your product. Thus, packaging design is a terrific substitute. Caps, toppers, dimensions, substances, textures, and coloring might easily be customized. You, therefore, have total creative freedom over how your things appear.
Exaggerating the goods on the label is another strategy that functions as authentication. This labeling enables the customer to distinguish the goods from others on the market's shelves.
Sustainability
When developing product packaging, many cosmetic product brands don't consider issues such as climate change. Nevertheless, the most biodegradable materials that work with your items should be considered.
Regulations impose some requirements for eco-responsible packaging, while individual products are liable for others. In addition, buyers, executives, workers, and owners may all affect organizational actions and laws.
The more containers that can be reused and recycled, the more environmentally friendly and economically efficient it will be. The response of the product substance to use, chemical constitution, and bio all impact container endurance. In contrast, the container needs to be chemical and fungal resistant. High temperature or cold-resistant materials must be used to manufacture the container. The product must therefore be shielded from UV light, which might affect it. The container should not absorb the product's components.
CONCLUSION
Your makeup products might benefit greatly from choosing the appropriate packaging. Its layout and logo exude the individuality of your brand. It preserves the quality of your goods and guards against harm. It is crucial to do your study to determine which material is best for your items.
About sanleplastics
sanleplastics is a leader in manufacturing plastic bottles for the cosmetics, beverage, and food industries. It helps brand owners and wholesalers provide plastic packaging facilities for their fulfill their top-end manufacturing. Sanleplstics has been in the plastic packaging industry for the last 30 years because of its expertise and know-how. It has helped many small and big brands with their customized packaging needs.
Media Contact
Company Name: Zhejiang Sanle Plastic Co.,LTD
Contact Person: Ray Zhou
Email: Send Email
Country: China
Website: https://www.3plastics.com