Mutifaceted entertainers and successful entrepreneurs, Join Bryan and Ryan Wood, aka the NEWMONEYTWINZ, launch their autobiography titled New Money New America
Ryan and Bryan Wood, popularly known as the New Money Twinz are looking to inspire millions of people, especially the youth, in different parts of the world to push boundaries and reach their full potentials as they publish a new book titled New Money New America. The book, which will be officially launched on April 12, chronicles the rollercoaster journey of the twins through a loving, yet educational, upbringing into adulthood while detailing how they stood tall amid adversities to achieve success.
Millions of people in the United States and other parts of the world go through different situations that sometimes hold them back from achieving their purpose. While some are able to overcome these challenges relatively easily, others sometimes remain stuck. Unfortunately, there are only a few resources providing such people the needed assistance to forge ahead, especially as many of the available guides are rather abstract. However, the duo of Ryan and Bryan Wood is looking to make a difference by personifying the experience and relaying it in their new book New Money New America.
The title of the piece says a lot about the content, as the twins dig into their wealth of knowledge and experience as an entrepreneur to provide readers with simple-to-implement yet effective and innovative ways of making money and growing businesses, especially after a pandemic.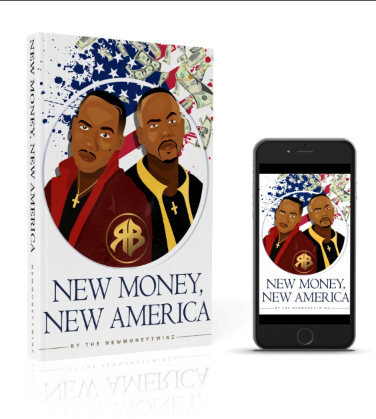 Born in Takoma Park, Maryland, Ryan and Bryan Wood have a first-hand experience of living from hand to mouth and what it takes to achieve financial freedom or at least stability. Consequently, they have decided to detail their experiences in the new book to help readers identify opportunities that could help them escape the poverty cycle. The book also serves as a way of giving back to minority communities, especially African Americans, helping them out of the cyclical despair they face daily.
The entertainment business executives and R&B acts will be revealing secrets that helped them achieve success as entrepreneurs and entertainers and how they have continued to grow the New Money Records Inc. brand in the highly competitive entertainment business.
New Money New America is available in Kindle and paperback versions across all major platforms, including Amazon, Apple Books, and BookMate.
For more information about New Money New America and other projects from the New Money Twinz, please visit – http://NewMoneyRecords.com.
Media Contact
Company Name: New Money Records Inc R&B
Contact Person: Ryan and Bryan Wood a.k.a New Money Twinz
Email: Send Email
Phone: 310-433-3150
Country: United States
Website: http://NewMoneyRecords.com