A Single Point Mooring (SPM) Calm Buoy System is an offshore mooring point used to facilitate tankers loading or discharging various forms of liquid product cargo near onshore storage or production fields.
There are various types and configurations of SPMs for use in various locations and purposes, such as Turret Buoys, Single Anchor Leg Mooring (SALM), Single Point Mooring Towers, Spars, and Articulated platforms.
The SPM CALM philosophy consists of a tanker mooring securely to a single buoy in open waters offshore. After which the free ends of floating hoses connected to the buoy are connected to the tanker and product is pumped through the hoses, buoy, subsea risers, manifolds and subsea pipeline. Either from the tanker to onshore storage or vice versa, depending on if it is import or export facility. These buoys can be designed and fabricated to handle large-capacity tankers, including very large crude carriers (VLCCS)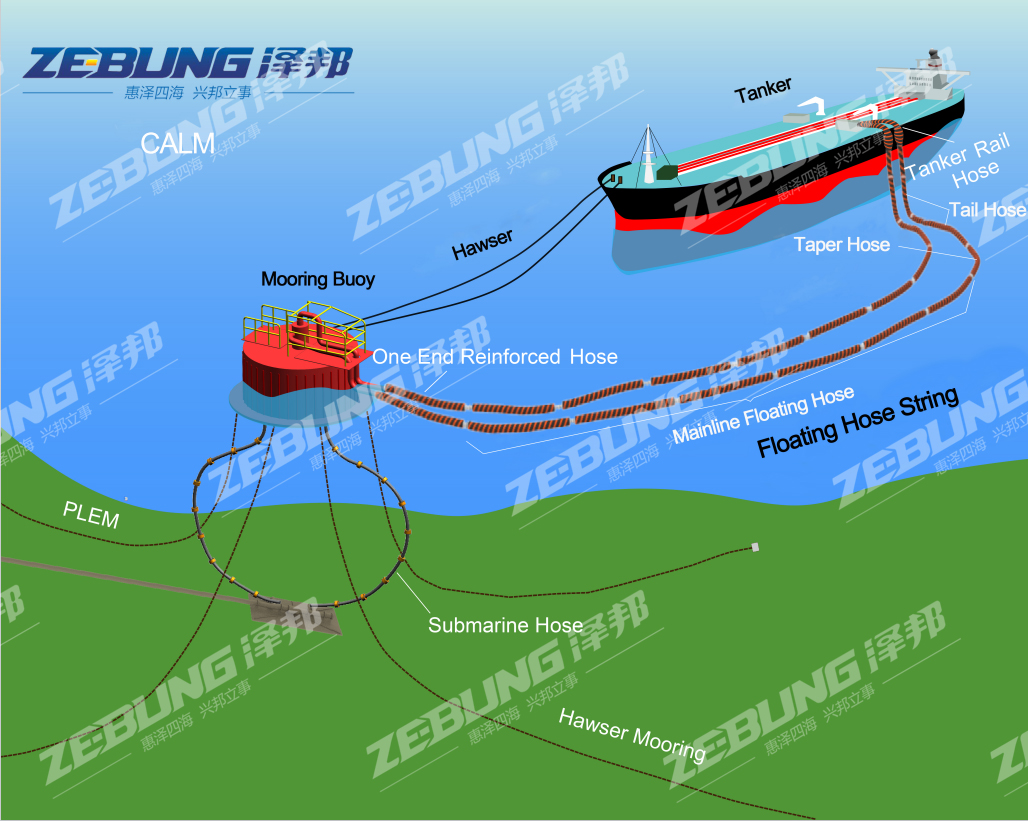 The SPM calm buoy system is typically used nearshore, to negate the need for larger marine mooring infrastructure such as ports, jetties and marine loading arms. It also offers an improvement over the fixed position Multiple Buoy Mooring (MBM) methods, in which tankers are typically more adversely affected by loads from wind and waves.
SPM calm buoy system are also used further offshore, in deep waters, to facilitate the transfer of product between floating production facilities and tankers. In these instances, the buoys have a different design and are moored on position with composite legs, often containing high-tech synthetics and steel wire rope.
The owners and operators of SPM systems should adhere to a special offshore operation standard, established by the Oil Companies International Marine Forum (OCIMF)
Hebei zebung rubber technology co., ltd is a professional manufacturer of marine hoses , including marine floating hose, submarine hose, dock hose, ship to shop (STS) hose, LPG floating hose, natural gas hose…Among them, LPG /Natural gas hose has get consistent high praise from our clients by Superior air tightness and longer lifetime. Dedicated welcome customers coming negotiations business.
Media Contact
Company Name: Hebei Zebung Rubber Technology Co., Ltd.
Email: Send Email
Address:Development Zone, Jing County
City: Hengshui
State: Hebei
Country: China
Website: https://www.zebungrubberhose.com/