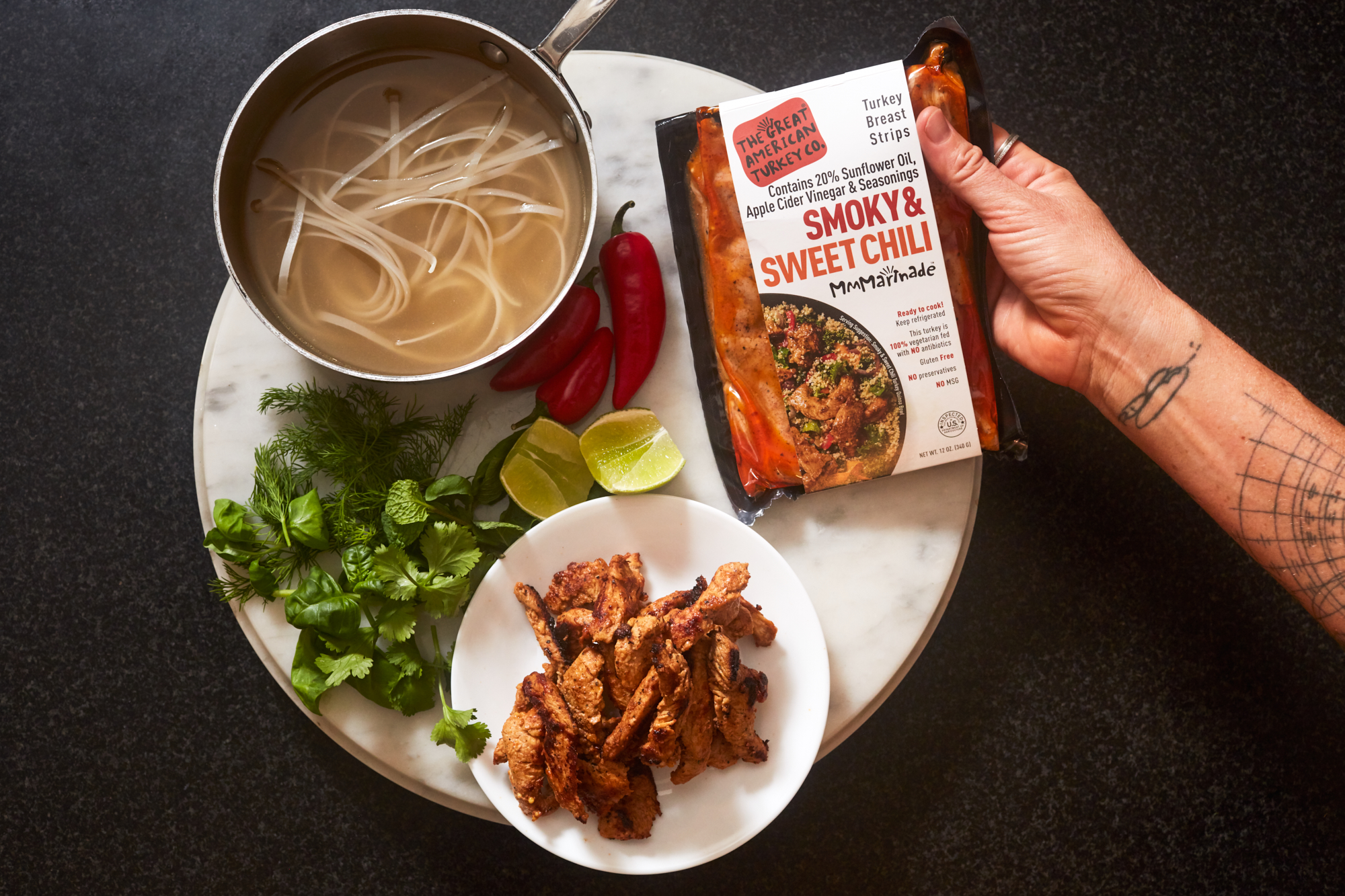 AMERICA'S FOREMOST BIRD HAS LANDED IN MIAMI
Turning the Beef-or-Bird Battle on its Beak as TURKEY – America's Next Big Protein – takes on its more popular sister in a Beak-to-Beak Battle for At-Home Menu Dominance
Marking its Official Launch at The Food Network & Cooking Channel's South Beach Wine & Food Festival
NEW YORK – February 19, 2020 – The Great American Turkey Co.® (GATC) – curators of healthy and sustainably-sourced, artisanal turkey products from farm-to-fridge – today announced a major partnership with the largest employee-owned grocery chain in the United States, Publix Super Markets. Six flavorful varieties of the brand's turkey sausages and deliciously marinated strips will now be available in more than 1,200 Publix stores, bringing healthy eaters carefully prepared, protein-packed turkey in clean, preservative-free marinades hand-crafted by the brand's own James Beard Award-winning chefs. GATC products are packed fresh and ready-to-cook, antibiotic- and hormone-free, Certified Humane and most of all, healthy. Epically delicious, awesomely easy and honestly good, this tasty turkey gives Americans a fresh alternative to chicken.
"We are so proud to be part of the Publix family to bring our better-for-you, delicious turkey products to the Southeast, and we're excited to partner with Miami's premier culinary festival to share the six creative varieties we now carry at Publix," said Sam Stein, CEO of The Great American Turkey Co. "Consumers want options. Our goal is to make turkey a year-round part of every dish with our delicious, rich flavors and chef-driven, clean recipes. Having Publix carry our products means more and more consumers will now have access to new, healthy and delicious ready-to-cook alternatives."
"Publix is committed to providing the highest quality foods to our customers, and we're equally as passionate about bringing new food innovations that are healthy, sustainably-sourced, easy to cook and certainly delicious. We believe there's a lot of opportunity for innovation in the turkey category, and we're excited about the quality and fresh, new approach The Great American Turkey Co. is bringing to the meat aisle,," said Keith Barthelme, Category Manager at Publix Super Markets. "What is most exciting about our partnership with The Great American Turkey Co. is that together we are solving a customer demand for more healthy and convenient variety in their meal options – especially meat products that are high in protein and lower in fat and calories. With six unique GATC flavors, there's something for everyone to enjoy."
To celebrate its entry into Publix stores in the Miami market, The Great American Turkey Co. is launching an exciting, large-scale sampling experience as a sponsor of this year's five-day South Beach Wine & Food Festival (SOBEWFF) taking place February 19th – 23rd. The brand will be sampling a variety of deliciously tasty and creative turkey recipes at its booth at these nationally attended, celebrity-focused destination events:
• Thursday night (2/20) at Barilla's Italian Bites on the Beach with Giada De Laurentis
• Friday's Grand Tasting Tents (2/21)
• Friday night (2/21) at the Heineken Burger Bash sponsored by Schweid & Sons
• Saturday night (2/22) GATC at the Beachside BBQ with Guy Fieri
• Sunday night (2/23) at Barcardi's Beach Carnival with Andrew Zimmern
Given the current nutritional landscape which has lacked innovative, healthy and delicious turkey products, The Great American Turkey Co. set out to change that with these delicious products that can now be found in the fresh meat aisle at local Publix stores:
MARINATED TURKEY STRIPS
● Olive Oil & Herb
● Smoky & Sweet Chili
● Tomato Basil
TURKEY SAUSAGES
● Apple Maple
● Smoked Mozzarella & Broccoli Rabe
● Sweet Italian
Since its official launch in 2018, The Great American Turkey Co.'s founder and Chairman Kirk Posmantur brought on co-founder and CEO Sam Stein and inductee of the James Beard Who's Who of Food and Beverage in America, George Faison, who serves as COO and President. George – who has built a legacy of producing high-quality, clean and sustainably-sourced meats and pioneered the farmer-friendly practice of "whole carcass" utilization to reduce food waste – enlisted four-time James Beard Award winning celebrity Chef Michel Nischan as GATC's senior culinary advisor to help create the extraordinary flavor profiles of its products. Together they designed recipes and marinades that are richly steeped in innovative and unique flavors from around the world that American consumers know and love.
The Great American Turkey Co. and Publix partnership will also benefit Wholesome Wave, a non-profit organization that addresses the national health and food insecurity crisis by increasing affordable access to healthy produce for underserved Americans. Wholesome Wave founder, GATC's Chef Michel Nischan, says that during a time where more and more Americans truly care about the wide-ranging impact of their food purchases, the role of purpose-driven brands is gaining traction. Chef Nischan believes that Americans want to know that they can trust what they are feeding their families and that companies are being good corporate citizens. Together now with Publix support, The Great American Turkey Co. will continue to benefit Wholesome Wave's mission to help underserved communities across America gain access to healthy and affordable produce to put on their family tables.
Something else for turkey lovers to feel good about!
WHY TURKEY? Did you know…
• In a 2016 Today's Dietician survey, 67 percent predicted that consumers will continue to move towards high quality, lower fat protein.
• Consumers' domestic turkey consumption is on an upward long-term trajectory thanks to its health benefits and wellness halo. Turkey offers diversity where 39 percent of consumers who eat turkey are more likely now than two years ago to eat it at non-holiday meals.
• Lifestyle of Health and Sustainability (LOHAS) consumers have grown more than 31 percent in the last decade and today represent one in four adult consumers ages 30-65 who are conservatively estimated to control $290 billion is US spending power.
• 76 million Baby Boomers with a "food as medicine" mindset are actively engaging with food to manage health concerns.
• There are 83 million Millennials who are driving sustainability and are early adopters of products and companies that align with their values and will carry these values into the future.
• Whole turkey has dominated turkey sales in America, followed by unflavored ground turkey, until now. GATC turkeys are 100 percent vegetarian-fed, certified humanely raised with no added hormones or antibiotics, ever.
Sources: North American Meat Institute. Annual Meat Conference. The Power of Meat 2018; Nielsen, Total U.S. Food 2017; Nielsen AOD Scan, Total US; USDA's Economic Research Service; National Chicken Council, USDA; Nielsen / IRI U.S. sales data for 52 weeks ending 1/26/2019
FIND & FOLLOW GATC – #TastyBetterLiving
Facebook: https://www.facebook.com/greatamericanturkeyco
Twitter: https://twitter.com/gaturkeyco
Pinterest: https://www.pinterest.com/greatamericanturkeyco
Instagram: https://www.instagram.com/greatamericanturkeyco
YouTube: https://www.youtube.com/channel/UCEeEffR9zYYdDOYMIK9blkQ
LOGO FOUND HERE: https://1drv.ms/u/s!AlpdNQCojjYbiJgxY14sRmKtN0otBw?e=8NkGpY
PRODUCT IMAGES FOUND HERE: https://1drv.ms/u/s!AlpdNQCojjYbiL4CQw8yoG-RdVqgjg?e=VYW1MA
BROLL FOUND HERE: https://1drv.ms/v/s!AlpdNQCojjYbiMck6ahI5G5Ty_lC0g?e=MktJZ7
ABOUT THE GREAT AMERICAN TURKEY CO. – https://greatamericanturkeyco.com
The Great American Turkey Co. (GATC) is the new breed of clean, complete protein: epically delicious, awesomely easy and honestly good. That means its products are farm-to-fridge, great-tasting and sustainably-sourced without compromising on convenience and quality. Because GATC believes healthy should be more tasty, accessible and responsible, GATC recipes are crafted by its own James Beard award-winning chefs and are always packed fresh and ready to cook and always antibiotic and hormone free. GATC turkeys are humanely raised on family-owned American farms, and the company is committed to using the whole bird to not only serve its customers but also to help our farmers and our communities by reducing food waste and contributing to improving the entire food system. GATC was founded on a purpose-driven culture of giving back and doing business for good, both vital to its DNA. The company and its founders are committed to creating affordable, healthy, local food for all people, which is why it donates to support the vitally important mission of Wholesome Wave – which since 2016 has increased affordable access to fresh fruits and vegetables for 900,000 underserved Americans across the country.
ABOUT PUBLIX – https://www.publix.com
Publix is privately owned and operated by its more than 200,000 employees, with 2018 sales of $36.1 billion. Currently, Publix has 1,239 stores in Florida, Georgia, Alabama, Tennessee, South Carolina, North Carolina and Virginia. For 22 consecutive years, the company has been named one of Fortune's 100 Best Companies to Work For, and Publix ranked No. 1 on Fortune's inaugural list of Best Big Companies to Work For in 2019. In addition, Publix's dedication to superior quality and customer service is recognized among the top in the grocery business. For more information, visit the company's website, corporate.publix.com.
PRESS CONTACTS:
For more information, B-roll and to request interviews and on-air cooking segments with The Great American Turkey Co., please contact:
Laura Hall
Laura@talkertailor.com
(m) 917.544.6344
Karen Parziale
karen@360degreesmarketing.com
(m) 201.927.8536
Media Contact
Company Name: HALL COMMUNICATIONS LLC
Contact Person: LAURA HALL
Email: Send Email
Phone: 9175446344
Country: United States
Website: www.greatamericanturkeyco.com