Euless, Texas – Bob Bhandari Company, today announced the launch of The Golden Lady of Nepal, which is a true story of bravery, presented in a fact-based book. It offers insight to those abused. Are you a victim living in an abusive society? Or perhaps a victim who is still struggling to overcome the effects of maltreatment? You can find your hope and courage through the trials that Sharada endured, and watch her as she celebrated her victories. It was her persistence never to give up that enabled her to discover those triumphs by fighting back.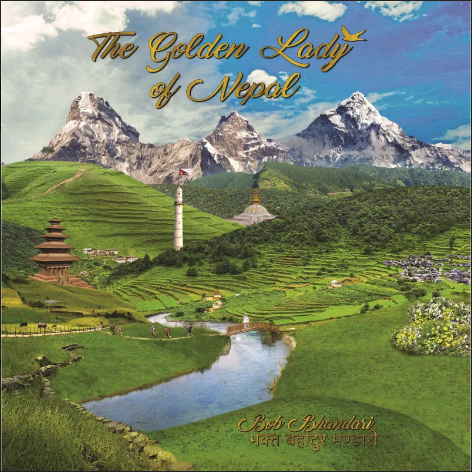 Do you know what it is like to be unwanted or abused from the time of your birth? Have you ever experienced acts of violence against you from your father or brothers? Sharada has endured this type of emotion and far more from the time of infancy throughout her life yet remains determined never to give up and to reach out to so many other women everywhere who are suffering in the same way, and all, because she is a woman!
The author, Bob Bhandari, decided to help Sharada and the other women of his homeland of Nepal in this riveting tale of life in his country. So, he reached out and took her hand as she embraced his trust to share her story unspoiled and tainted with frivolous tales. Bob, being of pure heart, wanted the world to know her suffering from rejection and her sacrifices to help humankind. Bob left her story as is but further enhanced the world in which she lives, explaining what the different agencies that she spoke about, introduced you to the leaders, got behind the real lives of many citizens of Nepal, and the village where Sharada Jha resides.
Author Bhandari, also adds a background of Nepal with the addition of historical facts behind areas of interest and the leaders dating back many years. However, on the same note, he also shares current Nepal with photographs of architecture and the beauty of the area. The dirt roads and much of the scenery still ridden with telltale signs that poverty lurks in the villages where living quarters are a small single room representing the bedroom, bath, living area, and tiny kitchen.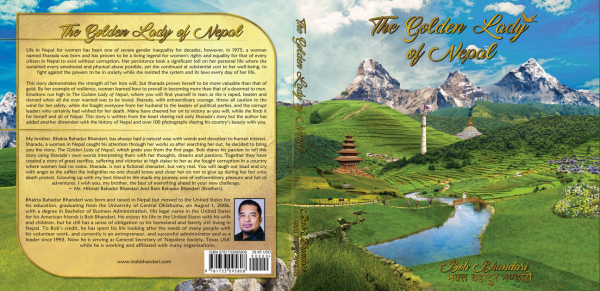 In her story, Sharada takes on many causes. Still, corruption, the wayward manner of the police, is perhaps one of her most significant accomplishments, but not without tremendous cost to her health and safety. Her determination took on extremes to the point of three Fast Unto Death, demonstrations for which she even received her last rites.
Yes, courage and sheer guts are what has driven her to fight for the rights for information. Sharada Jha, and now Author Bob Bhandari, have together developed organizations to inform the citizens that they have the right to enjoy the necessities of life without the threat of loss, for having a voice. Bob has also developed many organizations stateside and works tirelessly, helping those who need most anything in his stateside residence of Texas. You will also read several parts of Bob's advice columns of what one should do if they want to enjoy life without violence or threat.
Features and benefits of "The Golden Lady of Nepal"include the following:
This extraordinary book offers the reader explanations that close the gap between our worlds. Our living mannerisms, and varying terminology, you may not otherwise understand, is shared with the who's, what's and where's, giving this story a broader dimension.
The Golden Lady of Nepal also offers the readers a look into the characters that influenced Nepal, which was pulled apart by corruption. It exposes leaders of both crime and the good, while it also celebrates the traditions of the country.
As a bonus, readers can discover the beauty of Nepal, in spite of its corruption, mistreatment of women, and poverty.
Photographs, numbering greater than 100, allow you to experience the pain and beauty while prodding you along to acquaint yourself with the beauty of the land and where cruelty and joy can co-exist in one area. It also shares a behind the scenes section of the book entitled, Beyond Sharada's Story. The author, Bob Bhandari, share facets of the book, which help the reader understand the importance of knowing Nepal. It includes a distinctive look at a particular group of people, which will make your hearts embrace them. The author brings awareness to a way of life that you would never suspect exists.

Bob Bhandari Company, supports and volunteers with dozens of charities. Every year he volunteers and helps feed thousands during the holiday season and also offers them help with the education of how to turn their lives around. The website shares with you the many charities and organizations that Bob Bhandari has worked with for years. He gives back tireless energy, supporting the community in which he lives, to anyone, or anywhere that needs his help.
The debut of The Golden Lady of Nepal is exciting for so many. Bob Bhandari says I've always stayed active with supporting my community wherever I live. Nepal is my homeland, so when I saw the opportunity to re-write the story of a courageous woman in Nepal, I took it. It was my pleasure to give back to the area I loved. Expanding on her story felt right, so my readers could see while there was pain, hope, and beauty also live in Nepal. I wanted to share with the world how other countries survive in their lives so that they would realize how fortunate they are to live in the U.S.A.
Be sure to visit the website, www.BobBhandari.com, for the free bonuses and follow the monthly blog posts, so you never miss the updates from Bob Bhandari or Nepal. You can also email Bob Bhandari directly at thegoldenladyofnepal@gmail.com
You can also purchase the book at http://www.amazon.com/dp/1733095802?ref_=pe_3052080_397514860
Media Contact
Contact Person: Bob Bhandari
Email: Send Email
Country: United States
Website: www.BobBhandari.com