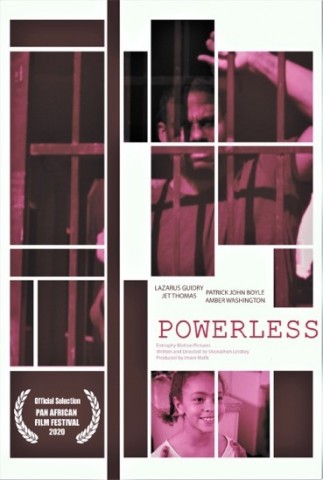 LOS ANGELES – MARCH 11, 2020 – Hundreds of anxious movie goers poured into the Cinemark Theater at the Crenshaw Plaza for the 28th Annual Pan African Film Festival. Conqueror Studios in partnership with Shonathen Lindsey made quite a splash with the screening of "Powerless". The 7- minute movie short based on a true story starring rapper/actor Lazarus Guidry and Jet Dope is just one of a slate of shorts and full features the collaborative team will release in 2020 & 2021.
Written and directed by Shonathen Lindsey, the compelling short has everybody asking, "Who is Lazarus Guidry?" Lazarus is a mult-talented, rapper, actor, writer, producer and entrepreneur who has decided to invest not only in himself but, in other independent storytellers whom he feels aligns with his vision and his brand.
"Powerless" introduces Sadiq (played by Lazarus Guidry) a young man who is in a struggle to regain his role as father to his young daughter after a bad decision landed him behind bars for 10 years. Sadiq had no idea of the uphill battle he would face having not considered his daughter Amber was now being raised by her mother and "stepfather". Desperate to make up for lost time, Sadiq finds himself at war with his ex and her husband. The hope is that Sadiq counts the cost and makes the right decision this time around.
"This is a story about a man who made some bad choices with some bad consequences, but he not only wants another chance, he deserves another chance at life and fatherhood. These are the kind of stories I want to tell and be able to show better outcomes", says Guidry.
Powerless is produced by Imani Malik Butler and stars Lazarus Guidry as Sadiq, Patrick John Boyle as Matt, Jet "Dope" Thomas as Dana, Kayla Washington as Amber.
Simultaneously, Guidry is starring in yet another movie short title "Gritty", which was accepted into the San Diego Film Festival. The short screened on January 31, 2020 and received rave reviews. Gritty is based on a true story of the life of Curtis Manning who had been was released from prison 15 years ago, however, the horrible experience of prison has changed him forever. The riveting story talks of the physical and psychological torture he endured at the hands of the notorious prison gang called "The Gritty Gang". Curtis no longer believes he will ever be "normal" again. He blames his lack of ability to be fully rehabilitated on the gang he simply calls "Gritty".
"These movies are based on real life experiences and being able to bring them to the screen to tell their stories is not just entertaining but, it also gives people an opportunity to understand the mindsets of these individuals on both sides" says Guidry.
For more info or interview requests, please visit his web page https://lazarusguidryactor.com or contact Stephanie Redix at Stephanie@iscopepr.com
Media Contact
Company Name: Infinite Scope PR
Contact Person: Stephanie Redix
Email: Send Email
Phone: 310-922-7326
Country: United States
Website: https://lazarusguidryactor.com