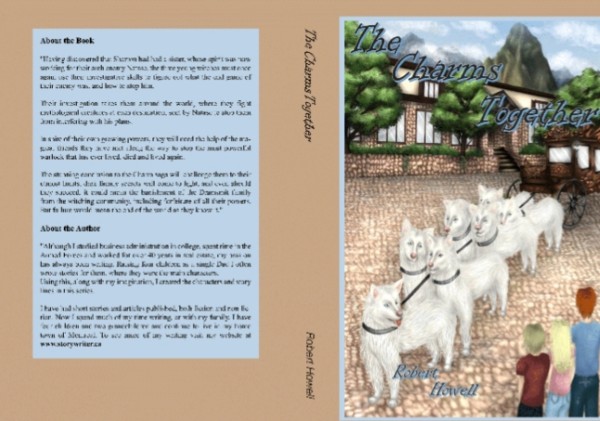 The Charms Together: The Dramsmit Children's Adventures by Robert Howell is a mesmerizing saga that has broken the barriers of creativity. An intelligently jotted down imaginative piece of writing. The unparalleled fantasy of this book is amazing.
Released on 24 March 2023: This novel is part of a mystical saga that is creatively woven with a strong plot, diverse characters, and a captivating storyline. The author has written this book with utmost perfection by incorporating profound research and impeccable creativity. This book is fictional, but realism is still intact, not making it too farfetched.
The series is about an orphan girl, starting with Sharron, an orphan who was having a hard time living in a home for girls near Chicago, where she was being abused. One day something unpredictable happened when she found out that she had a family with her aunt, whom she never knew about. To Sharron's surprise, her newly found aunt has also arranged for her to be returned to her family home in another country, with her mind swirling with doubt, anxiety, and unpredictability. Sharron arrived at her new house, where she found out about her cousins, and they all belonged to the family of witches. After this shocking revelation, she and her cousins were trained to use witch abilities. Then they go on several adventures.
In this third book, she finds her family in crisis, as her sister's Jenniffer spirit was corrupted by her family's arch nemesis Natase. Sharron, together with her cousins Wally and Chip, went on a mission to find out what their enemy was up to and how to put a stop to Natase's evil plan. In their mission, they have to go around the world and defeat a myriad of mythological creatures working for Natase. In their adventure, they will find many secrets of their family and will try their best to keep the world from the gruesome plan of Natase.
Throughout the book, the story takes you on a fascinating journey, where you are surprised and equally excited by all the twists and turns. This saga is of a different caliber in the fantasy genre, one that can be among the greatest of all time.
About the author
Robert Howell has an impressive background, he has a diverse range of skills and experiences, having studied Business Administration in college while also taking courses in literature, poetry, cartography, and supernatural studies.
After completing college, he joined the military to satisfy his urge to travel and ended up traveling across Canada and various parts of Europe. Following his military service, he spent 40 years in real estate, starting as an agent and later working in acquisitions for an investment company, focusing on locations such as Florida and Texas.
Despite having a successful career in real estate, his true passion was writing. To develop a profound set of writing skills, he took a writing course through the Long Ridge Writers Group, affiliated with the University of Connecticut.
After completing his writing course, he did different types of writing, newsletter, articles, web content, and short stories, and found love in writing fictional novels. He has started a successful Charms series, a great book for teens. With the success of the two books Third Times the Charm and The Fourth Charm of the series, he has come up with the third book, which is The Charms Together.
Media Contact
Company Name: AMZ Publishing Solutions
Contact Person: Robert Howell
Email: Send Email
Country: United States
Website: https://www.amazon.com/dp/B0BX14XKYL/