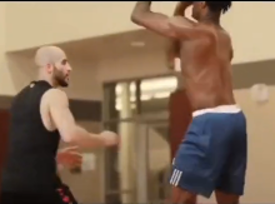 The New Era of Basketball Training is for you if you play and are constantly looking for ways to get better. The best-selling basketball training book of all time! This book will completely alter the way you play! One of the best in-game professional trainers Maher Abuawad will teach you his insider biomechanical cheats for "leveling up" quickly. Everything you require to advance to the highest levels of play is covered in this book! You'll be astonished at how frequently you'll find yourself reading this book, again and again, learning something new each time! The book offers a thorough, step-by-step manual that guides you on an amazing personal journey of discovery to realize your full potential as a basketball player. Maher Abuawad has offered the next level of basketball training focused on biomechanics for players. The focus of the book is to maximize player movement and help prevent injuries.
The New Era of Basketball Training book has helped hundreds of elite high school players, overseas pros, G-League, WNBA and NBA levels improve their skills by focusing on fundamentals and making sure they are doing what they need to do to succeed at their sport. The book focuses on fundamental basketball skills. It is a good book for beginners, but it can also be used by advanced players to improve their game. The author Maher Abuawad writes in an easy-to-understand tone and doesn't use too much jargon. This makes the book a great option for young players who want to learn how to play better basketball!
The new era of basketball training is a great book that will help your game no matter who you are. The new era of basketball training is a great book that will help your game no matter who you are. This book has been written in an easy-to-use and fun way, so it can be used by anyone regardless of age or experience level. The book covers all aspects of basketball, including techniques and drills for improving your skills as well as tips on how to become a better player overall. The techniques outlined in this book have been proven effective time after time in coaching clinics across America. When applied properly, the book will make you a more efficient player who can handle any situation on the court or off it.
Media Contact
Company Name: New Era of Basketball
Contact Person: Maher Abuawad
Email: Send Email
Country: United States
Website: https://www.amazon.com/New-Basketball-Training-Groundbreaking-Transformation-ebook/dp/B093G17PVD/ref=sr_1_4?crid=RADB7VYRHLFI&keywords=basketball+training+book&qid=1670231330&sprefix=basketball+training+boo%2Caps%2C219&sr=8-4