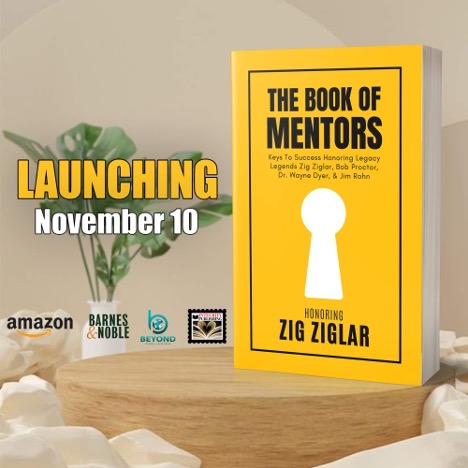 International Keynote Speaker and 13 Time #1 Best-Selling Author Erik "Mr. Awesome" Swanson Brings Together 13 Famous Celebrity Authors in the New Habitude Warrior Book Series on the Principles of Modern-day Mentorship
Habitude Warrior International, renowned for empowering individuals through dynamic mentorship, proudly unveils "The Book of Mentors ~ Honoring Legacy Legend Zig Ziglar." This much-anticipated first volume in a series of four debuts on Friday, November 10, 2023, on Amazon as an eBook on Kindle and Amazon. Erik "Mr. Awesome" Swanson, founder of Habitude Warrior and curator of this groundbreaking series, has assembled a stellar lineup of 13 celebrity co-authors and 33+ global contributing co-authors.
As the torchbearers of Zig Ziglar's timeless wisdom and mentorship, Habitude Warrior introduces "The Book of Mentors," the inaugural volume of a series that treasures the essence of mentorship. The book series is the brainchild of Erik "Mr. Awesome" Swanson.
The series features a distinguished lineup of 13 celebrity co-authors, each a luminary in their respective fields. In this first volume, celebrities such as The Pit Master John Hackleman, speaker and pastor Darryll Stinson, philanthropist Sir Bruno Serato, and Habitude Warrior founder Erik "Mr. Awesome" Swanson, all contributed their stories and lessons on mentorship. The following books in the series will include the likes of motivational powerhouse Brian Tracy, Olympian Ruben Gonzalez, media visionary Larry Namer, the inspirational Rudy Ruettiger, media personality Barbara Majeski, coach and speaker Paul Blanchard, Napoleon Hill Foundation's President Don Green, Former President of Success Magazine Don Hobbs, and Niurka. Their collective narratives and insights form a rich array of mentorship, each thread a story of triumph and wisdom.
In addition to the celebrity authors, "The Book of Mentors" is enriched by the diverse perspectives of over 33+ contributing co-authors. Esteemed individuals such as Angela Harden-Mack, Azadeh Bennett, Dr. Betty Speaks, Bopi Villarino, Daniel Kilburn, Dawnese Openshaw, Donna Miner, Eileen E. Galbraith, Elaine R. Sugimura, Eric D. Jackson, Fred Moskowitz, Hyun Martin, Janika Byington, Jeffrey Levine, Jon Kovach Jr., Julie Delgadillo, Kelli Hudson-Key, Lauren Cobb, Liz Sears, Maris Segal & Ken Ashby, M.A. Fults, Mel Carr, Dr. Onika Shirley, Ritu Chopra, Ruthe Hage, Sally Wurr, Sarah Lee, Stacey Hall, Steph Shinabery, Taylor L. Cole, Vikki Rood, and William Blake, each adding a unique dimension to the discourse on mentorship.
"The Book of Mentors" stands as a monument to the transformative power of mentorship. It salutes the enduring wisdom of Zig Ziglar, whose motivational teachings and principles have inspired countless seekers of personal and professional growth. Readers will be treated to an enriching blend of Ziglar's timeless principles with fresh insights from today's thought leaders and professionals, fostering a mentorship chain that extends his profound legacy.
Embarking on a literary and developmental odyssey, "The Book of Mentors" is more than a tribute—it's a mentorship manifesto encased in written form. It's a collective wisdom of pioneers whose teachings molded the pillars of personal and professional growth. As readers dive into this first volume "Honoring Legacy Legend Zig Ziglar," they will encounter a harmonious blend of Ziglar's motivational mastery with contemporary insights, fostering a continuum of mentorship.
Erik Swanson, 13-time #1 Best-Selling Author, articulates the series' essence, "We are not just creating books; we are igniting a mentorship movement that echoes Zig Ziglar's spirit in every story shared and lesson taught. This series isn't just a testament to Zig's impact—it's a living guidebook that continues his mission of uplifting spirits and sharpening minds."
Habitude Warrior's latest release is more than a literary milestone; it's the embodiment of a mentorship philosophy that champions growth, leadership, and success. The series will continue to honor other Legacy Legends like Bob Proctor, Dr. Wayne Dyer, and Jim Rohn, weaving their philosophies into the fabric of modern-day mentorship.
For more information on "The Book of Mentors ~ Honoring Legacy Legend Zig Ziglar," please visit www.TheBookOfMentors.com.
About Erik Swanson:
13 Time #1 Best-Selling Author. He speaks to an average of more than one million people per year and honored to have to speak to the business and entrepreneurial school of Harvard University. Nicknamed "Mr. Awesome," by notable legends Brian Tracy and Les Brown, Erik joined the Ted Talk family and Amazon Prime TV with his keynote speech "A Dose of Awesome." Mr. Swanson is the CEO & Founder of Habitude Warrior International, Habitude Warrior Masterminds and Global Speakers Masterminds. His motto is clear… "NDSO!": No Drama – Serve Others!
About Habitude Warrior:
Habitude Warrior is a collective group and community of World-Class speakers, authors, mentors, and coaches who gather in conferences, masterminds, summits, live events, and virtual events around the globe. Habitude Warrior hosts unique events conceived by 10 Time #1 Best Selling Author & International Speaker, Erik Swanson, which blends personal development and professional growth to enhance both the skillset and mindset of attendees, preparing them to excel in their chosen fields. Habitude Warrior overachieves this standard of excellence by honoring and working with World-Class Speakers, Authors, and thought-leaders who bring inspiration, motivation, and cutting-edge ideas, along with opportunities to network with other success-minded professionals.
Media Contact
Company Name: Beyond Publishing
Contact Person: Michael Butler
Email: Send Email
Phone: 918.955.3227
Country: United States
Website: www.beyondpublishing.net