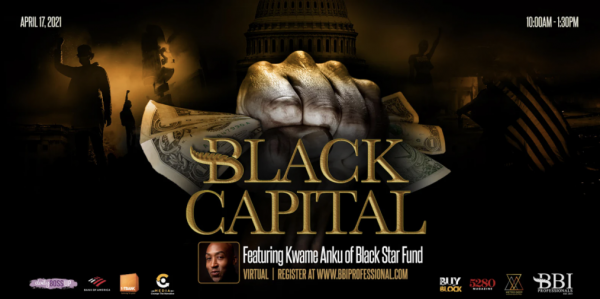 April 1, 2021 – The Black Business Initiative, a public benefit corporation, is pleased to announce its 6th Annual Black Capital Conference. This year, the visionary entrepreneur, and CEO & Chairman of the Black Star Fund, Kwame Anku, will be the special guest of the Conference to be held on April 17, 2021, from 11 am – 2:30 pm (MST).
The Initiative empowers black entrepreneurs, professionals, and leaders by providing access to capital, resources, mentorship programs, and training. The 6th Annual Black Capital Conference is a half-day event that will break down the traditional and non-traditional types of funding options and will reveal how to prepare a business to access the capital that it needs to start, grow or scale.
"The Black Business Initiative is leading an economic revolution. This workshop highlights the obstacles that a Black entrepreneur is likely to face in the banking system. It also teaches them many ways an entrepreneur can overcome these hurdles and acquire the capital that is required to thrive," said Jice Johnson of The Black Business Initiative.
This year, The Black Business Initiative has invited Kwame Anku to grace the event. Kwame Anku is an honors graduate of Stanford University, who will share his knowledge about working extensively in business development and media marketing for over two decades. He was named as "One of the Top 25 Black Venture Capitalists to Watch in 2018" by Pitchbook and was also selected to be one of the only twenty-one recipients of the prestigious Aspen Ascend Fellowship from The Aspen Institute. His first-hand experiences will help black entrepreneurs to increase their business and financial knowledge.
The Black Business Initiative aims to reduce the economic disparities and closes the economic chasm known as the "wealth gap." Towards this aim, the organization works with community members, the government, private partners, and other organizations to train black entrepreneurs to get access to capital.
For more information, please visit: www.bbiprofessional.com
Media Contact
Company Name: The Black Business Initiative
Contact Person: Jice Johnson / Shay Johnson
Email: Send Email
Address:1031 33rd St
City: Denver
State: CO 80205
Country: United States
Website: http://www.bbiprofessional.com