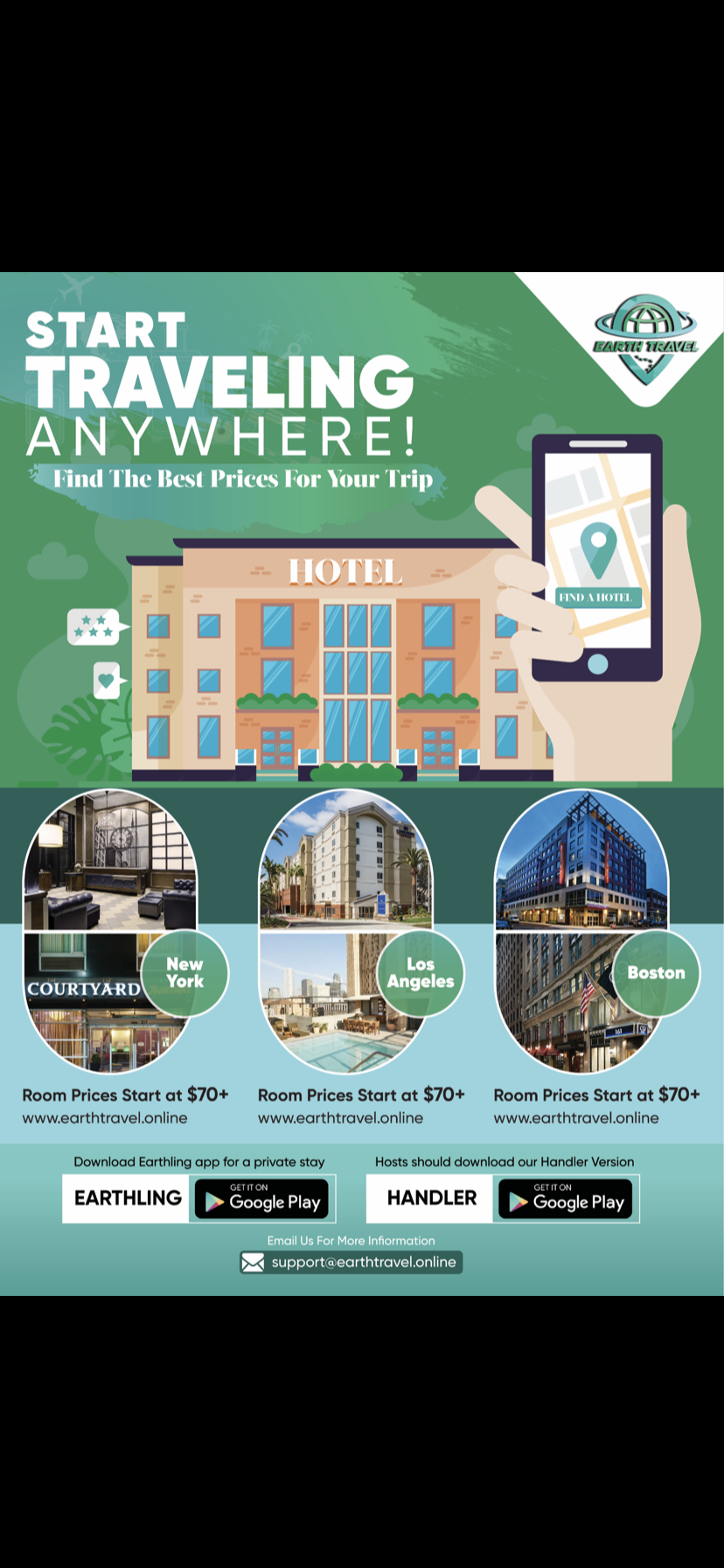 Earth Travel is the newest and best travel site that offers the best hotel, flights and rental services across the world. The site compares varying prices, matching customer needs to give the ideal travel experience.
Travelling can be hassle-free and affordable with all your travel needs met. With the Earth Travel Website, you are just a click away from a variety of options with over 400,000 hotels and 450 airlines to choose from at the best possible rates to make the ideal travel experience.
The site monitors the constant changes in room pricing and quickly adjusts to match the competition, with no additional taxes and hidden fees.
The team of experts professionals at Earth Travel provide unique and excellent customer service tailored to each customer, giving customer satisfaction.
"Whether you need a five-star hotel on a tropical island or just a quick car rental we've got you covered."
Travelling in the post-pandemic world comes with a lot of restrictions such as social distancing that have caused changes in travel and tourism. The Earth Travel team has put into consideration all the requirements, conditions and changes and is leveraging on technology to give the maximum travel experiences while still maintaining the health and hygiene protocols and catering to the needs of its clients.
To further improve customer experience, Earthling, a user-friendly app that helps travellers with the best hotels, flights and rental services has been launched by The Earth Travel company. The Earthling app helps customers find private vacation stays adding to the perfect experience.
No matter your taste and style, the Earthling mobile app can help you find the most luxurious places to stay from wherever you are in the world.
The Earthling app was launched in 2020 in its baby phase but is still in a growing state. The Earthling Handler platform was launched alongside the main application for vacation hosts to manage stays on Earthling using their mobile devices.
Earthling Handler users will be allowed to download and post listings until the official launch in mid-October to November (Users will be notified via notification*).
Download Earthling in the Google Play Store: Earthling – Apps on Google Play
Vacation Hosts Download the Earthling Handler App in the google play store: Earthling Handler – Apps on Google Play
For more information, please visit: http://www.earthtravel.online
Media Contact
Company Name: Earth Travel
Contact Person: Media Relations
Email: Send Email
Country: United States
Website: http://www.earthtravel.online