Attending a formal event can be a daunting task, but finding the perfect dress doesn't have to be! Whether you are attending prom or a special event, knowing what style and shape of dress flatter your figure is essential. It is important to understand the body shape and dress type that looks best on everyone.
When it comes to formal occasions, the type of dress every girl choose can make all the difference. Whether you're looking for prom or a formal event, understanding the different types of dresses available will help you find one that flatters your figure and expresses your sense of style. From off-the-shoulder gowns to jumpsuits and two-piece dresses, there are plenty of options to choose from.
A-line dresses are an easy option for anyone looking for a flattering fit. They feature a fitted bodice that flows outwards into A shape skirt, giving extra curves where needed while cinching in at the waist. Another classic choice is the mermaid style which hugs close to the body and ends with a dramatic flare just below the knee or floor-length hemline.
Petite Figures: Short Lengths
Are you a petite figure looking for the perfect prom or formal dress? Whether you're shopping online or hitting the mall, there are plenty of styles made with shorter lengths that will look great on your frame.
For petite figures, choosing a dress with an appropriate length is essential to achieving an overall flattering silhouette. Look for dresses that fall just below the knees and mid-calf to ensure they don't swallow up your frame. You can even opt for a mini dress if you want to show off your legs. When it comes to necklines, go for v-necks and sweetheart shapes as these will draw attention away from your shoulders and create balance in your look. Don't be afraid to experiment with different textures too – like lace or velvet – but always make sure they fit perfectly at all points along the body.
Plus Size Figures: Fit & Flare Styles
Plus size figures can be a challenge to pick a fited evening gown, especially for special events such as prom or formal parties. Fortunately, fit & flare styles are perfect for creating a flattering look. This style works by accentuating the waist while allowing extra room in the hips and bust area. Fit & flare dresses provide a balance of curves that create an overall pleasing silhouette, making it one of the best choices for plus size figures.
When shopping for your fit & flare dress, make sure to pick out fabrics that are light and airy like chiffon or organza. These fabrics will drape beautifully on your body without adding bulk where you don't want it; heavier fabrics such as satin may draw attention to areas you'd prefer kept covered.
Athletic Bodies: Structured Silhouettes
Athletic bodies have so much to offer when it comes to prom and formal dressing. Structured silhouettes flatter athletic builds, as they emphasize the body's natural curves while helping create a balanced look. Whether you have an hourglass figure or more of an inverted triangle shape, there are many options for finding the perfect dress that will make you feel beautiful and confident.
When shopping for dresses for your athletic body type, look for styles that emphasize your curves without accentuating too much width on the hips or waist. A-line skirts are perfect for creating a slimming silhouette, as they hug the waist and then flare out at the hip. You can also try wearing high-waisted cuts that showcase your narrow waistline while complimenting wider shoulders and arms. And don't forget about ruching details!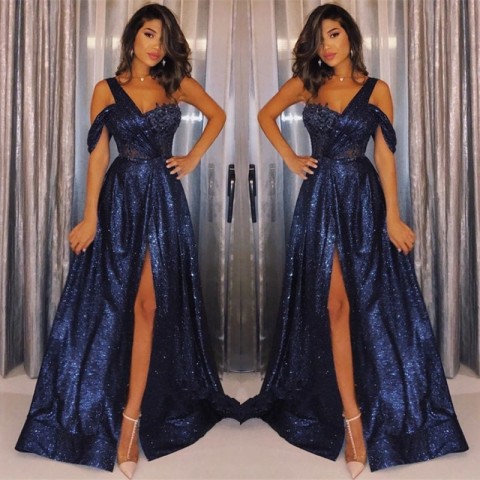 Curvy Figures: Wrap Dresses
Curvy figures can be intimidating when it comes to formal wear. With the right dress, however, ladies with curves can rock any prom or formal event. Wrap dresses are an ideal option for curvy figures as they flatter the body and add extra style.
Wrap dresses fit snugly at the natural waist, which accentuates and gives definition to curvy figures. They also provide a flattering V-neckline which complements all bust sizes. The wrap design also adds a unique embellishment to the look and makes for a more interesting silhouette than more traditional styles of formalwear. The adjustable ties make these wrap dresses versatile enough to fit curvier bodies comfortably without sacrificing style in the process.
All in all, wrap dresses offer an amazing alternative for curvy women when it comes to prom and other formal events.
Pear Shapes: A-Lines and Empire Waists
Pear shapes are typically defined as having a slightly larger bottom, smaller busts and shoulders, and a well-defined waist. If you have a pear shape figure, the best type of dress to choose for formal occasions is an A-line or an empire waist.
An A-line dress is fitted through the bodice but flares out from the waist down in an "A" shape. This style is ideal for pear shapes because it will define your natural curves without being too clingy or body-hugging. Empire waists are also great options as they sit just below the bustline and have a flowy fit that provides flattering coverage from head to toe. The vertical seam still allows your curves to be seen but won't draw attention away from other parts of your look like some tighter styles might.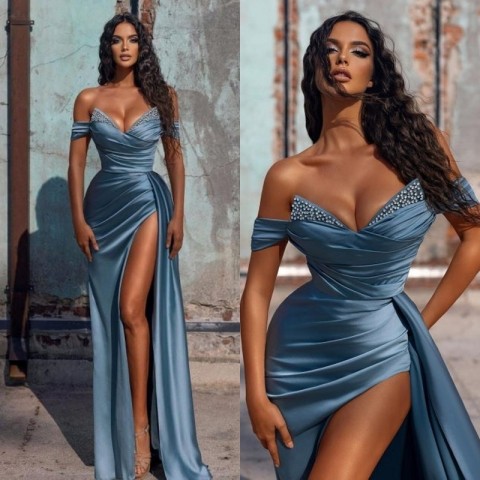 Banana Shapes: Mermaid Gowns
When it comes to formal events, choosing the perfect dress can be overwhelming. Every girl wants to look her best on that special night. But finding the right dress for your body type can be challenging.
If you've been blessed with a banana shape figure, we have great news for you: mermaid gowns are your best bet! This classic silhouette will hug your curves in all the right places and give you an ultra-feminine hourglass shape. From long and flowing chiffon numbers to fitted lace dresses, there's sure to be a style that suits both your personal taste and body type. Mermaid gowns come in a variety of colors and fabrics so you can find the one that speaks to you.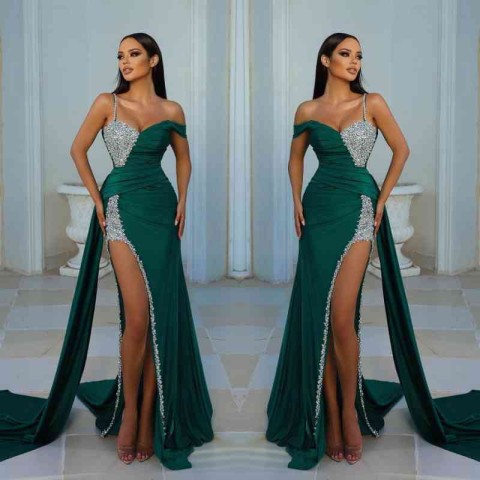 Conclusion: Find the Right Dress
Finding the right dress for your prom and formal occasions can be a challenge. With so many different styles, fabrics, and colors to choose from it can be hard to find the right one that will not only look good but also feel comfortable. In conclusion, when shopping for your perfect prom or formal dress make sure you keep these tips in mind. Consider your body shape and how each type of dress might fit; try on several different dresses before making a decision; select something that is flattering and shows off your favorite features; pick out a color or style that complements the occasion; finally, go with something you love! By following these steps you are sure to find the perfect dress for your next formal event!
Media Contact
Company Name: Suzhoufashion
Email: Send Email
Country: United States
Website: https://www.suzhoufashion.com/