On July 31st, The Charity Art Exhibition and Concert was held to raise money for children with autism, sponsored by the Xinli Foundation and co-organized by the Ugrow Education Irvine Art Center. With the participation and planning of high school volunteers in LA, this event was able to help families of autistic children receive social care, understanding, and tolerance. This event was mainly focused on fundraising for low-income international children with autism. Mr. Farrah Khan, Mayor of Irvine, Mr. Anthony Kuo, representative of Irvine Police Station, Ms. Junko, United Nations Goodwill Ambassador, Ms. Yu Qing, President of the American Flying Tigers Communication Association, Mr. Ximeng Wang and the famous Chinese painter and calligrapher Wendy Wang are among more than 150 participants who came to demonstrate support. Special thanks to the performers: Zhu Yibing, Steven, Xiaotong, Britney and more than 300 media platforms for helping this community charity event.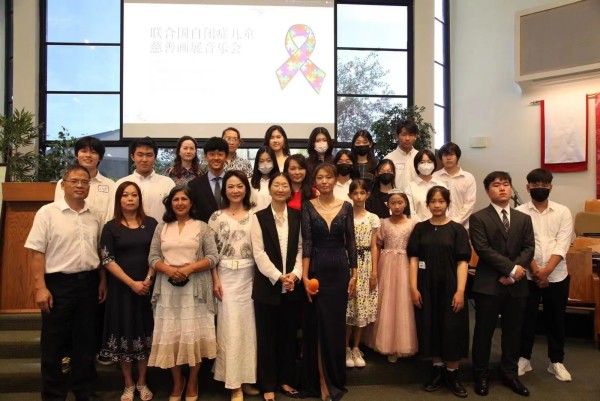 The event has received strong support from all walks of life. Eve Xu, one of the hosts of the event, is the principal of Ugrow Irvine Arts Center. She has been dedicated to developing public welfare, helping and raising money for many non-profit organizations. This time, there were 66 senior high school volunteers from 9 districts and more than 20 volunteer performers to help raise money using their own talents and abilities. Britney Lu, a senior at the Webb schools of California, is the main artist of the art exhibition and donor. She was able to showcase 12 of her clay-mix media pieces and Chinese calligraphy works and was able to auction off all of her non-showcase works. As an artist and aspiring occupational therapist, she was motivated to hold this art exhibition and auction to promote more awareness of special needs, especially autism, in the community. She had Dyspraxia as a child, and after receiving therapy and many volunteer experiences with special needs organizations, she realized one of the best ways to help provide support and spread awareness is through fundraising for special needs organizations to sustain the vital support and help they can provide to these groups of people. Britney was also one of the hosts of the event and helped translate Chinese to English for the audience. We were also honored with the presence of Mr. Zhu Yibing, a famous cellist and professor of cello at the French National Conservatory of Music, who performed live and strongly supported this charity event. Along with the music of Mr.Yibing, there was also the music of Amy Jiang, a talented young girl who is only 10 years old, who played the cello along with Mr. Yibing to provide the event with beautiful music. This event's success shows Asian Americans' contribution to the community and the strength of Chinese unity.
The auction of the art exhibition is donated to three places : (1) OC Autism Foundation; (2) Peer 1 on 1; (3) The United Nations, which donated money to help Sri Lanka's government, which is suffering from insufficient funds for special children. This event helped raise a total of $16,080, all donated to these Autism organizations. Special thanks to Ms. Junko, the UN Goodwill Ambassador, for helping to connect with Sri Lanka.
"Warm with love, walk with love, and let hope go on so that every family with autistic children can receive social care, understanding, and tolerance!" With this cheerful song lingering in the air, the event concluded successfully. Every donation and all participants and volunteers are truly appreciated for their contribution and kindness. Your dedication to love will bring ` best wishes to all families with autism, hope to more people to be loved, and hope to all autistic children who will receive more attention and fundraising campaigns. Let us light up the lamp of life for them, illuminating the road ahead!
Special Thanks to
Performers:Steven Niles, Xiao Dong, Yi-bing Chu, Amy Jiang
Fundraising Outreach: Yiyi Dai, Britney Lu, Chuanqing Yan, Tianyi(Vivian)Jing, Quan Liu, Pengbo Ma
Volunteer Leaders: Jiale Zheng, Xinyu Zhang, Olivia Liu, Britney Lu, Thomas Yang, Yingtao Li, Danna Yingze Zheng Xiangning Liu, Aaron Lu, Ke Xu, Cyndi Yeh, Jiacheng Zou, Jiajun Zou, Riyi Yang
Organizers:
Xinli Foundation, Ugrow Education, Princeton Education Group
Media Contact
Company Name: Xinli Foundation
Email: Send Email
Country: United States
Website: http://xinlifoundation.org/