Ranjit Bahia (CEO, Cyferd)
Thailand's tech landscape is poised for a ground-breaking transformation as Cyferd, a disruptor in artificial intelligence (AI) solutions, announces its strategic expansion into the ASEAN market. With Cyferd's new regional headquarters set to be situated in Silicon Tech Park within Thailand's $40 billion Eastern Economic Corridor (EEC), Cyferd is set to revolutionize the region's AI capabilities and propel Thailand onto the international stage of AI innovation.
Cyferd stands as a distinctive force in the tech realm due to its unparalleled ability to rapidly evolve and stay ahead of the curve, thereby future-proofing businesses as they grow. What sets Cyferd apart is its dynamic platform and AI powered software that writes software, designed to adapt seamlessly so that as businesses change, the platform changes with it. This ensures that a company's digital transformation remains aligned with the constantly evolving business landscape, enabling competition on a global scale.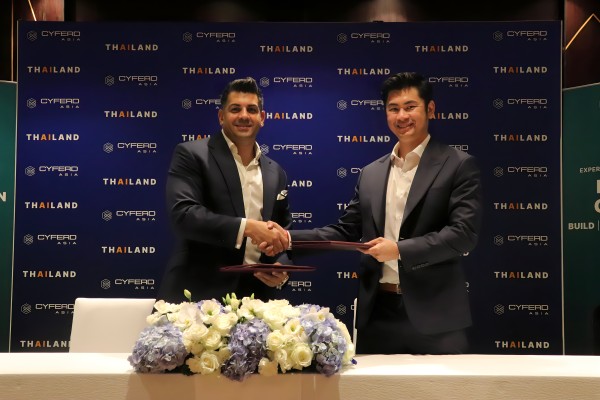 Ranjit Bahia (CEO, Cyferd), Dr. Chatchai Wangwiwattana (Associate VP of IT, UTCC)
Although Cyferd has had immense success in empowering organizations worldwide with its innovative technology solutions, engaging their own government in the UK has proven to be a challenge. Multiple attempts to hold conversations with key officials within the UK government have been denied or ignored. Cyferd aims to demonstrate how the UK's public sector could benefit from widespread digital transformation, not only to make the lives of those working in the public sector easier, but to take some of the pressure off the UK's most strained industries, such as the healthcare sector. Despite these setbacks, Cyferd remains committed to contributing to the UK's technological advancement and supporting the nation's goal of becoming a global AI superpower.
Thailand's proactive approach to partnering with Cyferd demonstrates the nation's remarkable commitment to driving progress in the AI race. This is a testament to Thailand's forward-thinking leadership, underlining the nation's determination to harness the potential of AI technology for the betterment of its people and the elevation of its global standing. Thai entrepreneur and business tycoon, Pairoj Piempongsant agreed that "collaborative partnerships, particularly with trailblazing nations like the UK, are pivotal in propelling us forward." Thailand's alliance with Cyferd reflects its intent to leapfrog into the forefront of AI innovation while inspiring the entire ASEAN region. Founder and CEO of Cyferd, Ranjit Bahia, added, "We believe that the ASEAN market holds tremendous potential, with 100 million people in Thailand and 700 million across the region. We're eager to show how AI can optimize the way businesses operate and propel this dynamic region into the stratosphere of the global AI race."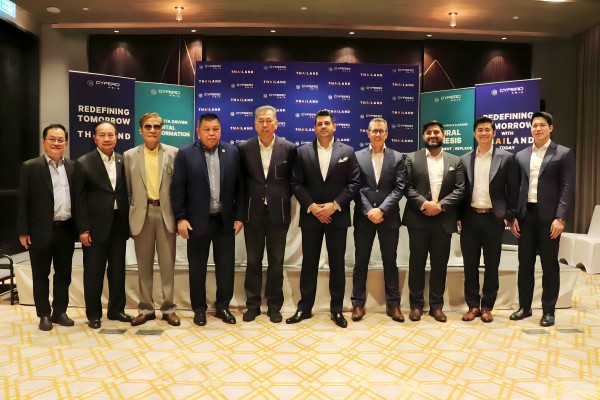 Prapat Rathlertkarn (Group Chief Executive Officer, Planet Communications Asia), Suchon Chaleekrue (Former President of the Thai Seneta), Prueng Kitjaratporn, Ph.D. (President, Phranakhon Rajabhat University), Dr. Apichart Thongyou (Chairman Executive Committee, Silicon Tech Park), Pairoj Piempongsant (Founder, Silicon Tech Park), Ranjit Bahia (CEO, Cyferd), Richard Byard (CTO, Cyferd), Haider Al-Seaidy (CCO, Cyferd), Dr. Chatchai Wangwiwattana (Associate VP of IT, UTCC), Kittapart Wiriyachanta (Executive Director, Cyferd Asia)
This partnership is announced just one week after the UK government organized UK AI Week in Bangkok, signifying an earnest commitment to advance technological frontiers. The UK also held the first UK-Southeast Asia Tech Week earlier this year marking a strategic effort to cultivate digital innovation, paving the way for an enriched economic landscape on both sides. With Southeast Asia's internet economy primed to surge past $360 billion by 2025, and ASEAN's digital economy geared up to reach a staggering $1 trillion by 2030, it is no wonder an increasing number of foreign businesses are forging relationships within this region.
In a resounding commitment to unleash the potential of the ASEAN market, Cyferd Asia is proud to unveil transformative collaborations that hold the promise of reshaping industries and enriching lives across the region. This unified vision resonates with the University of the Thai Chamber of Commerce, where their director expressed enthusiasm for the partnership, stating, "We are delighted to embark on our transformative digital journey with Cyferd Asia. This collaboration is a significant step towards becoming a digital-first institution and ensuring our students and staff benefit from a seamless and technologically advanced learning and teaching environment." With these powerful alliances, Cyferd Asia is forging a new era of innovation that will undoubtedly steer the ASEAN region toward the forefront of the global AI landscape.
About Cyferd:
Cyferd is a pioneering technology company that helps transform businesses through its centralized data approach. Cyferd is on a mission to empower organizations to streamline processes, improve efficiency, and enhance user experience. The platform eliminates the need for disparate systems, and Cyferd's proprietary offering is an unparalleled AI engine called Neural Genesis, that can build bespoke operational applications in a few minutes with the aim of resolving a business' challenges. This ground-breaking innovation is set to transform not only the tech industry but all industries, making Cyferd a catalyst for positive change in the global business landscape.
Media Contact
Company Name: Cyferd
Contact Person: Olivia Kershaw
Email: Send Email
Phone: +44 7881 200349
City: London
Country: United Kingdom
Website: cyferd.com