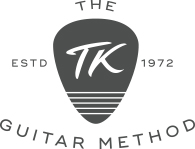 Using high definition video lessons, Terry Kellman (TK) shows you how to start playing your first song during your first lesson.
The TK Guitar Method is an online video platform providing an easy and affordable way to learn to play the guitar. The videos can be viewed through a desktop, tablet or mobile device. You can learn how to play quickly without paying for expensive personal guitar instructors.
Using high definition video lessons, TK shows you how to start playing your first song during your very first lesson. The TK Guitar Method makes it easy with close up videos and guides that show you where to place your fingers, how to strum and practice tracks to play along with.
The lessons are based around the innovative song learning approach, which teaches the beginner chords and riffs in minutes. Each lesson builds upon the next, which allows a gradual step-by-step path to understanding chords, melodies, strumming techniques and how to add new songs to your playing list without having to practice scales or theory. New lessons are added every month, all for the fraction of the cost of a private lesson.
There is plenty of fun music to learn, including how to pay classic rock and roll, a few Beatles tunes and an introduction on how to play the blues. With The TK Guitar Meohod, you can dive in and become an ambitious rock star or just a hero at family gatherings.
From the tender age of 18 TK has been on the road, in the studio and on stage performing with musical artists and celebrities from all corners of the globe. From Bobby Darin to Tony Orlando, to Roger Miller and Kenny Rogers, he is known to be a versatile interpreter of any style of music from Jazz to Country to R&B.
With over 45 years in the business, this virtuoso guitarist and dedicated teacher is ready to show you the fastest and easiest way possible to get you up to speed, with his unique teaching flair and easy style. It's as if he is sitting right in front of you! TK guides you through each lesson as you learn with The TK Guitar Method.
For more information visit https://tkguitarmethod.com/ or your first lesson today for FREE: https://tkguitarmethod.com/online-guitar-lessons/
Media Contact
Company Name: TK Guitar Method
Contact Person: TK Kellman
Email: Send Email
Phone: (702) 482-9860
Address:3157 N. Rainbow Blvd. Suite 594
City: Las Vegas
State: Nevada
Country: United States
Website: https://tkguitarmethod.com