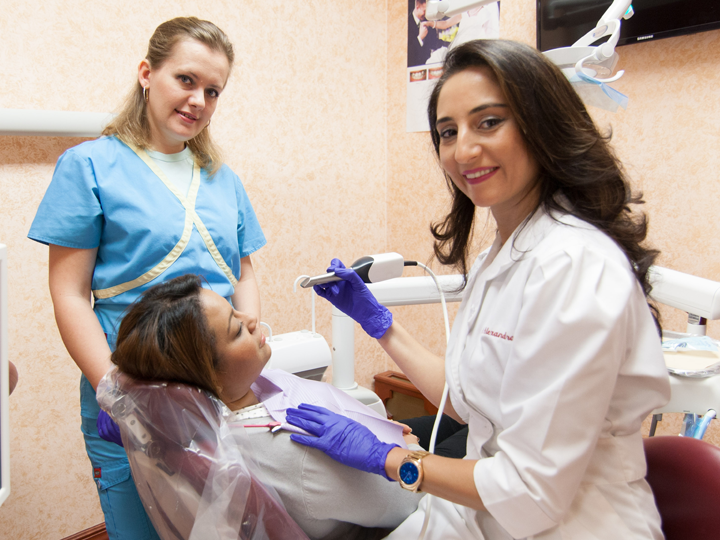 Dentist Dr. Khaimov serves the residents of Maspeth, Middle Village, Woodside, and other areas in Queens, NY.
Dr. Khaimov, a reputable dentist in Maspeth has warned the public about self-prescribed teeth whitening methods for residents of Maspeth, NY, and other areas. She advises the public to go for prescribed teeth whitening only and avoid the harmful effects of fake products.
Acclaimed dental practitioner, Dr. Alexandra Khaimov, who runs Grand Smile Dental in Maspeth, Middle Village, NY and is working with the people of Maspeth, has been a huge participant in the campaign against scam teeth whitening procedures.
More on teeth whitening can be found here: https://GrandSmileDental.com/services/Teeth-Whitening
According to statistics from the Statistic Brain Research Institute, the total worth of the teeth whitening industry is $ 11 billion in revenue. This is based on 2017 research. Many Americans opt for teeth whitening procedures without prescription from a licensed orthodontist, the research shows. 88.8% of the patients have inquired about tooth whitening, but only 24.8% of patients were actually recommended this procedure by their orthodontist. People are interested in having whiter teeth, regardless of their dental specialists' professional opinion. Nevertheless, dentists have reported a 29% increase of in-office bleaching procedures, as more people are understanding the dangers of whitening their teeth without professional supervision.
With a wealth of experience in providing dental services under his belt of more than 30 years, Dr. Khaimov is not happy with the number of teeth whitening scams in Maspeth. "Americans believe a lot of myths about tooth whitening that are just not true. The number of people who use fake teeth whitening products needs to be reduced dramatically."
Several methods have been put forward as DIY tooth whitening methods, like using baking soda, hydrogen peroxide, activated charcoal and whitening toothpaste. While some are safe, others may not have the required balance of ingredients. Some lead to the destruction of the tooth enamel, damage to tooth fillings, leaking of mercury and silver from amalgam fillings, or even the erosion of dental cements.
The acclaimed Dr. Khaimov stresses that the only person who should be working on your teeth is a certified dentist. Furthermore, teeth whitening should be prescribed and not done solely for beauty reasons. A certified dental procedure is more holistic and safe than using backdoor teeth whitening procedures.
"As tempting as a home kit might be, proceed with caution. Cheap can be add up to being expensive and is not always the better option. Getting a full dental examination qualifies you for the procedure and makes sure your overall dental health has been taken into consideration," warns Dr. Khaimov.
"Dr. Khaimov has treated me and my family for many years," said Yevgeniya D., "She is very knowledgeable, understanding and friendly. She will always tell you exactly what needs to be done, no extras. Her staff – hygienist and front desk- are great as well."
Dr. Khaimov is qualified in several areas of dentistry, including endodontics, general dentistry, dental implants, prosthetics and cosmetic dentistry. She is also very keen about community-based activities that she conducts, such as food drives, toy drives and free dental care days. As a result, Dr. Alexandra Khaimov has been featured on National media houses, such as FOX, CBS, ABC and NBC. She serves the residents of Maspeth, Middle Village, and other New York locations.
Learn more about Dr. Khaimov and her relationship with the people of Maspeth, NY, by visiting this link: https://GrandSmileDental.com
Media Contact
Company Name: Grand Smile Dental
Contact Person: Dr. Alexandra Khaimov
Email: Send Email
Phone: (718) 255-1381
Address:69-77 Grand Ave
City: Maspeth
State: NY
Country: United States
Website: https://grandsmiledental.com/