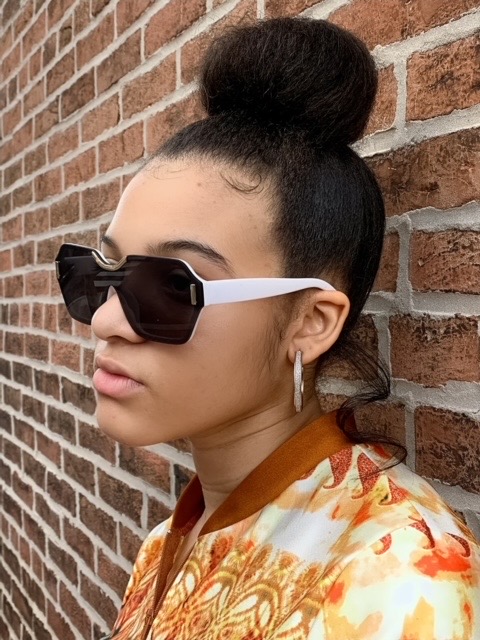 March 19, 2021 – Teen artists are redefining the creative space on social media by fusing contemporary with old-school funk. Young hip-hop sensation Nýa-Jolie is gaining mass popularity owing to her unique style of combining hip-hop with pop and R&B.
Nýa-Jolie is not one to shy away from social media and her fans. The multi-talented teen artist dons several creative caps and is a strong advocate of being unapologetically herself. The singer/rapper also walks the ramp with equal confidence as on the stage.
With 13.3k followers on Instagram, Nýa-Jolie keeps entertaining her fans with interesting snippets of her performances, photoshoots, film posters and reels. The young rapper took to Instagram to shout out to the cast & crew of the critically acclaimed film "The Road to Truth". Nýa was also a part of the prestigious project that won the Philadelphia Independent Film & Market Festival 2019 and the KWANZAA Film Festival 2020. "The Road to Truth" is now streaming on Amazon Prime, much to the contentment of her fans.
A female emcee & songwriter, Nýa-Jolie has been a vocal advocate of the Clean Music Movement. The new age movement is dedicated to exploring the positive effects of clean music & finding the best music for people of all ages. Nýa-Jolie is also an advocate of veganism & proudly sports it on her Instagram bio.
On December 20, 2020, Nýa-Jolie announced the launch of her single- MAMBA on social media. Her Facebook caption read, "NJ Nation we got another banger droppin on December 24, 2020. So stay tuned. MAMBA will be available on all digital platforms. Let's go!!" The single was released on all digital platforms, much to the delight of her fans.
Nýa-Jolie's official music video of her title, "Call Forward" garnered 23,472 views on YouTube. Directed by Fred Rush Music Video & produced by King Rush Records, LLC, the music video continues to garner more views and enthrall audiences worldwide. The passionate artist with a penchant for all things creative is open to show bookings and collaborations.
For more information, please visit: www.nya-jolie.com
Instagram: https://Instagram.com/official_nyajolie
Twitter: https://twitter.com/NyaJolie
Facebook: https://www.facebook.com/TheOfficialNyaJolie/
YouTube: https://www.youtube.com/c/OfficialNýaJolie
Media Contact
Company Name: King Rush Records, LLC
Contact Person: Fred Rush
Email: Send Email
Country: United States
Website: http://www.nya-jolie.com/