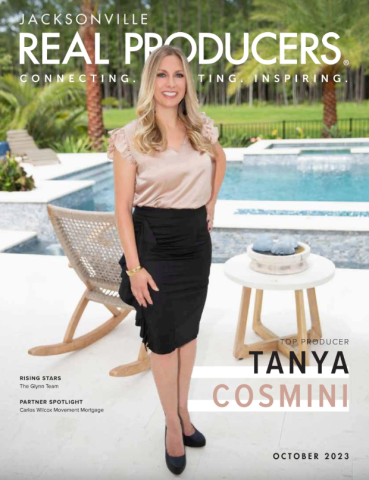 Jacksonville, Florida – Realty ONE Group Elevate proudly announces that Tanya Cosmini has been recognized as a Top Real Estate Broker in Florida. Her recent feature in the October 2023 issue of Jacksonville Real Producers is a testament to her dedication, expertise, and leadership in the real estate industry.
With personal sales exceeding $100,000,000 in real estate, Tanya's success story is not just about numbers but about the impact she has had on the industry and her team. She uses her experience to equip her agents to become powerhouses in the real estate world, focusing their business on working by referral. This approach ensures that clients receive personalized attention, fostering long-term relationships built on trust and mutual respect. This is especially important in 2023, when the North Florida Real Estate market is creating challenges that many Brokers have never faced. Tanya's mission is to help the agents that partner with her run more profitable and scalable businesses, in any economic climate.
Tanya's Leadership Highlights:
Mentorship: Tanya's hands-on approach to training has transformed novice realtors into industry leaders.

Culture of Excellence: She has cultivated a culture where continuous learning, innovation, and client-centricity are paramount.

Community Engagement: Tanya believes in giving back to the community, leading various charitable initiatives and encouraging her team to do the same.

Innovation: Embracing the full suite of tools and tech that the Realty ONE brand offers and strategies to ensure her team stays ahead of the curve.
For realtors considering a move to a different brokerage, Realty ONE Group Elevate, under Tanya's leadership, offers an environment where growth, collaboration, and success are inevitable. Are you questioning the value that your current brokerage provides in 2023?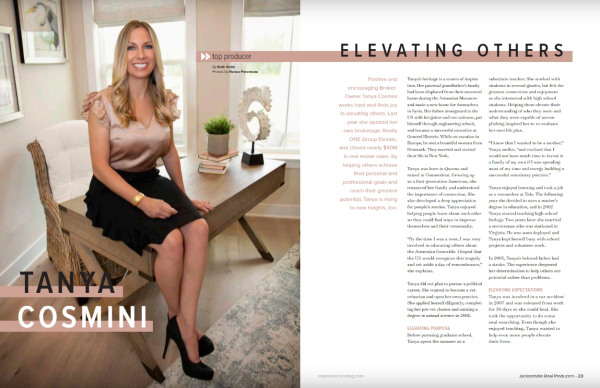 In a rapidly evolving real estate landscape, Tanya Cosmini stands out as a servant leader who measures her success by the success of the agents that partner with her. Her recognition as a top broker by Jacksonville Real Producers is not just an accolade but a reflection of her commitment to excellence, her team, and her team's results.
About Realty ONE Group Elevate:
Realty ONE Group Elevate is a real estate brokerage in North Florida- known for its emphasis on leadership, innovation, and community engagement. Realty ONE Group Elevate delivers where most other Brokerages fall short. They offer a platform that includes access to Healthcare Coverage, 401(k) Retirement Plan, and many other tools to save you time and money. They offer this proudly to their Agent Partners at a lower cost than many other North Florida Brokerage options, while delivering more value.
With Tanya Cosmini at the helm, the brokerage has seen inspiring growth, attracting top talent and delivering on the promises made. For those looking to elevate their real estate careers, Realty ONE Group Elevate is the destination.
Media Contact
Company Name: Realty One Group Elevate
Contact Person: Tanya Cosmini – Broker & Owner
Email: Send Email
Phone: 904-439-9842
City: St. Augustine
State: FL
Country: United States
Website: https://elevate.myrealtyonegroup.com/