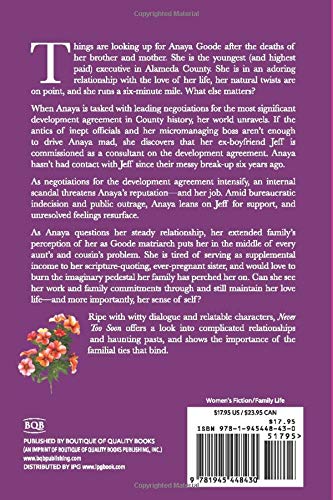 Jan 2, 2020 – The wait is over for fans of Anaya Goode, the contemporary African American woman character created by award winning author, Tamika Christy. The second in the Anaya's World series, 'Never Too Soon' is now available for purchase from major online stores.
'Never Too Soon' continues with the story of Anaya and her family as depicted in 'Anytime Soon'. Readers get a close look at her life as a business professional who has many things going on, from workplace pressures and an ex-boyfriend to the demise of her mother and brother. With hope of a brighter future, a great relation with the lover of her life and running a six-minute mile, what could possibly go wrong?
A tender and humorous tale of family and friendship, 'Never Too Soon', has been likened by some to Terry McMillan's 'Mama'. The story of three 30+ women, it is full of the zaniest things of life, from forbidden love and haunting pasts to redemption and forgiveness. The story completes the full circle and ends with important messages about wise decisions and the value of family.
"The book is entertaining, and what I'd expect from a woman's fiction novel. It's focused on its characters and their ultimate goals," says a recent blogger in her review.
'Never Too Soon' will be liked by professional women and all those who love African American literature, as well as romance and family focused stories. The author draws inspiration from her own life to vividly portray career, relationships, family and the outcomes of past choices. The book has won the 8th Annual Beverly Hills Book Awards, and the American Best Book Award.
"The novel deals with a fundamental need, of keeping a family united despite all the things going wrong. It shows that we are all imperfect, and that we can take on step at a time and continue with our journeys," says Tamika Christy.
Tamika's writing style, as she describes it, is urban prose, full of fun, warmth, realism and carries a soulfulness with blunt dialogues. Her first novel, 'Anytime Soon' won the Next Generation Finalist Award for African American Fiction. Tamika is a licensed attorney, and recently spoke at the Dream Chaseher conference.
ABOUT THE AUTHOR
Award-winning author and Bay Area native, Tamika Christy has published two books, Anytime Soon and Never Too Soon. Tamika developed her passion for writing at a very early age, writing short stories and poems. Over the years Tamika perfected the art of using words to paint vivid landscapes of the emotions, triumphs, and madness of life. Tamika's stories deal with tough problems, but her stories also always offer messages of love, redemption, and hope. Tamika resides in the Bay Area with her husband and two daughters.
About Boutique of Quality Books Publishing Company, Inc.
An independent publisher, Boutique of Quality Books, under its two imprints – BQB Publishing and WriteLife Publishing – combines the quality processes of traditional publishing with hands-on author involvement to bring today's new writers and tomorrow's best sellers into the hands of booksellers and the reading public.
For more information, visit: www.bqbpublishing.com & www.writelife.com
Media Contact
Company Name: New Start Marketing
Contact Person: Alexanderia Haidara
Email: Send Email
Phone: 240-971-8458
Country: United States
Website: www.newstartmarketing.org