Sweet Girl Cookies, a family business co-owned by Alec and Nancy Felder out of Charlotte, announced today the release of a brand-new, limited edition cookie, the Rainbow Sprinkle Sugar Cookie. The cookie, which will only be made available in Jun., 2020, features a buttery, soft cakey texture, sweetened by hints of vanilla and topped with all natural rainbow sprinkles. Visit www.SweetGirlCookies.com to order. Cookies are also available in some local Charlotte, NC area stores.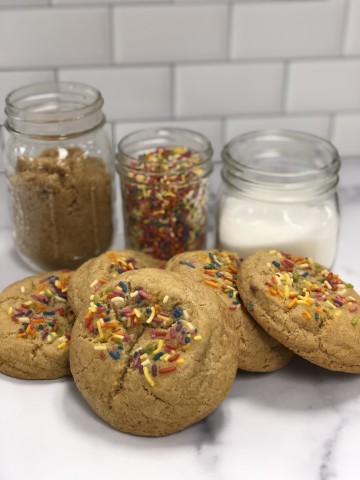 Sweet Girl Cookies's limited edition Rainbow Sprinkle Sugar Cookie is nothing like the hard crunchy sugar cookie people are used to. Instead, Rainbow Sprinkle Sugar Cookie, like all of Sweet Girl Cookies' products, is a soft moist cookie that uses only natural ingredients. Sweet Girl Cookies takes the time to source ingredients without artificial colors or flavors – even the rainbow sprinkles that adorn the cookie are made with vegetable colorants and no artificial dyes. Sweet Girl Cookies is committed to transparency in their ingredients and the Rainbow Sprinkle Sugar Cookie is no exception. It is made from King Arthur Flour, pure butter, sugar, eggs, brown sugar, all-natural rainbow sprinkles, cornstarch, pure vanilla extract, sea salt, aluminum-free baking powder and baking soda. Nancy Felder, who, along with her husband Alec, owns and operates Sweet Girl Cookies, said, "When friends and family kept telling us these are the best cookies I've ever had we knew that we were on to something great. We couldn't keep our little bites of heaven to ourselves. We just had to share them with cookie lovers everywhere!"
About Sweet Girl Cookies
Sweet Girl Cookies is a family-owned business from Alec and Nancy Felder, that is based in Charlotte, NC. The Felders launched in 2014 and chose the name Sweet Girl Cookies to honor their daughter who they affectionately call "Sweet Girl". Now, six years later, Sweet Girl Cookies has grown from a small two-person operation to a staff of 15+ during the holiday season. The cookie company uses only the best ingredients they can find and will never compromise on quality or customer service. Central to their company is a dedication to going above and beyond to be sure customers are thrilled with their Sweet Girl Cookies.
Find out more at www.SweetGirlCookies.com
For Interveiw Requests Please Contact Michael Beas at michaelbeas@atlaselitepartners.com
Media Contact
Company Name: Sweet Girl Cookies
Contact Person: Michael Beas
Email: Send Email
Phone: 866.473.3806
Country: United States
Website: https://www.sweetgirlcookies.com/