The Sustainable Aviation Fuel Market is Expected to reach USD 15,716 million by 2030 from USD 219 million in 2021, at a CAGR of 60.8% during the forecast period.
CHICAGO, Oct 30, 2023 – Forecasts indicate that the global Sustainable Aviation Fuel (SAF) Market will soar to new heights, rising from USD 219 million in 2021 to an amazing USD 15,716 million by 2030. The remarkable expansion, characterised by an astounding Compound Annual Growth Rate (CAGR) of 60.8%, is disclosed in an extensive market study carried out by MarketsandMarkets, a well-known market research and advisory company. The report offers insightful information about the major SAF market categories, growth factors, obstacles, prospects, and major players.
• Informational PDF Brochure:-
https://www.marketsandmarkets.com/pdfdownloadNew.asp?id=70301163
Key Segments:
The SAF market encompasses several key segments, including:
Fuel Type: This segment features various types of sustainable aviation fuels, such as biofuels, synthetic fuels, and hydrogen-based fuels, each offering eco-friendly alternatives to traditional aviation fuels.
Blending Ratio: Different aviation fuels are blended with varying proportions of SAF, and this segment highlights these blending ratios, catering to the environmental goals of airlines.
Platform: The market analysis covers commercial aviation, military aviation, and business aviation, representing diverse aviation sectors adopting SAF solutions.
Region: The market spans regions across the globe, including North America, Europe, Asia Pacific, and the Rest of the World.
Browse 240 market data Tables and 43 Figures spread through 256 Pages and in-depth TOC on "Sustainable Aviation Fuel Market by Fuel Type, Biofuel Manufacturing Technology, Biofuel Blending Capacity, Platform, Region – Global Forecast to 2030"
View detailed Table of Content here –
https://www.marketsandmarkets.com/Market-Reports/sustainable-aviation-fuel-market-70301163.html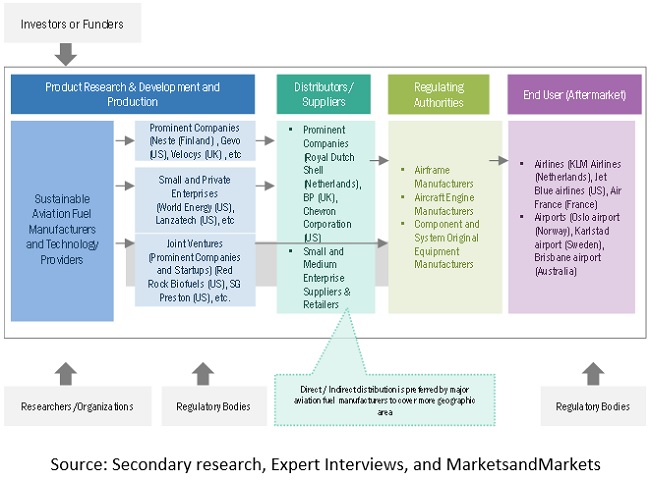 Growth Drivers:
The rapid growth of the SAF market is propelled by various drivers, including:
Environmental Concerns: The aviation industry's commitment to reducing carbon emissions and its environmental impact is a significant driver of SAF adoption.
Regulatory Initiatives: Government regulations and incentives favoring the use of sustainable aviation fuels are encouraging their adoption in the aviation sector.
Corporate Sustainability Goals: Airlines and aviation companies are setting ambitious sustainability targets, driving demand for SAF.
Technology Advancements: Ongoing advancements in SAF production technologies are making it more cost-effective and scalable.
Challenges:
Despite the tremendous growth prospects, the SAF market faces certain challenges, including:
Production Costs: The production of SAF can be more expensive than traditional aviation fuels, which may deter some buyers.
Supply Chain Infrastructure: Building a robust supply chain for SAF, including production facilities and distribution networks, can be complex.
Feedstock Availability: Availability and access to sustainable feedstocks for SAF production may present logistical challenges.
Opportunities:
The market presents several opportunities, including:
Scaling Production: As technology advances and economies of scale are achieved, SAF production can become more cost competitive.
Partnerships and Collaboration: Collaboration between aviation companies, fuel producers, and governments can drive the development and adoption of SAF.
Global Expansion: Expanding the use of SAF in emerging markets and underserved regions offers growth prospects.
Key Players:
Key players in the global SAF market include:
Neste Corporation, World Energy, Gevo, Inc., Velocys, TotalEnergies, Fulcrum BioEnergy, SkyNRG, Avfuel Corporation, Shell, Renewable Energy Group, Inc.
These market leaders are at the forefront of developing and supplying sustainable aviation fuels, playing a pivotal role in reducing the aviation industry's carbon footprint.
As the SAF market experiences an extraordinary growth rate of 60.8%, it plays a vital role in the aviation industry's transition towards a more sustainable and eco-friendly future. SAF represents a significant milestone in the industry's efforts to reduce its environmental impact and work towards a greener future.
For more insights and a comprehensive analysis of the market, please refer to the full report by MarketsandMarkets.
Media Contact
Company Name: MarketsandMarkets™ Research Private Ltd.
Contact Person: Mr. Aashish Mehra
Email: Send Email
Phone: 18886006441
Address:630 Dundee Road Suite 430
City: Northbrook
State: IL 60062
Country: United States
Website: https://www.marketsandmarkets.com/Market-Reports/sustainable-aviation-fuel-market-70301163.html