Susan Goforth stars as the villainess EL The Reclaimer alongside Katie Erin Tomlinson (Chrome) and Natasha Coppola-Shalom (repairbot Perdix) in Chrome: The Series, a production over 10 years in the making that is a giant homage to classic era serialized cliffhangers and classic science fiction. Chrome: The Series on Amazon Prime with an audience of 150 million viewers debuts on Prime May 30th and is featured New on Amazon Prime June 2020.

Above: Susan Goforth is prepared for her role as EL the Reclaimer in Chrome: The Series on Amazon Prime and Apple TV+.
In Chrome: The Series Susan Goforth brings it in every way as EL the Reclaimer, equally controlling her slavebot Sky and wielding killer rifle buzzer weapons. She is formidable.
"I loved playing EL the Reclaimer. EL is a badass woman who is simply unapologetic for her work of taking out runaway robots with a fierce vengeance," enthuses Goforth, "It's not often a woman gets to play such a villainess, a role as super-villain instead of arm candy for the hero. EL runs her own world and she answers to nobody. I love that she is the only person who stands up to the evil Colonel Zet. She's so fun to play. She is extreme is all the right ways and, when on the hunt, she belly laughs on nitroglycerin."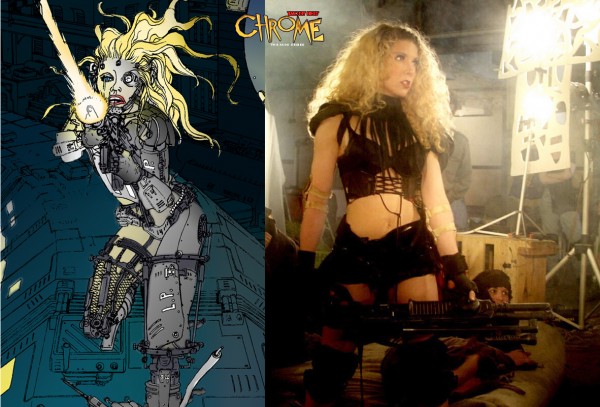 Above: Susan Goforth as EL the Reclaimer in Chrome: The Series on Amazon Prime and Apple TV+. Conceptual art by Bryan Randall.
In Chrome's world the paramilitary branch of the world government corporation GeSomnus is known as the Iron Guards. They are the designated "Robot Control." It is their job to keep the peace, make sure that robots remain at their stations, and if the robots should break free and run away, hunt them down and "Reclaim" them. The most notorious Iron Guard is the dread Colonel Zet, played with frightening precision by Anthony Piana.

Video Link: https://www.youtube.com/embed/FtOPSLiP9Sg
The Iron Guards are shadowed by a civilian branch of Reclaimers who are rewarded handsomely to succeed when the Iron Guards fail. The most successful Reclaimer, is EL, played by Susan Goforth, (War of the Worlds The True Story, 10 Days in a Madhouse). The Reclaimer EL in Chrome: The Series is not your typical villain of pure evil. EL the Reclaimer is on a crusade to end all robots, especially escaped robots in hiding, for as we learn through the progression of the series, EL's family was killed by robots, making her an orphan. Her personal glee in ending robots is awakened when she has the chance to bring down Chrome, the most legendary of all renegade robots.


Above: Susan Goforth as EL the Reclaimer in Chrome: The Series on Amazon Prime and Apple TV+.
The live action of Chrome was filmed in a massive brewery that had been closed a decade earlier. The facility was over a city block long with several huge outbuildings and warehouses that became soundstage spaces for constructed sets.
"The brewery was in part serendipity that it was only two blocks away from the converted school studio," specifies Susan Goforth, "and it was owned by an eccentric millionaire who lived in the facility and reminded me of a sweet version of Professor Farnsworth from Futurama. He struck us a great deal and we had 100% free run to reconfigure the space, cannibalize the machinery and refrigeration structure of the brewing industry to our needs. We were able to construct massive sets and locations in giant over-scaled warehouses which were perfectly suited to become full scale sound stages that matched or exceeded anything you might find on the Warner Bros. or Sony Lots."
Director Timothy Hines elaborates, "We also had access to a vast network of industrial rooftops with a city backdrop in every direction. It was perfect for the dystopian vision of Chrome."
The production started a mere couple of weeks after the tragic September 11th World Trade Center attacks when no other production was moving forward in America. While the country was grieving and lost, trying to regroup, Hines and Goforth suddenly formed a band of out of work industry professionals and extremely talented up-and-comers ranging from effects experts, stunt players, costumers, set designers and builders and effects makeup artists as well as a film crew with solid production experience. This was the true beginning of their company Pendragon Pictures which survives to this day 21 years later.

Photo: Chrome: The Series on Amazon Prime with an audience of 150 million viewers and Apple TV+.
With the principal partners Timothy Hines, Susan Goforth and Donovan Le, Pendragon Pictures has gone on to create War Of The Worlds The True Story and 10 Days in a Madhouse, both of which had US theatrical releases, competed in two Oscar competitions and won numbers of awards with fan and critical praise.
The live action shoot of Chrome lasted 20 weeks. But that was only the beginning. Chrome has been in production so long that director Hines recently received a message from Ashley Green who costarred in the Twilight movies alongside Kristen Stewart and Robert Pattinson who is the new Batman. She informed Hines that she had been on his set with her brother as a child in human relocation camp scenes and reminisced on how far the world had come since then. Early test footage featured Rose McGowan's sister Eva McGowan as both the character Chrome and the villain El, The Reclaimer.

Photo: Behind the scenes on Chrome: The Series on Amazon Prime.
Over the years literally 1000s of technicians and effects experts have contributed to the production with houses ranging from Foundation Imaging which was the original FX house for Star Trek The Next Generation to Paul Allen's Vulcan.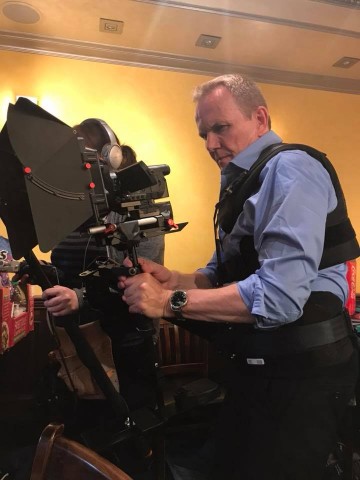 Director Timothy Hines on location.
"Susan is a phenomenal and versatile actor," waxes director Timothy Hines, "In War of the Worlds the True Story, Ms. Goforth played the female main character of the Bertie Well's wife, who had the common sense to save herself and her cousins when the martians are on the march invading the town she was left in. She is flawless."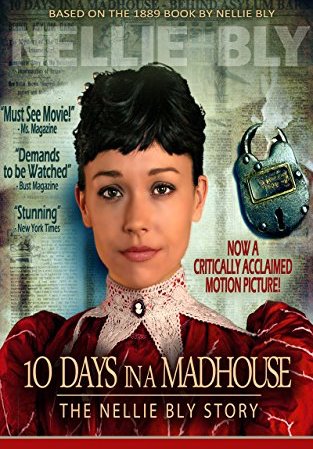 Above: 10 Days in a Madhouse, NBC Universal Home Entertainment.
In 10 Days in a Madhouse, Susan took on the role of the manager and house mistress of the poor woman's workhouse, where Nellie Bly chose to famously feign insanity. Bly leveraged her fake insanity to get herself committed to Blackwell's Island Lunatic Asylum for Woman in order to expose mistreatment and corruption. Ms. Goforth's performance is hardened but sensitive as she is the historical person who marches Nellie to the police station and then the courthouse where Bly is committed into the Madhouse.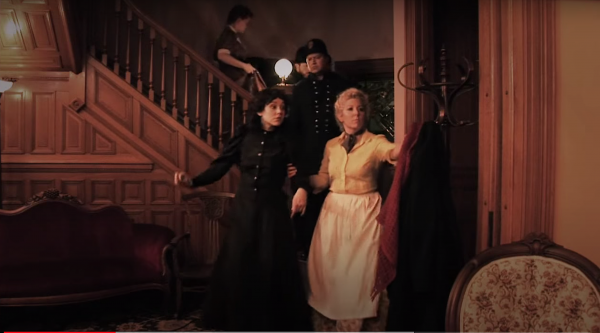 Above: Susan Goforth leads Nellie Bly to the madhouse in 10 Days in a Madhouse, NBC Universal Home Entertainment.
Below: Christopher Lambert in 10 Days in a Madhouse directed by Timothy Hines and produced by Susan Goforth: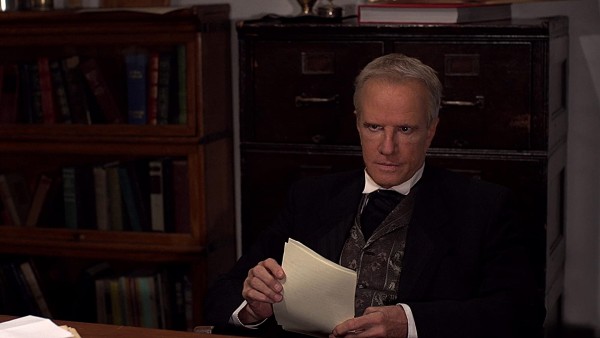 "Susan is an organized and sharp producer who never misses a detail," say longtime Pendragon producer Donovan Le, "She is an artist and a performer who can do anything, sing, dance and act as well as budget and schedule a movie."

Video Link: https://www.youtube.com/embed/K7y5x4hMx7s
Producer Dominick Martini adds, "She's one of the few in the industry who can switch hats from structural producer to star actress without missing a beat. And she's an amazing songwriter as well. Her song Tomorrow's Today that she wrote and produced for Charlie Boy, the Timothy Hines directed film I produced with performers like Burt Young and Kelly Le Brock, the song is an instant classic. It's a song that you want to play over and over again."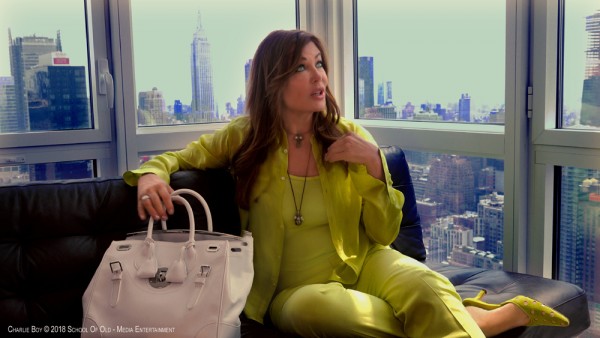 Above: Supermodel movie star Kelly Le Brock in Timothy Hines' Charlie Boy produced by Susan Goforth.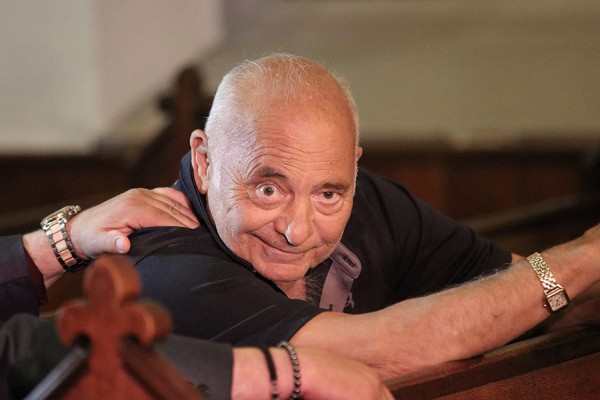 Above: Academy Award nominee Burt Young in Timothy Hines' Charlie Boy produced by Dominick Martini, Greg Kritikos and Susan Goforth.
Indeed Susan Goforth is the fabled hyphen talent, a producer, actress, singer, songwriter, the world's best knows her for her work in War Of The Worlds The True Story that sold 7 million DVDs at Walmart alone.

Photo: War of the Worlds The True Story – Pendragon Pictures.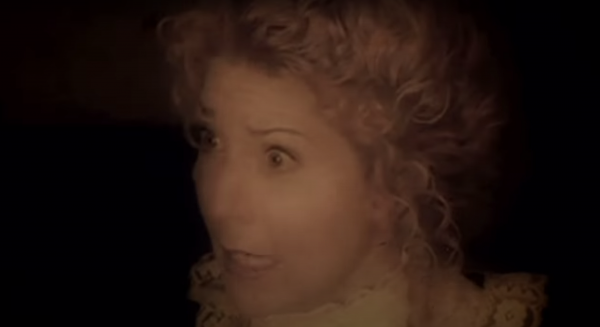 Photo: Susan Goforth in War Of The Worlds The True Story on Amazon Prime.
And her 10 Days In A Madhouse, distributed by Universal Home Entertainment, played opening day of Geena Davis' inaugural Film Festival, the Cannes Film Festival, played 19 weeks in AMC Theaters and was listed as one of Variety's top trending movies.

Photo: Pendragon Picrtures producer Susan Goforth (L) with stand-up comedian, actor, Chris D'Elia and stand up comic headliner and co-star of CHARLIE BOY Joanne Scorcia at the Comedy Store.
Susan Goforth is a magna cum laude graduate of The Boston Conservatory at Berklee, has toured extensively in Broadway musicals and shows, including Guys and Dolls, Me and My Girl, Singin' in the Rain, A Chorus Line and Follies. As a teen starting out Ms. Goforth could be seen in hundreds of commercials and industrials, and as a featured extra and background actor in some of the most popular shows of the time.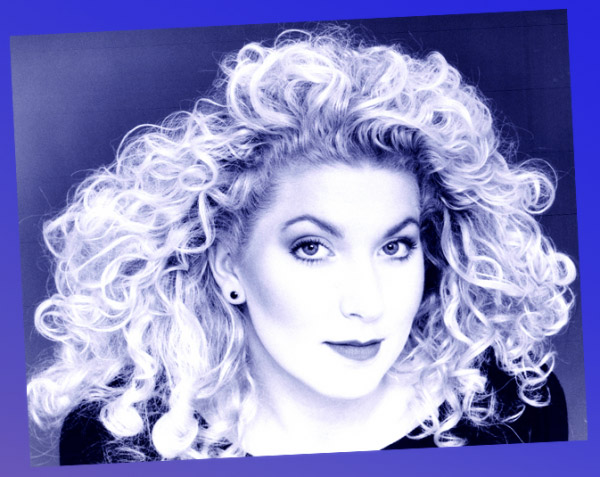 Photo: Susan Goforth.
She's is a true multi-talented threat, who has shared her skills as a VFX expert on a long stream of motion pictures. Goforth produced and cast the upcoming comedy Charlie Boy and wrote the movie's theme song Tomorrow's Today (Theme Song from "Charlie Boy"), sung my Maedi from the popular NBC's Songland show, a song that guarantees to put a smile on your face and a hug in your heart every time you hear it. Tomorrow's Today is available at all major music outlets.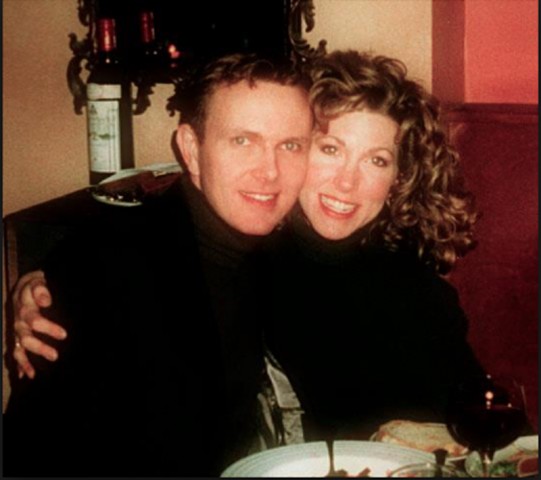 Photo: Director Timothy Hines and Producer/Actress Susan Goforth.
In 1999, she and her colleague Timothy Hines formed Pendragon Pictures, then based in Seattle, Washington. Goforth and Hines moved their operations to Los Angeles more than a half decade ago when completing their award winning theatrical film 10 Days in a Madhouse that competed in the Academy Awards.
Goforth also has extensive experience in marketing and advertising have stewarded many theatrical, television and streaming releases.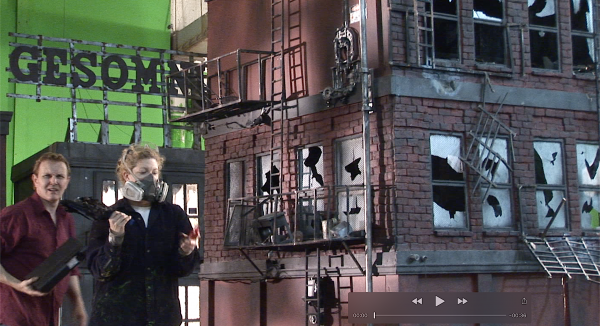 Above: Director Timothy Hines and producer Susan Goforth on the miniatures sets of Chrome: The Series on Amazon Prime with 150 million viewers.
She worked tirelessly alongside director Timothy Hines on several movies and spent years bringing Chrome: The Series to the screen.

Photo: Susan Goforth.
Her film, the long awaited Chrome: The Series is streaming on Amazon Prime and Amazon Prime UK. Prime's audience of 150 million viewers get the opportunity to screen the pilot episode for free with Prime. Non Prime viewers can also watch the epic hyper action pilot with Amazon Pay Per View.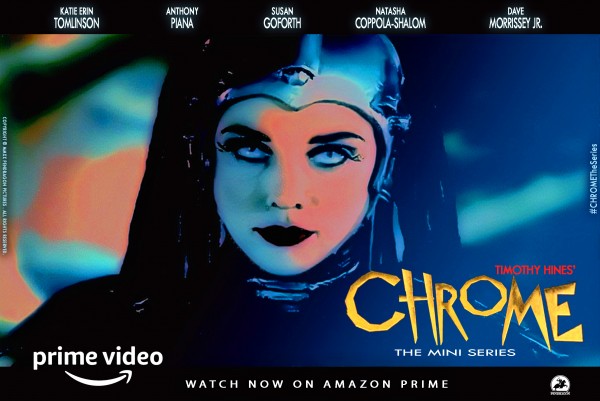 Photo: Chrome: The Series on Amazon Prime with an audience of 150 million viewers and Apple TV+.
Chrome: The Series is an escapist fantasy of a female robot slave who defies her cruel masters and meets up with a clever repairbot to wrench the human race out of darkness.
Media Contact
Company Name: Pendragon Pictures
Contact Person: Susan Goforth
Email: Send Email
Phone: 1+ 310-480-0837
City: Los Angeles
State: CA
Country: United States
Website: www.pendragonpictures.com