Sunknowledge extends state of the art support in hospital accounts receivable that eliminates any practice management solutions. The organization is currently working with some of the largest hospitals with great trust and excellence.
It is true that the most common problem for any health system's cash flow is with aging accounts receivable. The average denial rate for any hospital claims ranges from 10% to 25% of all submitted. However, a report from MGMA clearly defines that a 4% denial rate can be considered to be ideal for a provider. So what's the solution ahead! How do you plan out a strategy for your AR team handling your hospital accounts receivable bucket?
Unnecessary write-offs are also a critical area of concern for many. Reviewing each claim is time-consuming. Often, small amounts are mismanaged leading to loss of revenue in the long run. As a hospital, it becomes quite hectic to define patient care and managing your pending collection simultaneously. You need a proper plan in place to understand the guidelines followed by federal and commercial payers for all your hospital accounts receivable payments to fall in place.
Also, a lot of hospitals offer a range of home health and DME services starting from CPAP equipment, respiratory care, medical equipment, and supplies including mobility and safety devices. Hospital DME billing is a niche area that needs specialized resources offering support at the front and the back end for ensuring payables fall in place.
Sunknowledge has earned a unique edge over the last sixteen years by working for both the payer and provider sides of the healthcare business. They have a robust team of accounts receivable specialists responsible for doing extensive research before pursuing claims with different payers.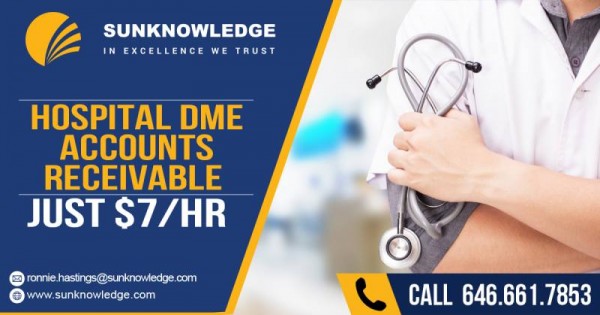 The team understands all the guidelines followed by the payers for timely filing, authorization, per diem rates, case rates, DRG, and also non-contracted providers. Also, they are currently working with major healthcare insurance companies helping them in their claims adjudication services for hospitals, nursing homes, long-term care, physician practices, Home Medical Equipment, etc.
One of the key members of the Sunknowledge growth team observed "We give the same attention to every cash amount regardless of its size or source. Our team has demonstrated expertise in working on difficult to recover aging hospital accounts receivable. By reducing your operational costs by 70%, we guarantee an increase in your overall collections by 30% to 40%."
With over 100 clients, working for leading hospitals and DME providers, Sunknowledge has a seasoned approach and offers the much-needed consistency at these testing times. One of the major advantages of working with Sunknowledge is their experience on how to recover aging hospital accounts receivable as old as three years. They have excellent client references and understand how they can deliver actionable support at next door rates.
Also, the team offers unparalleled consistency, great ecosystem on how to eliminate proven challenges with pending collections. Customized reporting and a seamless transition are what make them a desired destination for all RCM services. At a time, when finding experienced staff is becoming a challenge in itself, the resources at Sunknowledge work as a reliable operational extension. The team offers a comprehensive solution on what makes the perfect story for hospitals and health systems and helps them focus more on patients and leave the rest to Sunknowledge!
Media Contact
Company Name: Sunknowledge Services Inc.
Contact Person: Ronnie Hastings
Email: Send Email
Phone: +1-646-661-7853
Address:41 Madison Ave #2511
City: New York
State: New York 10010
Country: United States
Website: https://sunknowledge.com/