Steady Stack is a SAAS company founded by Zan & Hassan Shaikh. They have just announced that the algorithm is operating at a 80% success rate.
MARLBOROUGH, MA – October 10, 2022 – Steady Stack, a company that takes aspiring or existing traders and teaches them all of the trading tips, tricks and secrets that will produce consistent and profitable results.
Serving a wide range of clients from people brand new to the trading world, to experienced day-traders, Steady Stack is a company that believes that the ultimate transformation for their clients is achieving financial freedom for themselves and turning themselves into their personal ATM.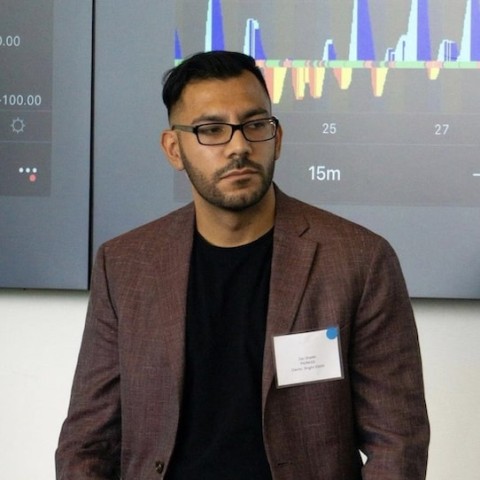 Steady Stack is a company that has many successful clients around the world and many success stories to share. Its CEOs Zan and Hassan Shaikh actually have just announced that their company Steady Stack System has over a 80% success rate for their clients and to name one of their successes;
"Steady Stack has been the single most valuable thing I have ever been a part of. Zan is the best mentor I have ever had in my life. His willingness to help and effort to make us succeed is unlike any other professor, teacher, or anything of the sort. Being surrounded by like-minded people allows us to all celebrate each other's wins, and even more importantly, lift each other up when we are down."
"Steady Stack has been a life changing experience for me. It's such a great community and had shown me an opportunity to work for myself and be present for my family. I'm truly thankful for the opportunity Zan has presented all of us," a client stated.
Steady Stack has developed an algorithm that teaches you what to buy, what to sell, and when. The algorithm that their clients gain access to, is back-tested 20 years with 86% accuracy. Their clients go from not knowing at all, or not fully understanding the world of trading, to being extremely well-educated and confident in their future.
Below are five moves that aspiring traders might need to do if they do not invest with Steady Stack:
INVEST
Invest hundreds and thousands of dollars in mentors and programs in order to learn about effective trading techniques and what the markets are.
With knowledge on your strengths and weaknesses, your mentors can assist you with working on yourself and scale growth. Although you may have been able to grow without the help of a mentor, it will not be at a fast pace. Mentorship is crucial to your success as it helps you scale your personal and professional growth.
BUILD A TEAM
Source a strong team of coders who will program codes for an algorithm that will eventually generate consistent buy and sell notifications.
MAKE & DEVELOP RELATIONSHIPS
Make and develop relationships with multiple 7+ figure traders in order to gain their insights on a daily basis.
MINDSET
Trading psychology is the reason why people make statements like, "The market never shows signs of change since people never show signs of change," or "The market is controlled by fear and greed."
Everything has to do with human emotion. Learn how to develop a proper mindset around trading while avoiding blowing up their account and how to manage psychology.
READ
Read countless books, take numerous courses to learn about candlesticks, market order flow, impact of events, volume, indicators, etc.
Reading is good for you because it improves your focus, memory, empathy, and communication skills. It can reduce stress, work on your emotional and mental health, and assist you with living longer. Reading additionally helps you to learn new things in order to assist you with prevailing in your work and relationships.
As you can see, doing all of the 5 moves mentioned above, you have to spend hundreds of thousands of dollars and build a team just to write the code. However, with Steady Stack, that will not be needed.
Investing with Steady Stack is more beneficial than going through those 5 moves as they have already done the leg work and spent the money necessary to accomplish these tasks. Not only will you be saving money, but your valuable time and energy will all be saved as well just by signing up and investing with them.
"This system is life-changing and anyone that wants to obtain independence and financial freedom can learn this process if they are willing to put in the time and effort!" – Zan & Hassan Shaikh.
ABOUT STEADY STACK
Steady Stack was founded by Zan Shaikh and Hassan Shaikh. These brothers took their expertise with eCommerce enterprises and have built multiple multi million dollar businesses over the last decade. Zan and Hassan have said "Trading is one of the greatest skills for financial freedom on earth." For this very reason they developed a trading algorithm that teaches you what to buy, what to sell, and when. The algorithm that their clients gain access to, is back-tested 20 years with 86% accuracy.
Click here to book a call with the Steady Stack team.
For further information about their services, visit their website (steadystack.com) or follow their social media platforms: Instagram and Twitter.
Name: Zan Shaikh and Hassan Shaikh
Contact: connect@brightvisiondigital.com
Company: Steady Stack
SOURCE: Authority Sharks
Media Contact
Company Name: Authority Sharks
Contact Person: Matthew Fraser
Email: Send Email
Phone: 6478192721
Country: United States
Website: authoritysharks.com