In a fast-paced world, staying hydrated is key to maintaining our health and vitality. Whether you're heading to the office, hitting the gym, or embarking on a road trip, having a reliable and stylish tumbler by your side can make all the difference. Enter the 40oz Sublimation Tumbler with Handle, the perfect hydration companion for those with an active lifestyle. In this blog post, we'll explore the standout features of this remarkable 40oz tumbler and how it can enhance your daily routine.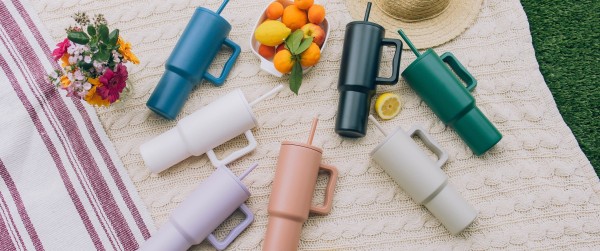 No Leak and BPA Free:
One of the standout features of the 40oz Sublimation Tumbler is its leak-proof design. Crafted from premium stainless steel, this tumbler is built to last. The addition of a secure lid and flip straw ensures that your beverages stay where they belong – inside the tumbler. You can toss it in your bag or backpack without worrying about any messy spills. It's not just about convenience; it's also about making eco-friendly choices. The tumbler is BPA-free, which means you can enjoy your drinks without harmful chemicals interfering with your well-being.
Comfortable Handling:
A tumbler's handle is not just for decoration; it's there to enhance your experience. The 40oz Sublimation Tumbler comes with a well-designed handle that incorporates a grip shape for comfortable holding. No more awkwardly clutching your tumbler – this one fits naturally in your hand. Whether you're taking it to your morning meeting or during your evening jog, the ergonomic handle makes it a breeze to carry. This feature, along with its no-leak design, makes it an ideal choice for those who are always on the move.
Travel-Friendly Design:
We understand that a good tumbler should be versatile and convenient. The 40oz Sublimation Tumbler is designed with your lifestyle in mind. It fits perfectly in most car cup holders, so you can enjoy your favorite drinks while commuting. Its slim profile allows it to slip seamlessly into your travel backpack, ensuring you stay hydrated wherever your adventures take you. And for those intense workout sessions, the gym bag is no challenge for this tumbler. It's a true companion that adapts to your daily activities.
40oz Large Capacity:
One of the significant advantages of this tumbler is its generous 40-ounce capacity. It's the perfect size for those who need a substantial amount of hydration throughout the day. Whether it's water, tea, coffee, or a refreshing smoothie, this tumbler can accommodate it all. With a 40oz capacity, you won't find yourself constantly refilling your tumbler. It's the ideal choice for long workdays, road trips, or outdoor adventures, ensuring you have enough liquids to keep you going.
Keep Your Beverages Just Right:
The 40oz Sublimation Tumbler is a master of temperature control. Its double-wall insulated design, along with premium stainless steel construction, ensures your beverages stay at their preferred temperature. If you're starting your day with a hot cup of coffee, you can count on it to stay warm for hours. On the other hand, if you need an icy cold drink to cool down after a workout, this tumbler's got you covered. It's the perfect companion for all seasons, helping you stay refreshed in the summer heat and warm in the chilly winter.
The Perfect Gift:
A thoughtful and practical gift is always appreciated, and the 40oz Sublimation Tumbler makes for a perfect choice. Whether you're surprising a loved one on their birthday or thanking a colleague for their hard work, this tumbler is a gift that combines style and functionality. You can even take it a step further and personalize it with custom sublimation designs. Imagine a tumbler that's not only useful but also a work of art. It's a gift that will be treasured and used every day.
In conclusion, the 40oz Sublimation Tumbler with Handle is a hydration game-changer. It combines form and function, ensuring that you stay hydrated in style. With its leak-proof design, comfortable handle, travel-friendly size, large capacity, and temperature retention capabilities, it's an indispensable addition to your daily routine. Whether you're working, working out, or simply enjoying a leisurely day, this tumbler will be your trusted companion.
Plus, it's an excellent gift option, allowing you to share the joy of staying hydrated with your loved ones. Make your hydration a statement with the 40oz Sublimation Tumbler – your reliable and stylish source of refreshment on the go.
Media Contact
Company Name: Besin
Email: Send Email
Phone: +86 173 6028 0416
Country: China
Website: https://ibesin.com/