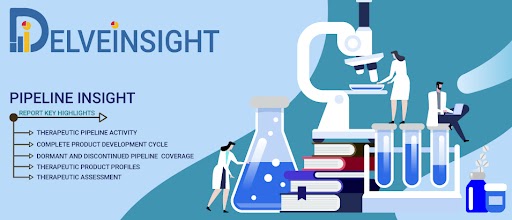 (Las Vegas, Nevada, United States) As per DelveInsight's assessment, globally, Spasticity pipeline constitutes 20+ key companies continuously working towards developing 20+ Spasticity treatment therapies, analysis of Clinical Trials, Therapies, Mechanism of Action, Route of Administration, and Developments analyzes DelveInsight.
The Spasticity Pipeline report embraces in-depth commercial and clinical assessment of the pipeline products from the pre-clinical developmental phase to the marketed phase. The report also covers a detailed description of the drug, including the mechanism of action of the drug, clinical studies, NDA approvals (if any), and product development activities comprising the technology, collaborations, mergers acquisition, funding, designations, and other product-related details.
"Spasticity Pipeline Insight, 2023" report by DelveInsight outlines comprehensive insights into the present clinical development scenario and growth prospects across the Spasticity Market.
Some of the key takeaways from the Spasticity Pipeline Report:
Companies across the globe are diligently working toward developing novel Spasticity treatment therapies with a considerable amount of success over the years.
Spasticity companies working in the treatment market are Lundbeck, Revance Therapeutics, Ipsen, Saol Therapeutics, Huons, and others, are developing therapies for the Spasticity treatment
Emerging Spasticity therapies in the different phases of clinical trials are- Lu AG06466, DAXXIFY, IPN10200, SIL 1002, HU-014, and others are expected to have a significant impact on the Spasticity market in the coming years.
In Feb 2023, The U.S. Food and Drug Administration (FDA) has granted ONWARD Medical N.V. (Euronext: ONWD), a medical technology company developing novel therapies to help people with spinal cord injury (SCI) regain movement, independence, and health, Breakthrough Device Designation status for the use of its ARC-EX platform for bladder control, spasticity relief, and blood pressure control. Eight Breakthrough Device Designations have now been given to ONWARD, demonstrating the business' creative approach to creating treatments for SCI patients.
In July 2021, Huons initiated a multi center, Phase III clinical trial to evaluate the safety and efficacy ofHU-014 Inj in the Treatment of Post Stroke Upper Limb Spasticity. HU-014 Inj was given an injection to 5 Upper limbmuscle (Total 360U/, IM). Currently the trial is active and recruiting and anticipated to be completed by November 2022with 198 participants.
Spasticity Overview
Spasticity is a disorder marked by an unnatural rise in muscular tone or stiffness, which may impair speech or movement and be accompanied by discomfort or pain. Damage to the nerve pathways in the brain or spinal cord that control muscle action is typically the cause of spasticity.
Get a Free Sample PDF Report to know more about Spasticity Pipeline Therapeutic Assessment-
https://www.delveinsight.com/report-store/spasticity-pipeline-insight
Emerging Spasticity Drugs Under Different Phases of Clinical Development Include:
Lu AG06466: Lundbeck
DAXXIFY: Revance Therapeutics
IPN10200: Ipsen
SIL 1002: Saol Therapeutics
HU-014: Huons
Spasticity Route of Administration
Spasticity pipeline report provides the therapeutic assessment of the pipeline drugs by the Route of Administration. Products have been categorized under various ROAs, such as
Oral
Parenteral
Intravenous
Subcutaneous
Topical
Spasticity Molecule Type
Spasticity Products have been categorized under various Molecule types, such as
Monoclonal Antibody
Peptides
Polymer
Small molecule
Gene therapy
Spasticity Pipeline Therapeutics Assessment
Spasticity Assessment by Product Type
Spasticity By Stage and Product Type
Spasticity Assessment by Route of Administration
Spasticity By Stage and Route of Administration
Spasticity Assessment by Molecule Type
Spasticity by Stage and Molecule Type
DelveInsight's Spasticity Report covers around 20+ products under different phases of clinical development like
Late-stage products (Phase III)
Mid-stage products (Phase II)
Early-stage product (Phase I)
Pre-clinical and Discovery stage candidates
Discontinued & Inactive candidates
Route of Administration
Further Spasticity product details are provided in the report. Download the Spasticity pipeline report to learn more about the emerging Spasticity therapies
Some of the key companies in the Spasticity Therapeutics Market include:
Key companies developing therapies for Spasticity are – Sun Pharmaceutical Industries Ltd. Beximco Pharmaceuticals Ltd. Hoffmann-La Roche Ltd. Elite Pharmaceuticals Inc., and others.
Spasticity Pipeline Analysis:
The Spasticity pipeline report provides insights into
The report provides detailed insights about companies that are developing therapies for the treatment of Spasticity with aggregate therapies developed by each company for the same.
It accesses the Different therapeutic candidates segmented into early-stage, mid-stage, and late-stage of development for Spasticity Treatment.
Spasticity key companies are involved in targeted therapeutics development with respective active and inactive (dormant or discontinued) projects.
Spasticity Drugs under development based on the stage of development, route of administration, target receptor, monotherapy or combination therapy, a different mechanism of action, and molecular type.
Detailed analysis of collaborations (company-company collaborations and company-academia collaborations), licensing agreement and financing details for future advancement of the Spasticity market.
The report is built using data and information traced from the researcher's proprietary databases, company/university websites, clinical trial registries, conferences, SEC filings, investor presentations, and featured press releases from company/university websites and industry-specific third-party sources, etc.
Download Sample PDF Report to know more about Spasticity drugs and therapies
Spasticity Pipeline Market Drivers
Increasing prevalence of stroke, multiple sclerosis, and brain injury drive the market, increasing R&D for developing effective therapies are some of the important factors that are fueling the Spasticity Market.
Spasticity Pipeline Market Barriers
However, high cost of the treatment, lack of disease awareness in emerging economies and other factors are creating obstacles in the Spasticity Market growth.
Scope of Spasticity Pipeline Drug Insight
Coverage: Global
Key Spasticity Companies: Lundbeck, Revance Therapeutics, Ipsen, Saol Therapeutics, Huons, and others
Key Spasticity Therapies: Lu AG06466, DAXXIFY, IPN10200, SIL 1002, HU-014, and others
Spasticity Therapeutic Assessment: Spasticity current marketed and Spasticity emerging therapies
Spasticity Market Dynamics: Spasticity market drivers and Spasticity market barriers
Request for Sample PDF Report for Spasticity Pipeline Assessment and clinical trials
Table of Contents
1. Spasticity Report Introduction
2. Spasticity Executive Summary
3. Spasticity Overview
4. Spasticity- Analytical Perspective In-depth Commercial Assessment
5. Spasticity Pipeline Therapeutics
6. Spasticity Late Stage Products (Phase II/III)
7. Spasticity Mid Stage Products (Phase II)
8. Spasticity Early Stage Products (Phase I)
9. Spasticity Preclinical Stage Products
10. Spasticity Therapeutics Assessment
11. Spasticity Inactive Products
12. Company-University Collaborations (Licensing/Partnering) Analysis
13. Spasticity Key Companies
14. Spasticity Key Products
15. Spasticity Unmet Needs
16 . Spasticity Market Drivers and Barriers
17. Spasticity Future Perspectives and Conclusion
18. Spasticity Analyst Views
19. Appendix
20. About DelveInsight
About DelveInsight
DelveInsight is a leading Business Consultant and Market Research firm focused exclusively on life sciences. It supports Pharma companies by providing comprehensive end-to-end solutions to improve their performance. It also offers Healthcare Consulting Services, which benefits in market analysis to accelerate business growth and overcome challenges with a practical approach.
Media Contact
Company Name: DelveInsight Business Research
Contact Person: Gaurav Bora
Email: Send Email
Phone: 8774225362
Address:27 Drydock Ave S. Jones Blvd #2432
City: Boston
State: MA
Country: United States
Website: https://www.delveinsight.com/consulting/asset-prioritizaton-services