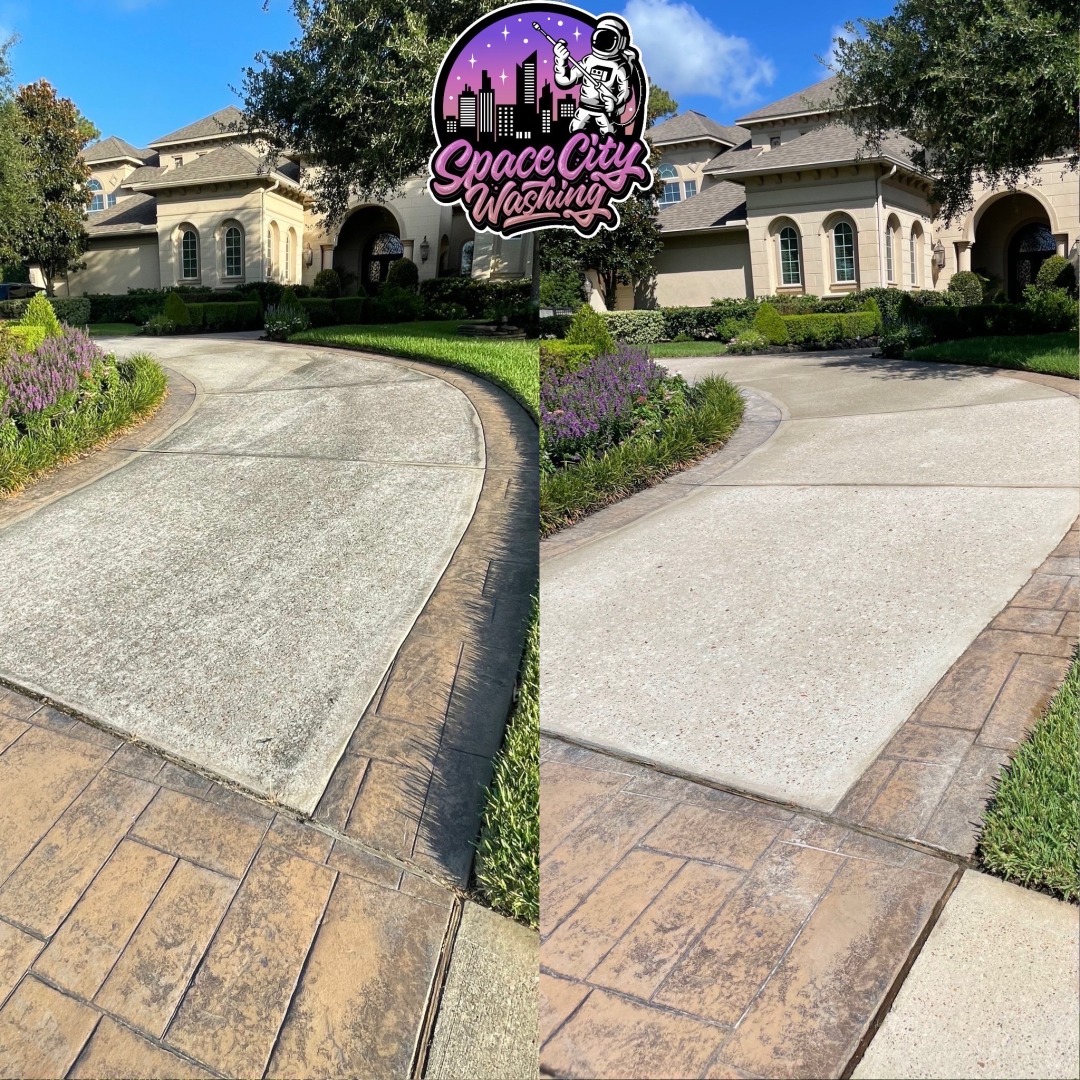 Pressure Washing in Spring, TX – Space City Washing. dressed in a company-branded uniform, the technician is operating state-of-the-art pressure washing equipment on a residential driveway. The before-and-after contrast on the driveway is evident, highlighting the effectiveness of the service.
Space City Washing announces its commitment to redefine pressure washing in Spring, TX. The company offers customized, eco-friendly cleaning solutions that go beyond aesthetics to protect properties long-term. Distinguished for its professionalism, advanced equipment, and customer-first approach, Space City Washing is fully licensed and insured. The company's focus on quality and open communication has earned it a loyal customer base in Spring, TX.
Space City Washing, a local leader in the pressure washing industry, is transforming what residents of Spring, TX can expect from their cleaning services. Known for its customer-first approach, the company offers top-quality pressure washing in Spring, Tx that go beyond aesthetic improvements to extend the life of properties.
"Pressure washing isn't just high-pressure water spraying. It's an art that involves skill, surface knowledge, and environmental considerations," said Justin Pace, founder of Space City Washing. "Quality pressure washing protects your property long-term, guarding against mold, algae, and other elements that can cause damage."
What makes Space City Washing unique? They get it right from the get-go, employing customized techniques tailored to the needs of each client. With a keen focus on environmental responsibility, their eco-friendly cleaning solutions are not only effective but also safe for families and pets.
In a market flooded with pressure washing services, Space City Washing distinguishes itself as a fully licensed and insured provider, delivering peace of mind along with impeccable results. Their advanced equipment and experienced team guarantee a smooth and efficient cleaning process from start to finish.
Customer service isn't just a buzzword for Space City Washing; it's a commitment. The team prides itself on maintaining open lines of communication throughout the service process, and their after-service support ensures customer satisfaction. With a reputation for excellence, it's no surprise that they've gained a loyal following in Spring, TX.
If you've been putting off pressure washing tasks, don't delay any longer. Space City Washing offers comprehensive cleaning solutions for homes, driveways, decks, and commercial properties. "We go beyond meeting expectations; we exceed them. Every clean surface is a testimony to our dedication to providing the finest pressure washing services in Spring, TX," added Pace.
Choose Space City Washing for your next cleaning project in Spring, TX, and discover the difference that quality and professionalism can make.
For more information or to book an appointment, reach out to Space City Washing directly.
Media Contact
Company Name: Space City Washing
Contact Person: Dustin Pace
Email: Send Email
Phone: 281-677-2969
Address:9739 Birdsnest Ct.
City: Spring
State: Texas
Country: United States
Website: https://www.spacecitywashing.com/