Soundbuds, a comprehensive business dedicated to researching, refining, and producing products that ease consumer's day-to-day activities has released its Happy Sleep Earplugs, the perfect sound-blocking solution for a sweet dream and a peaceful night's rest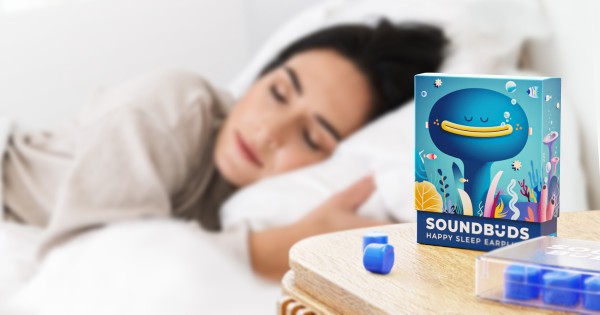 Often, it can be difficult to calm your mind, relax, and escape the increasingly turbulent state of the world at night, and in your sleep. The cumulative effects of sleep loss and sleep disorders have been associated with a wide range of deleterious health consequences including an increased risk of hypertension, diabetes, obesity, depression, heart attack, and stroke.
This is why Soundbuds launched its soft & reusable Happy Sleep Earplugs. Designed with unmatched decibel protection structure, HSE block out snoring, noisy parties, neighbors, and other loud noises that prevent sound sleep and effective studying for students and adults alike.
Soundbuds were brought to life in Australia 2017 with a sound ambition to help sleepers and dreamers alike enjoy snoozing to the fullest. A wakeup to a healthy & restored bright new tomorrow with the happiest noise blocking earplugs in the space. The comfortable and moldable plugs are carefully crafted to remain affordable and easy to use—a reliable buddy to lead you through the night no matter the chaos buzzing around you.
"Our soft sleep plugs dampens ambient background noise whilst retaining the ability to hear critical sounds. A harmonious ballad of complete sound isolation and passive noise cancelling of 27dB's for a most restful night's sleep," noted an executive of the company.
One of the main features of Happy Sleep Earplugs is that it's a one size fits all! With a soft silicone, HSE can be easily custom molded to cover one's ears perfectly every time without causing ear canal pressure or dropping out like conventional earplugs. Whether you are a back, side or stomach sleeper, they will suit you comfortably!Soundbuds have elicited engaging reviews from its users.
Joseph from Montreal CA said: "Having the ability to lower the noise & distractions around me at any time is incredible". Another user, Sophia from New York remarked "Silence brought to you in a sweet package " while Sotirios from Athens quipped that "There's nothing more rejuvenating than an afternoon nap with Soundbuds!"
Their product will launch soon on Indiegogo globally. To learn more about Soundbud's Happy Sleep Earplugs, visit the company's web page here and enjoy discounts up to 50%.
Media Contact
Company Name: Soundbuds
Contact Person: Nik Pneuma
Email: Send Email
Country: Australia
Website: https://www.mysoundbuds.com/