Video Link: https://www.youtube.com/embed/fB9K6wwd91I
Since the establishment in 1978, Snogen Corporation has continued to develop through continuous technological innovation and the advancement of production processes and facilities, starting from the production of surfactants and functional processing agents for the textile industry, and the company has grown into a specialized chemical manufacturer that produces various high-quality industrial acrylic resins, urethane resins, binders for electronic materials, decorative tile adhesives and artificial marble.
With 30% of employees devoting to R&D, the manufacturer believes that innovative technology is the best value of its survival and constantly strives to develop the highest quality products by reinvesting more than 7% of sales as R&D expenses.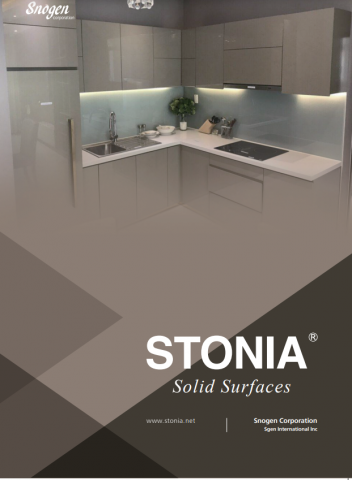 STONIA is Snogen Corporation's premium Solid Surface brand manufactured with 100% Acrylic Resins (MMA). Its solid surface has many unique features which make it the perfect solution for interior designs and projects. Some of these features include: Nonporous, Antimicrobial/Hygienic, Durable, Stain Resistant, Invisible Seams, and Easy Maintenance/ Repair. STONIA Solid Surface is also easy to fabricate, thermoformable, and 100% recyclable. it has a wide collection of over 120 in demand colors to choose from.
The manufacturer established overseas factories and subsidiaries in Bandung, Indonesia in 1998 and Los Angeles, USA in 2001, as part of globalization despite the difficult domestic environment due to the currency crisis. The company also expanded its export market to 30 countries including advanced countries, thereby contributing to the national economic development with continuous growth by winning the 1 Million Dollar Export Tower Award in 1991, the 5 Million Dollar Export Tower Award in 2000, and the 10 Million Dollar Export Tower Award in 2008.
An official of Snogen Corporation said, "The power that made us grow was the continuous support and encouragement of our customers, and we are not satisfied with our domestic performance and will try to repay such a support and encouragement with the best quality and service in overseas markets."
Media Contact
Company Name: Snogen Corporation
Contact Person: Bae ki bung
Email: Send Email
Phone: +82 41 553 8001
Country: South Korea
Website: https://www.gobizkorea.com/user/goods/frontGoodsDetail.do?goods_no=GS2020121400843&ctgryCode=S0900100330000&upperCode=M0900100000000&goodsNms=STONIA%C2%AE-Acrylic-Solid-surface_Acrylic-Artificial-Marble&skwanSn=&speclKwanId=SPCCD0000624