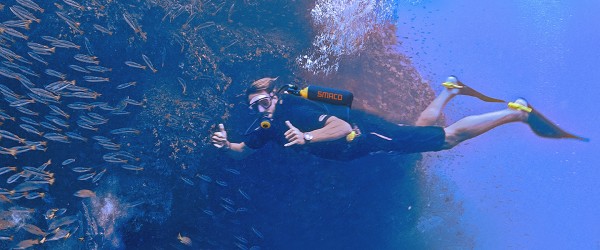 SMACO, a pioneer of rescue and recreational underwater diving equipment is introducing its latest product, the SMACO S400Plus 1L DOT-Certified portable mini scuba diving tank with 15-20 minutes backup diving air.
SMACO, famed for its vested commitment to the research and development of fire rescue equipment and outdoor sports products, built the entire body of the mini scuba diving tank with aerospace aluminium alloys to resist internal corrosion and stand up well to damage.
The high-pressure air in the cylinder is decompressed and output through the decompression chamber. It can be switched off when not in use to avoid air leakage during storage. As the main flow switch of air outlet channel, it needs to be switched on when in use.
Among other incredible features, the Luminous pressure gauge of the scuba diving tank is made of full stainless steel. Users can check the amount of remaining air in the cylinder any time in the underwater darkness. This is complemented by its food-grade silicone, no peculiar smell, and ergonomic design, making it comfortable to use.
Other features of the SMACO S400Plus include:
• Constant pressure valve
• Explosion-proof valve
• One-way inflation valve
• (3) 360° degree rotation interface
• Air switch valve @ Pressure gauge
• (2) High pressure air storage tank
• Medium Pressure air hose
• Breathing Mouthpiece® Pressure relief valve
Speaking about the S400Plus, the founder of SMACO said: "Our scuba diving tank was designed with a Micron air filtration, which adsorbs and filtrates impurities, giving you a more comfortable fresh air. With our 5K"5000psi external explosion-proof valve, you are guaranteed an automatic pressure relief protection when the pressure is up to 5000psi."
The S400Plus has elicited rave reviews from its users. According to a verified client, Victor: "Overall, I would recommend it. I had a wonderful vacation with this tank. It makes me crazy that I use this to treasure hunt in the river and it works perfect as a lightweight tank that helps me stay under longer. Gives you about 20 minutes underwater, possibly a little longer. Easily refilled with a little muscle. Perfect for quick recreation."
About SMACO
SMACO, established in 2013, is a foremost industrial and trade enterprise integrating R&D, production and sales. Over the years, the company has grown into a respected and reputable production enterprise with multiple departments such as product research, production, and sales, has a sales network in more than 40 countries around the world.
For an in-depth look at the fascinating S400Plus 2L DOT-Certified portable mini scuba diving tank, check out the company's website at smacodive.com/
Media Contact
Company Name: Smaco
Contact Person: Carla
Email: Send Email
Country: China
Website: https://www.smacodive.com/