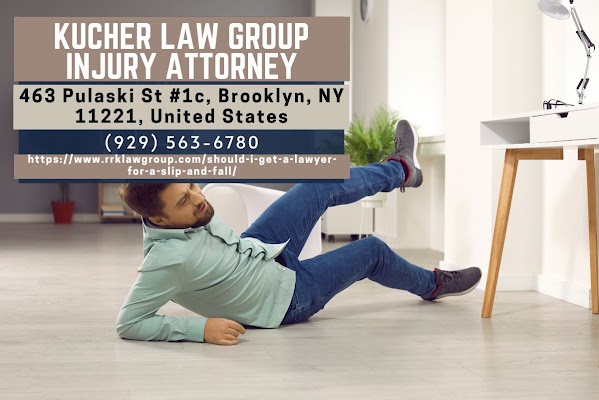 Samantha Kucher, a reputable slip and fall lawyer, from Kucher Law Group, has recently published a comprehensive article outlining the intricacies of slip and fall accidents in New York. The article provides valuable insights into the causes of these accidents and the legal avenues victims can pursue.
Slip and fall accidents, as slip and fall Samantha Kucher illustrates, are not only serious but can be life-changing. These mishaps, often due to negligence, result in injuries that require victims to seek the advice of a competent slip and fall lawyer to navigate the complex legal processes. "If you have been injured in a slip and fall accident that was due to another party's negligence, getting skilled legal advice is crucial," said attorney Samantha Kucher.
According to the slip and fall lawyer's article, slip and fall accidents, also known as premises liability accidents, occur on another party's property due to a dangerous condition. Such conditions may range from slippery flooring, unsecured carpets, and unexpected floor transitions, to improperly maintained walkways, inadequate lighting, and lack of warning signs related to tripping accidents.
Kucher, one of the leading lawyers in this field, highlights that these accidents are entirely preventable and the negligence of the property manager or owner is often a significant factor. "Negligence may have come into play if the owner or manager knew of the danger and failed to make the appropriate repairs or take measures to warn others," she states.
The Brooklyn slip and fall attorney further details the serious injuries these accidents can lead to, including head injuries, spinal cord injuries, fractures, and even fatalities. She emphasizes that these slip and falls are the leading cause of emergency room visits in the United States, with a significant impact on older adults.
The article also explores fault determination in slip and fall accidents, which falls under premises liability law. Samantha Kucher points out that the person in control of the property is legally responsible for any injuries sustained. These parties can include business owners, homeowners, tenants, management companies, corporations, government entities, or municipalities.
Understanding the burden of proof in slip and fall cases is crucial, as Kucher explains. The victim must demonstrate that the property controller was negligent and failed to keep the area safe. Questions such as the duration of the hazard's existence, the nature of efforts made to remedy it, and whether the victim contributed to the accident are all considered in determining liability under personal injury laws.
Kucher Law Group's team of dedicated attorneys, led by Samantha Kucher, is committed to helping victims of slip and fall accidents navigate these complex legal aspects. "At Kucher Law, we could help you if you've been in an injury fall or slipped on a hazardous site," Kucher assures.
As the article suggests, swift action and experienced legal guidance are key to ensuring victims of slip and fall accidents get the compensation they deserve. Kucher Law Group, a highly regarded law firm, stands ready to provide the necessary support and counsel to those in need through their comprehensive legal services.
About Kucher Law Group:
Kucher Law Group is a Brooklyn-based law firm that provides vital legal services to victims of slip and fall accidents. The firm's team of dedicated attorneys, headed by Samantha Kucher, prides itself in offering in-depth legal advice and representation to their clients. They handle a wide range of personal injury cases, including medical malpractice, car accidents, construction accidents, and wrongful deaths, serving residents across all boroughs of New York.
Embeds:
Youtube Video: https://www.youtube.com/watch?v=7tqErPceIuI
GMB: https://www.google.com/maps?cid=5716384493669715397
Email and website
Email: contact@rrklawgroup.com
Website: https://www.rrklawgroup.com/
Media Contact
Company Name: Kucher Law Group Injury Attorney
Contact Person: Samantha Kucher
Email: Send Email
Phone: (929) 274-8000
Address:463 Pulaski St #1c
City: Brooklyn
State: New York 11221
Country: United States
Website: https://www.rrklawgroup.com/