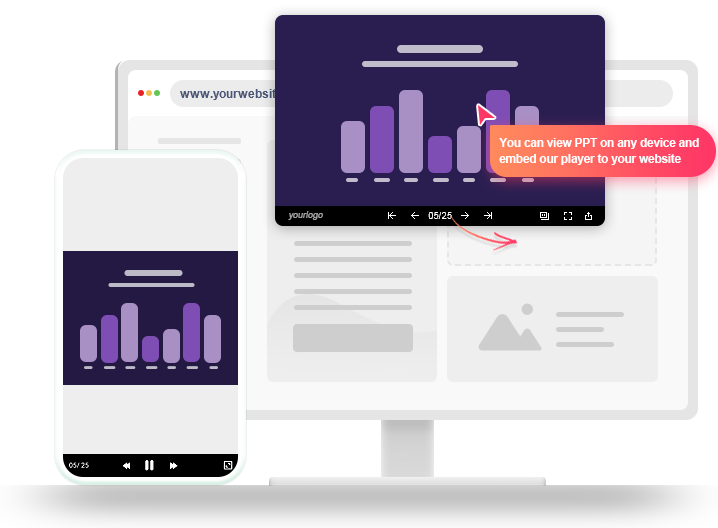 SlideHTML5 is a free online presentation maker that helps users convert PPT to HTML5 slides that are sharable and embeddable.
PowerPoint presentations have become less popular with the rapid development of technology. They just don't seem able to keep up with the fast-paced online environment. HTML is more compatible with the online space and makes content more interactive. PowerPoint users no longer need to worry about being left behind on the information highway. SlideHTML5 is an innovative online presentation maker that stores PowerPoint presentations online in HTML format, making them more accessible and more attractive.
According to Winston Zhang, CEO of SlideHTML5, "We're proud to officially announce the launch of this online presentation maker as it will make our customers' lives easier and more exciting."
The SlideHTML5 online presentation maker is free to use without having to install any software. There is also the option of uploading PowerPoint presentations online. It's easy to use and doesn't require users to have coding skills. Best of all, it creates vibrant digital experiences that will keep audiences engaged.
This online presentation maker enables easy publication of PowerPoint presentations online in HTML format. It's as simple as clicking 'upload'. Users can choose from plenty of online templates; there's something to match every taste and sector. They come with the perfect layout and stunning animation effects that will make a simple PowerPoint presentation more appealing.
Another advantage of the online presentation maker is that it eliminates the need to send large PowerPoint files that take up storage space and may not display on the receiver's end the way the sender intended. With SlideHTML5, once the presentation is published online, the creator only has to share the URL. Audiences can view the PowerPoint at any time, from any internet-capable device. Viewers can interact with and follow the owner easily as well as share the presentation on their social media pages.
Owners of PowerPoint files can also embed their presentations in their blogs, Facebook pages, or websites using a QR code or link. Alternatively, they can store them on the SlideHTML5 cloud. The online presentation maker allows for the setup of permissions and passwords to give added security for presentations that may have sensitive or confidential content.
For more information, please visit SlideHTML5.
About SlideHTML5

SlideHTML5 is an online platform for converting PowerPoint presentations to HTML where they can be stored securely and accessed easily.

Video Link: https://www.youtube.com/embed/9yCkUR2_tGU
Media Contact
Company Name: Slide HTML5
Contact Person: Customer Service
Email: Send Email
Phone: 02061972665
Country: China
Website: https://slidehtml5.com/