Influencers including Peter Tosh, Marvin Gaye, Bob Marley, and Smokey Robinson are the backdrop for multi-instrumentalist Madi Simmons to share his unique understanding of art and the importance of living in harmony. His latest album "Music is my Love" brilliantly captures his progression as a classically influenced reggae artist with modern views and life experience. The culmination of a touring career spanning over 20 years, contained in the album are songs spanning numerous universal subjects while inspiring hope and inner peace throughout.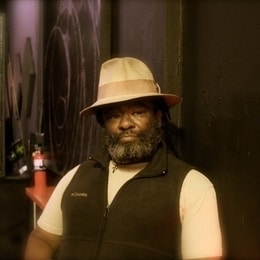 Combining gospel with conventional reggae, Madi Simmons spans a wide range of talents and gives his listeners a sense of nostalgia and inner calm with his unique and diverse sound. Having began his music career at age 16 as a singer/songwriter as well as a drummer, Simmons uses his musical talents to highlight his powerful voice that combines elements of Peter Tosh, Dennis Brown, and Gregory Isaac. For more than 20 years, Simmons has cemented himself in the vein of modern reggae and toured all over the United States as well as Europe, appearing at numerous events including Benbow Summer Art Fair, Unity Fest, Cougar Mountain Fest, and even appeared at Reggae on the River as an emcee and performer.
Along with Simmons' powerful voice and apt drumming driving his music, he possesses a sense of humility and seeks to connect with listeners in a straightforward and direct way. Claiming that he never saw his music as anything groundbreaking (it is), Simmons has always focused more on inspiring his listeners and touching on topics that real individuals deal with. He hopes that after listening, his fans will receive a sense of chill and be able to reflect on their own experience, "Music is my Love" features new tracks from Simmons and represents a labor of love in his musical career. On the heels of many successful live performances, the latest recording from Simmons perfectly illustrates not only his strong presence on the drums as vocally, but also an ever-present message of love and unity that many could use right now.
Recorded at a home studio, "Music is my Love" is the perfect blend of soul and reggae, driven by Simmons' rumbling drums and powerful, yet soothing vocal range. Harkening back to classic Chicago blues but with a tinge of west coast style, "Music is my Love" shows listeners just how much of himself Simmons puts into each one of his tracks. He seems to go the extra mile to make his music appeal to everyone. Available on all digital download platforms as well as his Bandcamp page, the album represents a fresh take on classic reggae and provides a taste of the modern.
To learn more about Madi Simmons and his musical journey currently end-capped by the powerful and uplifting "Music is my Love", check out the Madi Simmons Soundcloud page (https://soundcloud.com/madisimmons), and see his previous album releases on his TopMusic page.
Media Contact
Company Name: 3000 Records
Contact Person: Terrance Schemansky
Email: press@3000records.com
Phone: (586) 480-3000
Country: United States
Website: https://topmusic.jp/product_info_english.php