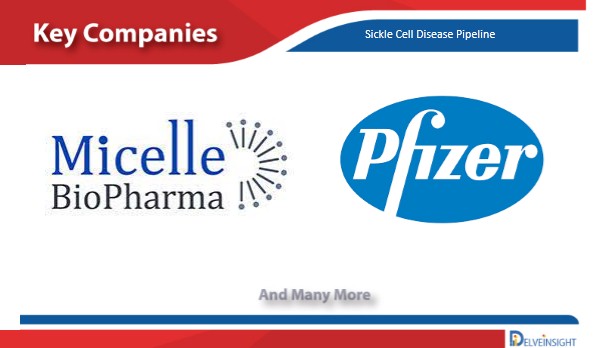 "Sickle Cell Disease Pipeline" report has been added to DelveInsight
"Sickle Cell DiseasePipeline Insights, 2021″ report by DelveInsight outlays comprehensive insights of present clinical development scenario and growth prospects across the Sickle Cell Disease market. A detailed picture of the Sickle Cell Disease pipeline landscape is provided, which includes the disease overview and Sickle Cell Disease treatment guidelines. The assessment part of the report embraces in-depth Sickle Cell Disease commercial assessment and clinical assessment of the Sickle Cell Disease pipeline products from the pre-clinical developmental phase to the marketed phase. In the report, a detailed description of the drug is proffered including mechanism of action of the drug, clinical studies, NDA approvals (if any), and product development activities comprising the technology, Sickle Cell Disease collaborations, licensing, mergers and acquisition, funding, designations, and other product-related details.
Download free sample copy- https://www.delveinsight.com/sample-request/sickle-cell-disease-pipeline-insight
Sickle Cell Disease Pipeline Report: Overview
Sickle cell disease (SCD) is an inherited red blood cell disorder caused by a structural abnormality of hemoglobin called sickle hemoglobin (HbS) which encodes hemoglobin subunit β. HbS is inherited in an autosomal recessive way and can occur due to homozygosity for HbS (HbSS). HbS is functional and soluble when oxygenated, but upon deoxygenation it polymerizes, leading to the generation of deformed red blood cells known as sickled cells and dense erythrocytes. Due to increased global and intra-EU mobility and migration, the number of patients with SCD in Europe has increased. According to the European Medicines Agency (EMA), SCD affected 2.6 in 10,000 people in the European Union in 2017.
Sickle Cell Disease Marketed Drugs
Droxia: Bristol-Myers Squibb
Oxbryta: Global Blood Therapeutics
Sickle Cell Disease Emerging Drugs
Rivipansel: Pfizer Inc.
SC411 (Altemia): Micelle BioPharma Inc.
CSL889 : CSL Behring
LentiGlobin BB305: BlueBird Bio
AG-348: Agios Pharmaceuticals
Sickle Cell Disease Symptoms
The main symptoms of sickle cell disease include:
Sickle cell crises, these are painful episodes which can be very severe and can last up to a week
Increased risk of serious infections
Anemia (where red blood cells can't carry enough oxygen around the body), which can cause tiredness and shortness of breath
Some people also experience other problems such as delayed growth, strokes and lung problems
Treatment for sickle cell anemia is usually aimed at avoiding crises, relieving symptoms and preventing complications.Treatments might include medications to reduce pain and prevent complications, and blood transfusions, as well as a bone marrow transplant.
Medications: Medications used to treat sickle cell anemia include Antibiotics, Pain-relieving medications and Hydroxyurea (Droxia, Hydrea).
Immunizations: People with SCD should receive all recommended childhood vaccines. They should also receive additional vaccines to prevent other infections such as Pneumococcus, Influenza, etc.
Blood transfusions: In children with sickle cell anemia at high risk of stroke, regular blood transfusions can decrease the risk. Transfusions can also be used to treat other complications of sickle cell anemia, or they can be given to prevent complications.
Bone marrow transplant: This procedure usually uses a matched donor, such as a sibling, who doesn't have sickle cell anemia. If a donor is found, the person with sickle cell anemia receives radiation or chemotherapy to destroy or reduce his or her bone marrow stem cells. Healthy stem cells from the donor are injected intravenously into the bloodstream of the person with sickle cell anemia, where they migrate to the bone marrow and begin generating new blood cells.
Sickle Cell Disease Pipeline: Report Highlights
The companies and academics are working to assess challenges and seek opportunities that could influence Sickle cell disease R&D. The therapies under development are focused on novel approaches to treat/improve Sickle cell disease.
A better understanding of disease pathogenesis will also contribute to the development of Sickle cell disease (SCD) therapeutics.
In September 2013, GlycoMimetics announced that the European Medicines Agency (EMA) has granted Orphan Drug Designation for GMI-1070 (rivipansel sodium) for the treatment of vaso-occlusive crisis (VOC) in patients with Sickle Cell Disease. It has received Fast Track Designation from the US Food and Drug Administration, or FDA, as well as Orphan Drug Designation from the FDA.
In February 2020, GlycoMimetics received notice for termination of its license agreement signed in October 2011 from Pfizer due to failure of its P-III RESET study to achieve 1EPs & 2EPs in patients with SCD experiencing VOC aged ≥6yrs. On termination, Pfizer loses rights to develop & commercialize licensed therapies including rivipansel and grants a non-exclusive license to GlycoMimetics to utilize Pfizer's IP, developed in connection with licensed therapies. In 2011, Pfizer and GlycoMimetics entered into a worldwide license agreement for the development and, if approved by applicable regulatory authorities, commercialization of rivipansel.
In April 2018, Sancilio Pharmaceuticals announced that it has received the European Medicines Agency's (EMA) Orphan Designation for its SC411 (which it plans to market as Altemia), a proposed treatment for sickle cell disease (SCD) in pediatric patients, in the European Union.
In July 2019, Novartis announced that, the US Food and Drug Administration (FDA) accepted the company's Biologics License Application (BLA) and has granted Priority Review for its investigational sickle cell medicine crizanlizumab (SEG101).
In January 2020, Aruvant announced that the US Food and Drug Administration has granted Orphan Drug designation to ARU-1801, Aruvant's investigational therapy for the treatment of sickle cell disease. The US Food and Drug Administration (FDA) granted Rare Pediatric Disease Designation to ARU-1801.
Mozobil (plerixafor) was initially developed by Genzyme. In April 2011, Sanofi acquired Genzyme and it turned into a wholly owned subsidiary
Following is the table of content of Sickle Cell Disease report
Introduction
Executive Summary
Sickle cell disease: Overview
Pipeline Therapeutics
Therapeutic Assessment
Sickle cell disease – DelveInsight's Analytical Perspective
In-depth Commercial Assessment
Sickle cell disease Collaboration Deals
Late Stage Products
Innohep: LEO Pharm
Rivipansel: Pfizer
Mid Stage Products
BPX-501 T cells: Bellicum Pharmaceuticals
Canakinumab: Novartis
Early Stage Products
Ambrisentan: Gilead Sciences
BCL 11a shRNA (miR): Bluebird bio
Pre-clinical and Discovery Stage Products
FTX-6058: Fulcrum Therapeutics
Inactive Products
Sickle cell disease Key Companies
Sickle cell disease Key Products
Sickle cell disease- Unmet Needs
Sickle cell disease- Market Drivers and Barriers
Sickle cell disease- Future Perspectives and Conclusion
Sickle cell disease Analyst Views
Sickle cell disease Key Companies
Appendix
Sickle Cell Disease Pipeline: Key Questions
How many companies are developing Sickle cell disease drugs?
How many Sickle cell disease drugs are developed by each company?
How many emerging drugs are in mid-stage, and late-stage of development for the treatment of Sickle cell disease?
What are the key collaborations (Industry–Industry, Industry–Academia), Mergers and acquisitions, licensing activities related to the Sickle cell disease therapeutics?
What are the recent trends, drug types and novel technologies developed to overcome the limitation of existing therapies?
What are the clinical studies going on for Sickle cell disease and their status?
What are the key designations that have been granted to the emerging drugs?
Media Contact
Company Name: DelveInsight Business Research LLP
Contact Person: Yash Bhardwaj
Email: Send Email
Phone: +919650213330
Address:304 S. Jones Blvd #2432
City: Las Vegas
State: NV
Country: United States
Website: https://www.delveinsight.com/