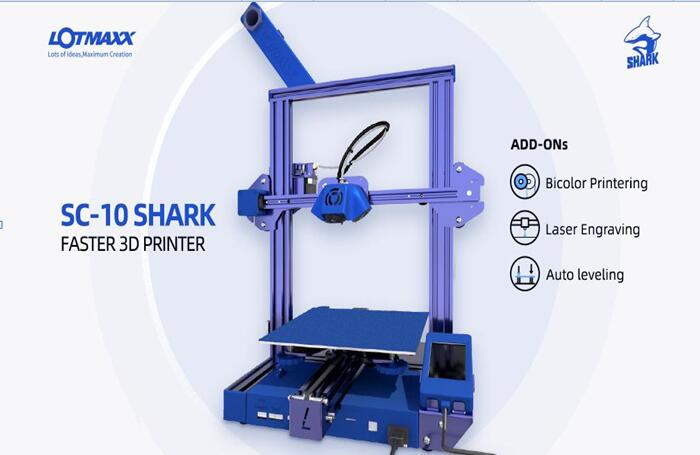 One of the most exciting technological innovations of the past decade is the emergence of the 3d printer. What once seemed like pure science fiction or fantasy is now reality! But with so many different varieties of 3d printers available, how are you supposed to know what is the best kind to spend your hard earned money on? Wonder no longer- the Shark 3d printer is the perfect solution for any and all of your printing needs.
Click the link to see their website, or read more below to learn about the numerous features this product has to offer you: https://www.3dpinter.com/
Features
The SHARK printer has a number of innovative features that make it the best option on the market. One of the most important is its speed; while many models seem to take forever to print even the simplest designs and objects, the SHARK is different. It features a uniquely efficient heat dissipation system that allows it to print significantly faster than its contemporaries- it shaves off almost 30% of the standard printing time, making it perfect if you are in a hurry. Whatever you need to print, you can be sure that the SHARK will print out a high quality product in a timeframe that is convenient for you and your needs.
But this speed does not mean you will sacrifice any accuracy or print quality. The SHARK features an auto-leveling feature, making for incredibly accurate printing, down to 0.1mm. Very few printers on the market can offer that degree of accuracy. It also offers laser engraving, making it a great choice for more detailed decorative jobs on a variety of materials, such as plastic, PVC, paper, and even leather. No matter what type of 3d printing you need done, you can be confident that the SHARK can handle it with ease.
This commitment to quality extends to the build of the printer itself. This is no cheap, flimsy device. It is made of the highest quality of materials possible; you can be sure that, as the years go by, your SHARK 3d printer will stand the test of time. That does not mean that the device is bulky, either; if you look at the images on the SHARK website, you can see that it still has a sleek and trim design, making it a perfect fit for any number of spaces.
The biggest concern that most people have when it comes to 3d printers is the potential cost. We see this incredible technology and we think it must be something that will force us to break the bank. Once again, the SHARK is the exception to this rule. Not only is it one of the more affordable models on the market, if you act now, you can reserve a 40% discount on Launch Day, making this product even more affordable.
Click the link to find out more: https://www.3dpinter.com/
Conclusion
The SHARK printer, an innovative FDM desktop 3D printer that can print faster than the average. A powerhouse printer featuring multiple functions such as auto bed leveling, laser engraving and bicolor printing. Build quality with premium materials, sleek and ergonomic design, the printer is absolutely the good value and budget choice. If this sounds like the ideal FDM desktop 3d printer for you, contact us for more information.
Media Contact
Company Name: Shark
Contact Person: Media Relations
Email: Send Email
Phone: 15889680820
Country: United States
Website: http://www.3dpinter.com